By Al Nigrin
originally published: 04/24/2018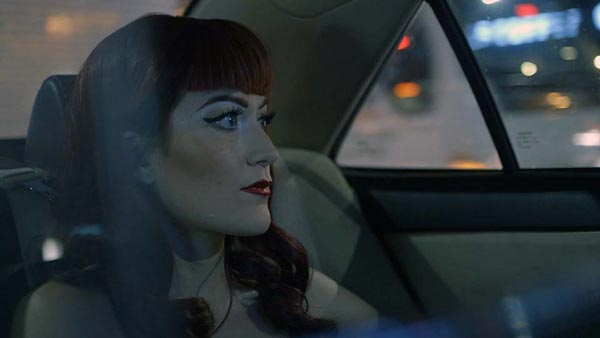 James Lester's Sexy and insightful Documentary Getting Naked: A Burlesque Story will be Premiering at the New Jersey Film Festival on Saturday, February 3, 2018!
Here is my interview with James:
Nigrin:  Your documentary film Getting Naked: A Burlesque Story is about the neo-burlesque scene that has emerged in New York City over the past 3 decades. Please tell us more about your film and what compelled you to make it?

Lester: I had been directing a scripted shorts-series that used the NYC "vintage" scene, which was popular at the time, and then commercialized with shows like Boardwalk Empire. We had a burlesque performer in each episode. When that series ran out of funds, I had grabbed a small camera and continued guerilla-style shooting burlesque dancers. That's when I really found myself in that world and wanted to pursue it fully.   
Nigrin:   Your very intimate documentary follows four female burlesque stars: Gal Friday, The Schlep Sisters and Hazel Honeysuckle, each of whom has discovered a newfound identity and belonging in a world of bawdy comedy and striptease. Tell us why and how you decided to focuses on these four.
Lester: These four performers were not only willing to let me film their burlesque lives, but also their off-stage lives, which ultimately was what I knew I needed in order to make a compelling film. Anybody can get performances and interviews, but not everybody can get the evolution of a personal life on screen. 
---
The article continues after this ad
---
---
Nigrin:   I really liked the pacing of your film. It is like a sine curve that goes up and down with emotions of these performers who are exhilarated by performing and then have to deal with tawdry dressing rooms of some not so savory establishments? Was this consciously done?

Lester: I'm an editor, so pacing is ingrained in everything I do. As far as the story went, much was captured and then figured out in the edit room. So, the ups and downs were great to have filmed as I knew we needed them to make a simple subject matter become dramatic. 
Nigrin:   The look of your film Is lovely. The images really pop on the screen. Tell us more about the cinematography.

Lester: I was lucky because with burlesque, everywhere you point the camera is cinematic, or a least colorful and interesting. I love mess, and so dressing rooms are always great because there's a ton of mess and texture. Also, every burlesque performer's home is completely art-directed. They all are proud of their style and taste, so they dress up their apartments with odd colors, paint, wall-paper, posters, photographs, boas, jewelry, etc. It always looks amazing.  

Nigrin:   I also really enjoyed the music which parallels the images perfectly. Who composed and performed the music?

Lester: The music is my favorite aspect of the movie. My good friend and colleague, Giancarlo Vulcano composed the vast score. He has composed for series like 30 Rock and Kimmy Schmidt, but he's also a jazz guitarist and leads a great small band. I knew his sensibility would be perfect. When we finished mixing he said about the music: "It sounds like we unearthed a recording from the 1940s." I couldn't agree more. And given that we are telling the story of burlesque being "unearthed" fairly recently, it makes sense that's how the music turned out. 

Nigrin:   Are there any memorable stories while you made this film or any other info about your film you can relay to our readers?

Lester: No specific stories. But I will say I'm so glad this film is coming out this year. Even though it's not a political film, I think it has resonance that it may not have had before. This film shows that these women are complex, strong, creative, and unique. I hope that stereotypes are shattered.  I hope that audiences come away with a more nuanced perception of these women and these performers than they may have had before seeing the film.
Here is the trailer for Getting Naked: A Burlesque Story:


****************************************************************************
The quirky and funny animated short film Little Red Giant, The Monster That I Was will precede Getting Naked. Here is more info on this screening:
Little Red Giant, The Monster That I Was - Laura Harrison (Chicago, Illinois)

After one too many social dust ups, an unhinged artist, Anna, goes berserk at a barbecue in this impressive and wacky animated short. To add insult to injury, her German Studies boyfriend, Klaus, strongly encourages her to focus on traditional forms of art such as portraiture.  Somehow Anna finds herself in jail, where she finally receives a sympathetic ear. 2017; 15 min.

Getting Naked: A Burlesque Story - James Lester  (Brooklyn, New York)

Slowly but surely a neo-burlesque scene has emerged in New York City, thriving in small clubs and performance venues. This intimate documentary follows four female burlesque stars, each of whom has discovered a newfound identity and belonging in a world of bawdy comedy and striptease. However, this liberating community does not insulate them from the harsh realities of sexism and existential crisis.  A story of female performance artists who chose to perform nightly – by getting naked. 2017; 85 min. Q+A session with Director James Lester and Burlesque Performer Darlinda Just Darlinda!! Co-Sponsored by the Rutgers University American Studies Department!
Saturday, February 3, 2018 at 7:00 p.m.


Voorhees Hall #105/Rutgers University


71 Hamilton Street, New Brunswick, New Jersey


$12=General; $10=Students+Seniors; $9=Rutgers Film Co-op Friends


Information: (848) 932-8482; www.njfilmfest.com
Jimmy John's of New Brunswick will be providing free food prior to this New Jersey Film Festival Screening!