originally published: 04/01/2017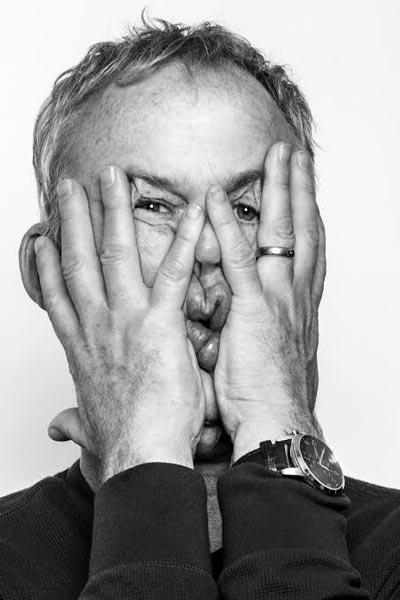 (JERSEY CITY, NJ) -- American humorist and monologist James Judd's comic, autobiographical tales crowd the stage with hilarious characters and situations.  Often compared to David Sedaris and Oscar Wilde, Judd connects with audiences as he shares personal stories in his own loud, lightning-fast, non-stop style, resulting in a constantly engaging pileup of quips.  Judd, a regular "closer" (the finale) on NPR's sold out Snap Judgment Live! Shows, a former New York City resident and proudly New Jersey born, opens the historic, newly renovated White Eagle Hall, Jersey City Theatre Center in Jersey City, performing his The Now I Know Show for a single performance on Sunday, April 23 at 4:30pm.  Tickets range from $24-34.
His critically acclaimed solo performances have garnered audience favorite awards across the globe.  The Now I Know Show can be thought of as a selection of the best of his work -- a collection that are time-tested audience pleasers including A Night at the Opera, The Book Report, The Defense Rests, How I Made My First Friend ...in New England, The Love Boat, and Madam Riding Crop.
Judd connects with audiences as he shares stories classified as "spectacular public embarrassments and utter failures."  While working as a banned journalist, he singlehandedly ruined more than a half dozen good jobs (and counting) in industries ranging from journalism to law; he is a former patient—and current pen pal—of sham Manhattan dermatologist turned Attica prisoner Dean Faiello; and he even ended up accidentally in a whorehouse in China – at least that's what he says! 
However humiliating, Judd's tales affirm that part of being human is telling the stories that have happened to us, emphasizing that even in the face of failure, it's getting up and moving forward that matters. 
The Washington Post said, "He doesn't seem to need to breathe as much as a typical human —It can take a few moments for a joke to register, but by then Judd has unfurled a few more laugh-worthy lines. One of Judd's biggest assets is his delivery, which rarely feels rehearsed, as if he's simply recounting these absorbing personal anecdotes over dinner. And his talents extend to physical humor, whether he's imitating a shark or mimicking an oafish boat captain." 
---
The article continues after this ad
---
---
The concept of the stories was first developed for his Toronto Fringe appearance in 2003, and various incarnations have been performed to rave reviews at Comedy Evenings and Festivals throughout Canada and the U.S. since then.  Judd recently closed the Snap Judgment's Live!, filmed recording at The Power Center at the University of Michigan at Ann Arbor, and performed at the Los Angeles Snap Judgment LIVE! at the 4,000 seat Microsoft Theatre.  
The Snap Judgment podcasts are downloaded by 2.5 million listeners monthly.  His story of battling a shark in open water was named Snap Judgment's Most Hilarious Story of 2012. 
A former member of the Los Angeles based improv group—and Saturday Night Live training ground—The Groundlings, Judd worked the stand-up circuit until age 30, when he decided to go to law school to become a criminal defense attorney. (He's still licensed in New Hampshire.) An epiphany as an underprepared law student making his debut in criminal court—detailed in his story The Defense Rests—propelled him back to comedy, where he opted for autobiographic storytelling, instead of stand-up, for a more theatrical and satisfying experience for both himself and his audience.
Judd was recently the New York All For One Theater Festival Artist-in-Residence, where he developed his 75-minute autobiographical play Killer Quack.  The piece details the true story of his involvement with Dean Faiello, an infamous con man who posed as a dermatologist in Manhattan and was dubbed by The New York Post as "The Killer Quack in the Concrete Coffin Case." Faiello made tabloid headlines when it was discovered that he'd killed one of his patients, buried her in a garage, and fled to Costa Rica. Judd, looking to have a tattoo removed, became his patient, and is now his prison confidant.  Debuting in November 2013, Killer Quack has since been performed in various U.S. cities, as well as in Toronto. 
DC Metro Theater Arts called Judd's Killer Quack, "One of those rare moments in the theatre that moves the audience along the spectrum of emotion … the beauty of the work that Judd has composed, or rather lived through and repurposed into this evening of storytelling, is that he spends time in the grey areas of emotions, where humor and drama coincide, and where self-awareness and uncertainty overlap."
As a comedian and comedy writer, James has worked on many entertainment projects, including television appearances on Star Search and Evening at the Improv. His critically acclaimed, award-winning, one-man, autobiographical play 7SINS has been produced more than two dozen times in North America and internationally.
Other productions include Funny Stories, Funny Stories 2, Starf***ers, and Breathe Normally. Judd's recent production, A Minor Midcareer Retrospective, was produced at the 2016 London Fringe Festival, the 2015 Midtown International Theater Festival (New York City), and Toronto's SoulO Theatre Festival.  His book of essays and monologues entitled Now I Know is now available at Amazon.com. Judd's The Now I Know Show will also play Williamsport PA in April 2017.   More information is at www.jamesbjudd.com .
Located in exciting Downtown Jersey City, just a short train ride and walk from NYC, White Eagle Hall (WEH) is a newly restored and renovated historic theater that presents live music, theatre, comedy, dance, film, family shows as well as other performances while serving food and drinks. As one of the newest and most unique live-performance and event spaces in the Northeast, WEH is a venue and event space that hosts musical and theater performance as well as weddings, receptions, private parties, fundraisers, corporate meetings and other functions.
For more information, or to purchase tickets, please visit www.jctcenter.org or call (201) 795-5386.