By Gary Wien
originally published: 11/24/2016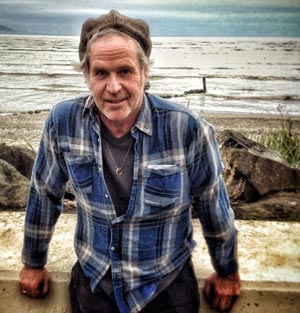 Freed from the constraints of time and the dreams of landing a big record deal, James Deely took his time to work on his first album since 1995.  Backed once again by the Valiants, the record called A Harder Road was ten years in the making.  This decade of time was as difficult as the title suggests, but led to arguably the band's finest release.
James Deely and the Valiants originated in Long Beach Island in the 1980s.  They played many popular bars from Asbury Park to New York City and Philadelphia.  Like many bands, they took their shot and put a lot of money behind a record with the dream of making it big.  When the record deal didn't come, the band split up, but remained in touch over the years.  Deely would later release a solo album, play in several bands, and eventually move out to California where he owns and runs a moving company.
When Paul Ford (the bassist for the Valiants) told Deely he would be in California for a couple of days on the way to Hawaii, James realized they had a great opportunity but had to move fast.  He called up Pete Barnett (the band's original drummer) who was also in California and they quickly headed into the studio and cut 11 tracks.  After the recordings, Deely and Tunkel began the long process of overdubbing and trying to finish the songs.
"We all have jobs and lives and stuff," explained Deely.  "It's not like the old days where you'd go in and finish the record in a month or whatever.  It got spread out over time, which I kind of enjoyed because I could mess around with it more.  I almost didn't want to stop working on it. I got addicted to it I guess."
The record would add appearances by Tunkel, PK Lavengood, Steve Barlotta, and what may be the last recording by Kevin Kavanaugh, the long-time member of Southside Johnny & the Asbury Jukes, who passed away in 2011. Sadly, Kavanaugh is only one of many who passed away during the decade.  The list includes Deely's wife, his father, and the album's original engineer.  "There's a dedication list on the back that goes on forever," Deely notes.
---
The article continues after this ad
---
---
Deely and Tunkel knew each other from the 80s when the Valiants and Red House (Tunkel's old band) were both playing in the same clubs.  They were two of the few bands who could play The Stone Pony and the Green Parrot — two very different worlds; one filled with traditional rock and roll, the other with new wave and alternative rock.  Together the pair finished the record over time, working from opposite coasts.  In recent years, Deely would release a finished song online to let people know the full record was definitely coming.  When Deely returned to New Jersey last year before a trip to Ireland, he joined Tunkel on stage at the Dragonfly Music & Coffee Cafe in Somerville.
"Bruce said 'What song do you want to do?'" recalled Deely.  "I said let's do Bob Dylan's 'I Shall Be Released' because that's the way I feel now.  We're not bound by any shackles.  We're not bound by any money or any commitments.  You want to go play in the Dragonfly, go do it.  You don't want to play, don't do it.  You want to record and put a song out — whatever you want to do you can do it.  We've basically reached a point where we don't have to rely on music for money and it kind of takes us back to when we were teenagers.  Back then, we just played because we loved it.  And that's the way it is now."
Few bands are ever remembered for one town the way James Deely and the Valiants are remembered for Long Beach Island.  The shore town was a haven for cover bands until the Valiants were featured in the local newspaper, The SandPaper.  In the article, Deely pointed out how the band would travel to Asbury Park, New Brunswick, Philadelphia, and New York for shows, but couldn't get a gig in town.  The owner of The Tide bar read the article and saw an opportunity.  He gave the Valiants their first hometown gigs and the band was off and running. LBI became a place where the band could always make enough money to keep going.
"So we would just do some gigs there, make some money, and then run around," said Deely.  "We were out of our minds! We were chasing women and drinking - that's the way I thought it was supposed to be! You know you take that out of it, it's like 'What are we doing here?'  I was taking vocal lessons there and they were telling me you can't drink and sing.  I'm like, I need a new vocal teacher!"
With A Harder Road, Deely gives long-time fans a chance to hear what the band they used to see around LBI would sound like if they put a record out today.  The songs have the same vibe and energy found on the band's original releases with one difference — the addition of saxophone on a pair of tracks.  Screamin' Steve Barlotta's sax adds a touch of Jersey Shore flavor to "The Last Ride" and "Scars On The Outside" - an ingredient that they largely avoided back in the day.
"We tried to stay away from the saxophones," explained Deely.  "I was afraid that in South Jersey if we had a saxophone we'd get tied too much into Springsteen.  Then when Clarence Clemons died, I started thinking maybe we should put sax on a couple of these songs as a tip of the hat to Clarence.  Some of my favorite music of all time is the early Jukes and E Street Shuffle days - the South Jersey / R&B sound."
It may have taken ten years to finish this record, but it won't take nearly that long for the next one.  Deely is already working on a more acoustic record for his next release.  He likens it to Springsteen's Tunnel of Love - something that isn't exactly a rock record, but still contains drums and percussion. In addition, he's got dozens of tracks from the Set The Night On Fire sessions that were recorded and transferred to digital.  He figures he has about two other records waiting to go out after this one.
Jersey Shore music fans will love A Harder Road.  It not only stands up to the band's original releases, it surpasses them. This one was worth the wait.
---
Gary Wien has been covering the arts since 2001 and has had work published with Jersey Arts, Elmore Magazine, Princeton Magazine, Backstreets and other publications. He is a three-time winner of the Asbury Music Award for Top Music Journalist and the author of Beyond the Palace (the first book on the history of rock and roll in Asbury Park) and Are You Listening? The Top 100 Albums of 2001-2010 by New Jersey Artists. In addition, he runs New Jersey Stage and the online radio station The Penguin Rocks. He can be contacted at gary@newjerseystage.com.
---