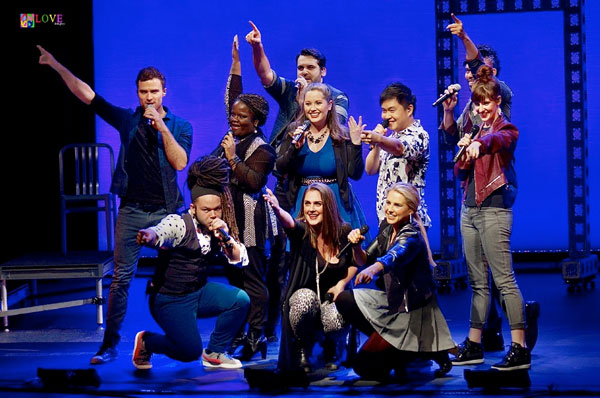 As we make our way inside Toms River, NJ's Grunin Center of the Arts on Sunday, January 22, 2017, we notice a crowd of music lovers of all ages gathered tonight for a special vocal music concert by the ultra-talented 10-piece a cappella group, Vocalosity.
Vocalosity is the brainchild of Deke Sharon, producer of NBC-TV's a cappella music competition, The Sing-Off. Additionally, Sharon served as arranger and vocal producer for the films, Pitch Perfect and Pitch Perfect 2, and he is also one of contemporary a cappella music's most prolific arrangers, having had over 2000 of his unique vocal arrangements appear in print.
Deke's group, Vocalosity, features ten dynamic voices singing brand-new Sharon arrangements of classic tunes — not to menation the latest chart-topping hits — in a live concert experience performed in venues across the United States.
As an arranger, Sharon believes that no genre of music is off-limits to a cappella music and as such, Vocalosity explores them all — from 10th-century Gregorian chant to the latest hits by such contemporary artists as Rihanna and Bruno Mars.
Vocalosity made its debut in January 2016, embarking on its first national tour. To add to the excitement, every city on the tour was invited to host an online video contest for local a cappella groups, with a winner selected by Sharon to perform as Vocalosity's opening act in each of the participating cities.
---
The article continues after this ad
---
---
At the Grunin Center of the Arts tonight, the local opening act for Vocalosity is New Jersey's own RockNRoll Chorus. The group is directed by Joe Cantaffa, who also serves as the director of the Fine and Performing Arts Academy of the Freehold Regional High School District.
According to Cantaffa, The RockNRoll Chorus is an extra-curricular a cappella group comprised of 20 to 25 high school-aged students between the ages of 14 and 19. The vast majority of members — who attend a variety of schools in the Garden State — come together to learn and rehearse a varied selection of a cappella arrangements and choreography, which they then perform on tour around the country.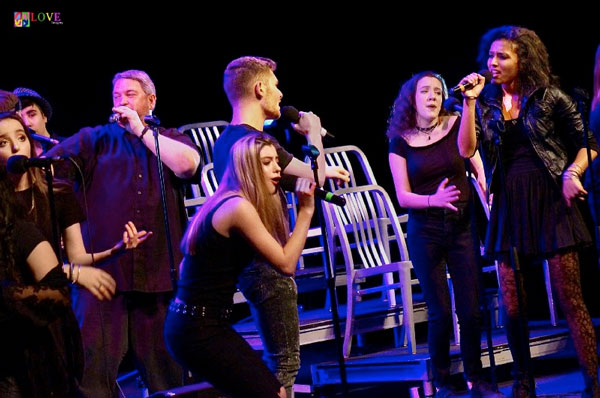 In 2007, Cantaffa and the RockNRoll Chorus launched their very first tour, in addition to recording their first album, What They Didn't Teach Us in School. Since then, the group has featured over 15 different casts of up-and-coming performers. Over the years, these casts have opened for and/or performed with such well-known musical artists as Bruce Springsteen, Darlene Love, Judy Collins, Jefferson Airplane, Foreigner, and Kenny Loggins, in addition to singing as guest choirs on various studio recordings.
The Chorus has also been on the ballot for several Grammys for songs which appear on the group's subsequent albums — 2009's Take a Second Look and 2012's Rounding Third — where the group was nominated for awards in categories such as "Best Performance by a Pop Vocal Group or Duo," "Album of the Year," and "Best Rock Record."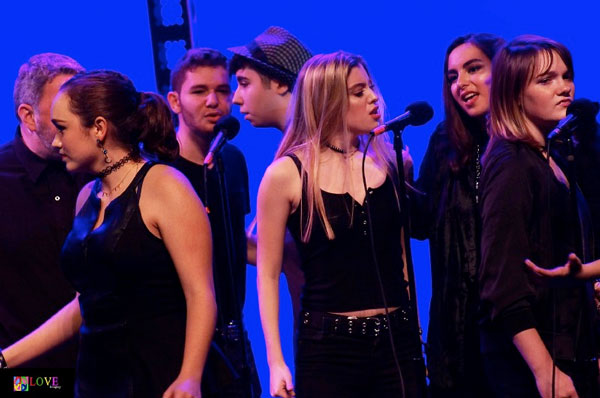 As the lights in the Grunin Center auditorium dim, the 24 current members of the RockNRoll Chorus take their places on stage and open their mini-set with a live a cappella rendition of Queen's 1975 masterpiece, "Bohemian Rhapsody." As the choir serenades, the audience is treated to their full sound — which includes melody, harmony, bass, and percussion — the young vocalists singing from their hearts, their musical energy flowing through the auditorium as they vocalize and move to the music.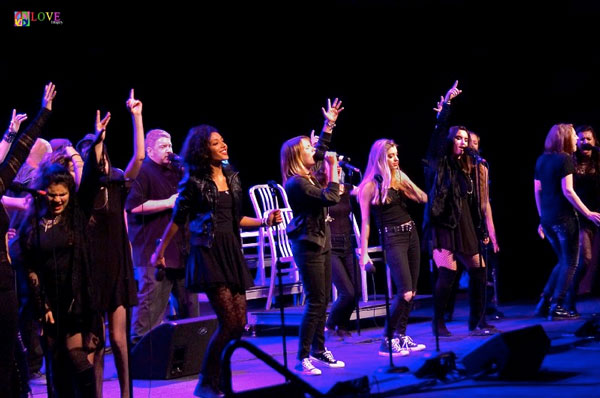 For their second number, the Chorus performs the 1981 David Bowie/Queen collaboration, "Under Pressure." As the hooky bass line sets the scene, pulsing percussion emerges from the singers' voices, and bodies in black move to the vocalizations emanating from these up-and-coming performers.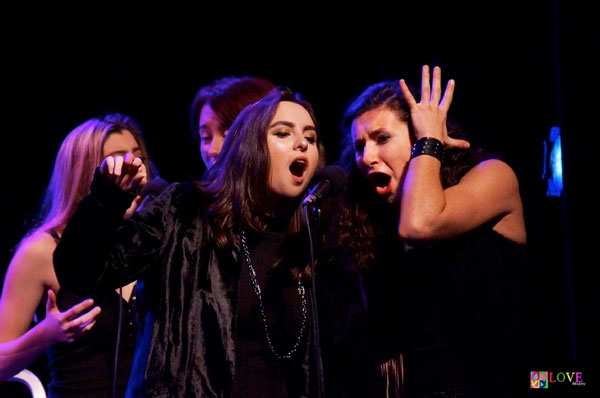 To conclude their portion of the program, the RockNRoll Chorus performs Fleetwood Mac's 1976 hit, "Go Your Own Way" — high energy continuing to radiate as they belt out the number with their youthful look and sound.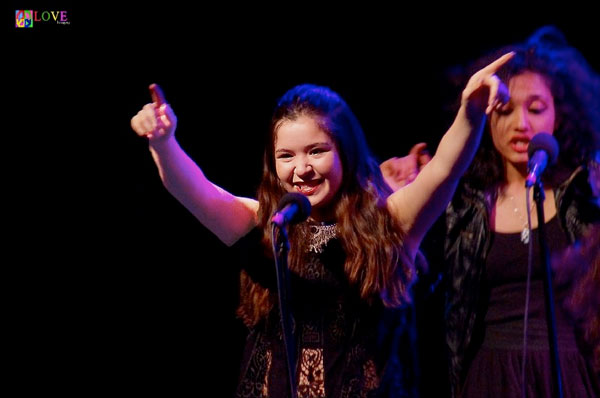 Following appreciative applause, the ten members of Vocalosity — sopranos Kelli Koloszar and Amy Whitcomb, mezzo soprano Nicole Weiss, altos Hannah Juliano and Nattalyee Randall, tenors Cheeyang Ng and RJ Woessner, basses James C. Jones and Bryant Vance, and vocal percussionist Tracy L.J. Robertson — make their way onto the stage.
The group opens the first act of their show tonight with a sparkling a cappella rendition of Michael Jackson's 1983 Thriller smash, "Wanna Be Startin' Something." With excellent pitch, beautiful tone, and precise diction, Vocalosity not only replicates the King of Pop's original recording exclusively with their voices, but also creates an electrifying mood around it, telling a compelling story via their exquisite vocals and exciting choreography. As the audience watches and listens, it becomes clear that each moment of this performance is specifically choreographed to express the melody, harmony, texture changes, and feeling of the song as each of the group's ten talented singers — one by one — is introduced to the audience.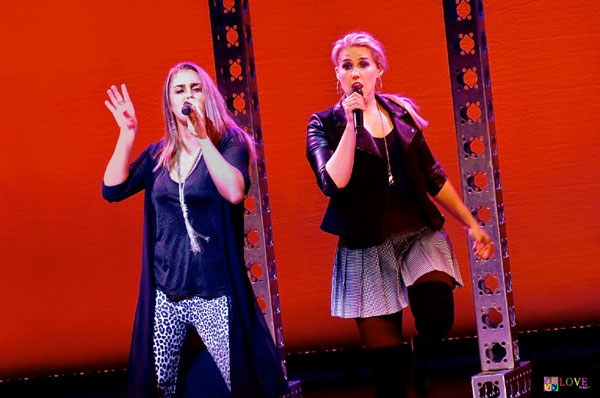 After explaining that their music is "100% live voices" and defining "a cappella" as "in the manner of the chapel," the singers of Vocalosity encourage the audience to shout out the names of their favorite musical artists. When a member of the crowd immediately responds, "The Beatles," the group launches into a medley of Beatles' hits featuring a multitude of different musical styles and genres popular throughout musical history, switching up styles as they change songs. Highlights of the medley include "Strawberry Fields Forever" as a Gregorian chant, "Ticket to Ride" in the form of a Renaissance madrigal, "Oh Darlin'" as a 1950's-era doo-wop number, and "Come Together" presented as a contemporary a cappella vocal piece.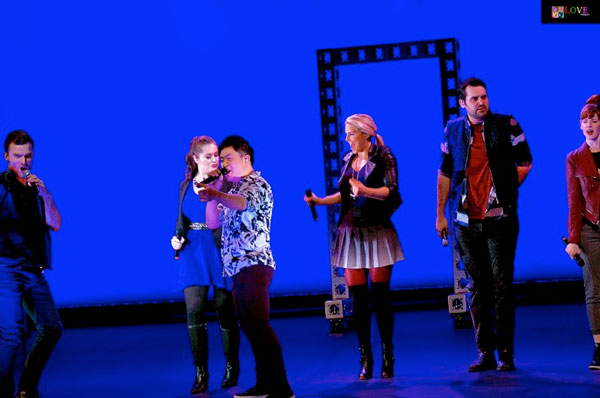 Next up for Vocalosity is the smash 2015 Mark Ronson/Bruno Mars collaboration, "Uptown Funk," the ten voices of Vocalosity creating the thrilling uptown funk and vibe of the original recording's vocal and instrumental mix — once again — exclusively with their voices. Adding to the excitement is dazzling choreography provided by Vocalosity choreographer and director, Sean Curran, himself a member of the original New York City cast of STOMP.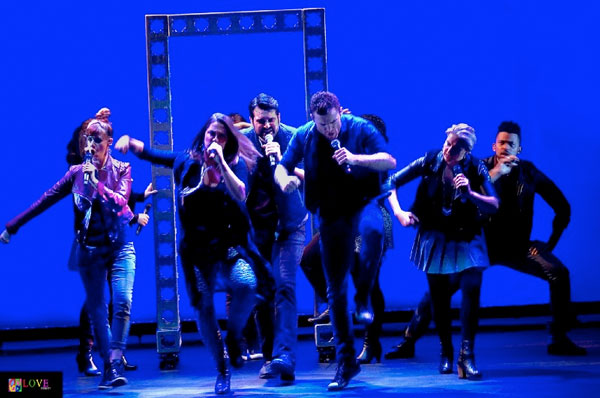 Starting with a single female singer — soprano Kelli Koloszar —the group performs a sultry arrangement of Peggy Lee's 1958 hit, "Fever," sequentially adding the sound of a bass, drums, and trumpet, all created by this swinging group of talented Vocalosity cast members.
Then, they move on to a heartfelt version of Ed Sheran's 2014 hit, "Thinking Out Loud." The number begins with a quartet of Vocalosity members singing "on stage" while others sit and observe them as if they are spectators who, eventually, slow dance in pairs to the music.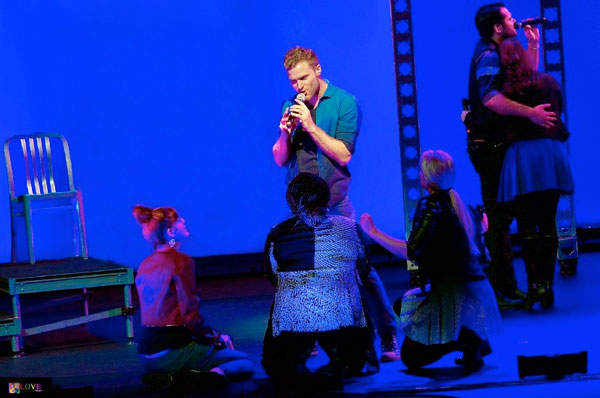 Act I continues with an intricate Motown medley, which the members of Vocalosity explain as "an entire story of love" where "boy meets girl," "boy charms girl," and "boy gets girl." Songs in the medley include such classic Motor City hits as "Isn't She Lovely," "Come See About Me," "My Girl," "How Sweet it Is," "Stop in the Name of Love," "You'd Better Shop Around," "What's Goin' On?," "I'm Coming Up," and "Signed, Sealed, Delivered." From their enthusiastic reponse, the audience clearly demonstrates how much they love it!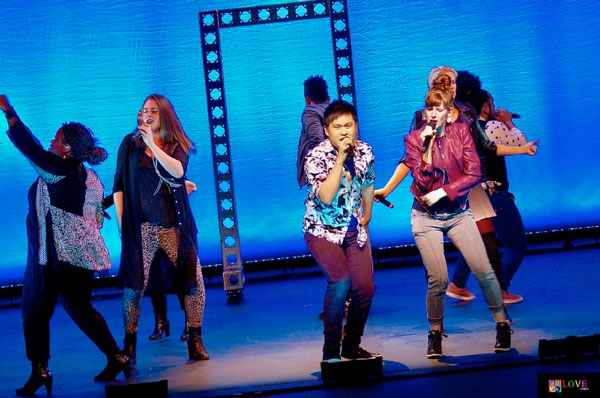 One of the many highlights of the evening is Vocalosity's performance of Leonard Cohen's classic 1984 composition, "Hallelujah." Again, featuring a quartet of female singers — starting with alto Nattalyee Randall — the group sings with heightened emotion, eventually going on to blend as if one glorious single voice, communicating the deep feeling of the song to the appreciative crowd.
Beatboxer Tracy L.J. Robertson takes center stage and invites the members of the audience to imitate several of his unique vocal percussion sounds. Although at first he makes it appear as though the crowd is not particularly adept at recreating his vocalizations, he continues to persevere, dividing the audience into sections and encouraging each section to accurately reproduce various sounds including cymbal taps and snare raps. As Tracy directs the audience, the music builds and, ultimately, he takes off on a rapid-fire drum solo — the audience delighted when they realize that Tracy has already taught the members all of the sounds incorporated in the solo.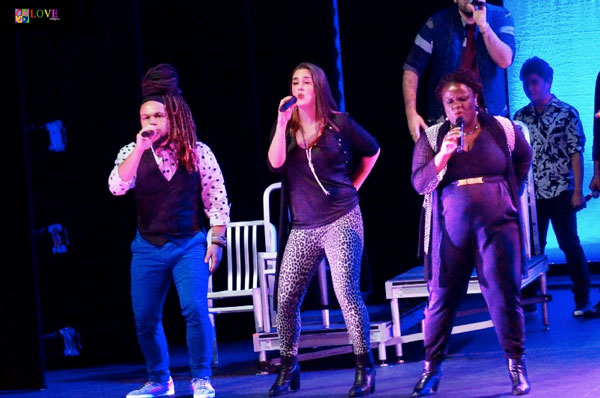 To conclude Act I, Vocalosity performs a scintillating a cappella arrangement of Benny Goodman's 1937 swing classic, "Sing, Sing, Sing." Holding their microphones like instruments to add to the effect, the group's performance of this creative arrangement boasts a solid jazz bass sound, growling trumpet lines, and a percussion solo which leaves audience members wanting more.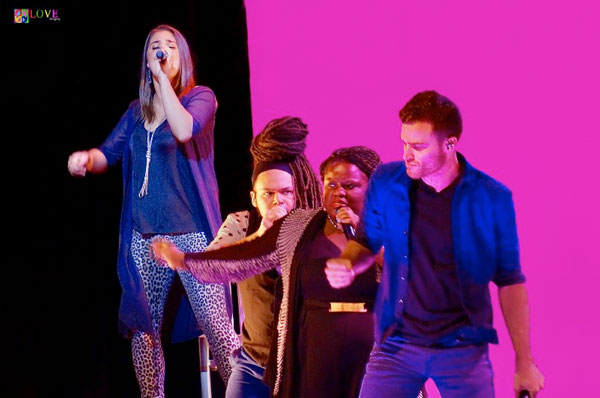 Following intermission, Act II opens with Prince's 1984 hit, "When Doves Cry." While five Vocalosity members create body percussion with a series of dance-like movements, another four singers support soloist Hannah Juliano's expert lead vocal. Using risers to create levels for the choreography, the performers move rhythmically to the polished vocal sound.
Seated just to the left of the stage, Vocalosity soundman Tony Huerta is featured on the group's next number. Asking the audience to "imagine a packed stadium and 20,000 screaming fans," the Grunin Center crowd listens in as Huerta does a sound check on the various individual rock "instruments" on stage. First, we listen to Bryant Vance as he "tunes up" his "bass." Then, we hear RJ Woessner on "lead guitar," to which Huerta adds realistic distortion. Next, we hear James C. Jones's percussive "rhythm guitar" and, soon, Tracy Robertson when he comes in on "drum set." Lastly, we see and hear soprano Amy Whitcomb as she enters the mix on lead vocals.
At this point, the group is poised to present not only one of the highlights of the evening, but also one of the concert highlights of the year with their mind-blowing version of Led Zeppelin's "Whole Lotta Love."
As this expert a cappella group thrills the crowd with their accurate Zeppelin record copy, lights swirl and add to the madness. For our money, Whitcomb's glorious lead vocal sounds like the classic rock group Heart's legendary vocalist, Ann Wilson, in her "Barracuda" prime. And the outrageousness continues to unfurl when beatboxer Tracy enters into a vocal percussion duel with soundman Huerta — in addition to a variety of other group members who join in just for fun!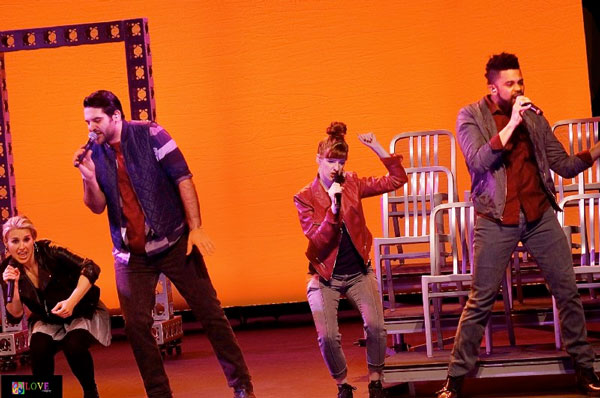 Following spirited applause, the women of Vocalosity are featured on Ariana Grande's 2016 hit, "Dangerous Woman." Then, the entire group launches into a hilarious adaptation of The Sound of Music featuring a Maria — played by Kelli — who appears to be unaware of the lyrics, as well as the plot. The highlight of the number is when the various cast members end up sporting nun's habits, including beatboxer Tracy who must wear his veil high above his dreadlocks!
Moving on to a somber portion of the program, the audience is invited to learn more about several cast members of Vocalosity in an up-close and personal way, as these performers reveal how singing changed their lives for the better.
Nattalyee, for example, tells us that, in college, she was a "party girl" who — after undergoing surgery on her vocal cords "due to her partying ways" — became "sober three years ago." Thanks to singing, Nattalyee says she finally "feels the same peace she felt in church" when she was "a young girl."
Cheeyang, from Singapore, talks about a life-changing experience which occurred to him after he won a talent competition in his home country. As a result of the national recognition he achieved for his vocal acumen, his classmates stopped bullying him at school and learned to accept him for who he really is.
Lastly, Nicole acknowledges that she grew up a very "bossy" person who loved to sing, but lost her confidence as a vocalist as a result of music teachers who, as she explains, "tore me down before building me back up." Nicole says that, eventually, she was able to gain her love of music back again upon finding an inspirational mentor who was able to teach her a significant lesson which she shares with the audience tonight: "There's only one right way to sing — from your heart."
After performing a lovely a cappella rendition of Cyndy Lauper's 1986 classic, "True Colors," Vocalosity concludes their program with a rousing version of Rihanna's 2007 blockbuster, "Please Don't Stop the Music."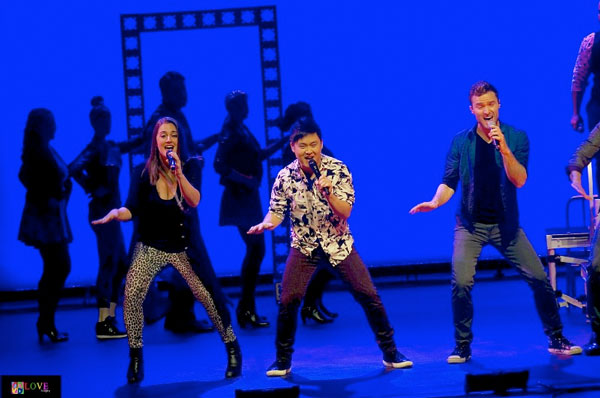 The enthusiastic crowd responds with a lively standing ovation for the entire group and for each individual cast member as he or she takes his or her singular curtain call. Then, en masse, the members of Vocalosity remove their ear pieces and put down their microphones so they can treat the audience to a traditional piece of a cappella music using only their natural voices, thus providing a beautiful and classy ending to this excellent live concert presentation.
After the show, several cast members meet with their fans in the Grunin Center lobby to say "hi," sign autographs, and take selfies.
It is here where we have a chance to chat with Vocalosity member James, from Boston, who tells us, "We love playing in Jersey," pointing out, "we play in Jersey every tour we do."
James also goes on to talk about how much he enjoys performing here at The Grunin Center exclaiming, "This is a great theater! I really enjoy singing in this space," noting "the sound is great" and, also, appreciating how "the audience here gives us lots of energy."
And speaking of energy, also in the lobby, we have an opportunity to chat with some of Vocalosity's fans who have traveled here tonight to enjoy this unique evening of live a cappella music.
Debbie, from Hamilton, NJ tells us she "bought tickets for the entire family to see Vocalosity" here at the Grunin Center after "recently hearing them perform in Pennsylvania," and Debbie's family members — Aiden, Jamie, and Chris — all weigh in with their opinions of tonight's performance .
Aiden calls this evening's concert, "Awesome," whereas Jamie exclaims, "I loved it!"
Perhaps Chris, however, best captures the feeling of many in the audience tonight when she reveals, "Vocalosity touched my soul in a way that nothing else can," going on to add, "It's just incredible what the human voice can do."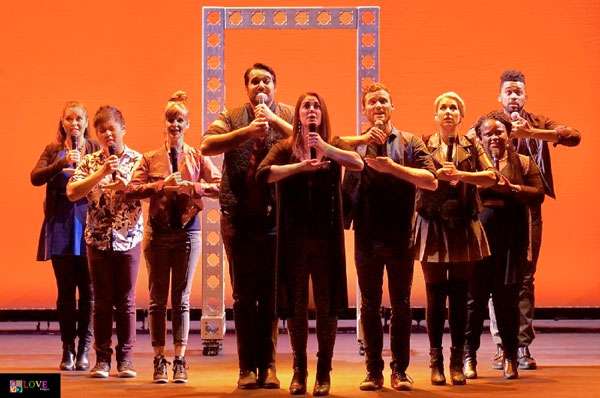 To learn more about Vocalosity — including information on upcoming concerts and their latest CD, Vocalosity, please go to vocalosityontour.com. For more information on great future performances at the Jay and Linda Grunin Center — including Sons of Serendip on Feb 10, Rhythm in the Night: The Irish Dance Spectacular on Mar. 24, and Rosanne Cash and John Leventhal on Apr. 6 — please go to www.grunincenter.org.
Photos by Love Imagery
Spotlight Central. Your source for Jersey entertainment news and reviews
Love Imagery Fine Art Photography. all you need. peace/love/flower/power