By Gary Wien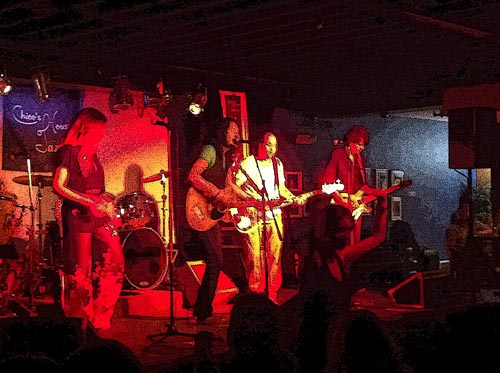 (ASBURY PARK, NJ -- JULY 14, 2012) -- Just a few doors down from where the magic first happened, Albie Monterrosa held a CD release party for his new band with the hopes that lightning might strike twice. As Albie & The Neighborhood rocked Chico's House of Jazz, it was like a flashback to the early part of the last decade when deSol first hit the scene. People were out on the dance floor, swaying to the mixture of latin and classic rock sounds; the audience had a much more diversified mix than usually found in the clubs around this area; and Albie, once again, was showing why he's such a tremendous front man that lightning just might strike twice.

On the liner notes of the band's debut, "11-37 Jackson St.", Albie writes, "This record is dedicated to the spirit of reinvention, transformations, and starting over. The belief that when one door closes another one opens. It is our faith that allows us to walk through a new door, into a new day. We give daily gratitude to all that has been given to us inherently, and to that which we work tirelessly for."

Monterrosa, who led deSol on a tremendous ride for much of the last decade, looked like he was having a great time back on stage. Some guys just have it. I could see it the first time I saw him perform many years ago. He took his talent, his vision, and his charisma all across the world. In my opinion, he was perhaps the most successful musician from the area of the last decade. While deSol never had the success they'd have liked in album sales, they quickly became known as an incredible live act and landed spots on the festival lineups of Bonnaroo, Lollapalooza, Austin City Limits, Langerado, All Good and South By Southwest. They took part of an Armed Forced Entertainment tour visiting bases throughout the Middle East and once had an amazing gig opening for REM in Mexico City. In other words, sometimes success shouldn't be marked by album sales. For Albie, I think success can be measured by the places they've seen, the memories they made, the people they met, and by the number of fans they built up throughout the world. The Neighborhood hopes to build upon that fanbase and continue from where deSol left off.

As with deSol, Albie has put together a tremendous band to work with. The Neighborhood is hot -- a bit smaller in numbers than deSol was, but they certainly bring it. Led by Albie and his wife Sally Perez (who handles lead vocals on some tracks and back up vocals on everything else), the band featured a stellar lineup of musicians including John Bednar on guitar, Nerio Mattheus on percussion, Tom Cottone on drums, and long-time Jersey Shore bassist Rob Tanico (best known for his work with Mister Reality and Highway Nine) who seemed to enjoy having more freedom on bass than he usually does. If coverage of the band is anything like the press thatthat deSol received, you'll hear an awful lot about the Latin-influences in the music; however, classic rock fans will love the guitar work found here. I hope that gets mentioned this time around because there was some serious shredding going on during the guitar solos.

With the crowd ready to go, the band began playing the opening riffs of "The Fighter" from the new CD. After a few bars, Sally Perez came on stage. A few moments later, Albie followed as the audience roared. Some musicians just know how to work a crowd. They make each show an experience. Albie is one of them who gets it. After the opening number, he welcomed people to the show and spoke of his return. "I wouldn't say I was on hiatus, let's say I was recharging my batteries."

The band ran through several of the tracks from their debut including "The Fighter", "Give Myself Away", "Angel Saved My Life", "All Good In The Neighborhood","Chain Reaction", and "Boom Boom Magic". Covers included "Thank You (Falettinme Be Mice Elf Agin)" by Sly and the Family Stone and "New York Groove" by Ace Frehley of Kiss. With a nod to the deSol fans in the audience, the band also brought out "On My Way" and "Blanco y Negro" to great response.

I think his producer, Jon Leidersdorff of Lake House Music, put it best. After the band's set, Jon said, "We see a lot of live music, but Albie just lights up the room, doesn't he?"

He sure does Jon... he sure does. And it's great to see him back in town.

---

Saturday night was presented by PhanPhest, who will be bringing Albie & The Neighborhood back to Chicos every Wednesday night throughout the summer.

---
---
Gary Wien has been covering the arts since 2001 and has had work published with Jersey Arts, Elmore Magazine, Princeton Magazine, Backstreets and other publications. He is a three-time winner of the Asbury Music Award for Top Music Journalist and the author of Beyond the Palace (the first book on the history of rock and roll in Asbury Park) and Are You Listening? The Top 100 Albums of 2001-2010 by New Jersey Artists. In addition, he runs New Jersey Stage and the online radio station The Penguin Rocks. He can be contacted at gary@newjerseystage.com.
---