By Gary Wien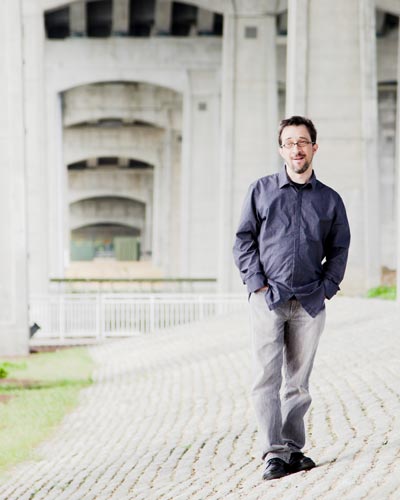 Michael Brett will celebrate the release of his new album on Sunday, June 5 at Rosie's Cafe at the Atonement Lutheran Hall (308 First AVenue in Asbury Park, NJ). The show runs from 5:00pm to 8:00pm and will include performances by Matt Kay, we are., Emily Grove, along with Michael and special guests. Admission is $5. BYOB and some food to share.
On June 5, you'll finally release your next album after many years in between. What took you so long?
I'm a bit of a control freak. I recorded the entire album at home, playing many of the instruments myself, using my 8 track digital recorder. I wanted to make sure that everything was right. (I'm still not entirely sure everything IS right...haha...but i'm sure many artists feel that way with their final project. We are often our own worst critic, I suppose).
Do you enjoy the recording process or is it something rather frustrating for you?
Like I said, I'm a bit of a control freak. I love the creative process behind the song-building, adding instruments, etc. You know? Adding a little vocal harmony here, adding a little mandolin here, a little guitar here. I love that part of it. But I don't consider myself a pro or a recording engineer by any means. So the frustrating part for me was learning the basics of the "machine" I had. I'm STILL learning it, actually. It's not an easy task.

What do you enjoy more: recording or performing live?
I enjoy performing live just a little bit more. Don't get me wrong. I dig the creative process behind the recording and all the stuff I mentioned previously. But when performing live, I get to connect with people. For example, I've had people come up to me and tell me that my song "A Man and His Chair" made them cry after I played it live. I get to see the reactions on people's faces when playing live (both good and bad reactions...haha). And since I'm a very introverted person, I think...performing live is the one time when I am a little more outgoing with people. I'm not sure which is the real me, honestly: the introverted, shy dude or the outgoing live stage performer.
You recently had the chance to perform at the Tin Angel, a great listening room in Philadelphia. While the crowd was loud at first, they settled down and gave you a true listening room experience. What was that like for you? I think that was one of the best shows I've ever been involved with. Partly because of the other talented guys on the bill (Mike Askin, Keith Monacchio, Tony Tedesco), but also because of the "true listening room experience". There IS a big difference between playing at the Tin Angel, where they are actually listening to your songs, and a noisy bar or coffeehouse where somebody is loudly ordering a beer or a mocha latte.
Are there any venues like that in New Jersey that you've played? Would you consider the Rosie's Cafe shows on that level?
Rosie's Cafe is definitely one, and I think that is because Brenda Wirth & Cook Smith are both strong supporters of live music and want the singer/songwriter's music to be experienced the RIGHT way by everybody involved (the singer/songwriter AND the listeners). I also think Espresso Joe's in Keyport is another venue like that. Sonny is incredibly supportive and respectful of the local acoustic singer/songwriters. Espresso Joe's is a great listening room.
What is your new album's name and what songs are on the album?
The title is "Some Kind Of Solitude". It is a phrase from "Hey Bulldog", one of my favorite Beatles tunes. As soon as I heard the phrase, I thought it fit me and the project very well because I'm a bit of a loner. Songs on the album include "Gamblin' Man", "I'm Taking All My Secrets With Me To The Grave", "Vanishing Act", and "A Man and His Chair", all of which I've playing live for a few years now, and songs like "Fishing" which I don't play out very often.
Are there any guest appearances to note?
Guests include Sheli Aarden, John Hanney... and Melissa Anthony & Moon Motel (known collectively as "we are.")...all of them ridiculously talented people. And my friend George Wirth, who's one of my favorite singer/songwriters of all time, mixed and mastered it for me.
Your last release was included in my book, Are You Listening? As one of the top 100 albums of the past decade by New Jersey artists. What did you think when if first told you that the album made the list?
I was very surprised. Considering all of the amazing talent in the Top 100, including some legendary NJ-based bands, I was very surprised and very honored. You told me awhile back and frankly, I'm still shocked. Well...that album would not have been made without the hard work, generosity, and support of George Wirth. I have so much respect for him as a singer/songwriter, but more importantly, as a person. He's such a great friend.

In addition to the album, your song "(in one ear and) out the other" was included in my list of top 100 songs of the decade. At the Tin Angel you played a couple of songs from that album. What are your favorites from that album?
My favorites are "In One Ear...", "Union Man", "The Last One", and "Work Of Art". I still play all of these songs live. I'm very proud of all the songs on the album, but especially proud of these 4 tunes. I still get requests for them, which makes me feel wonderful.
Do you ever still play any of your even earlier material or have those songs been retired?
With the exception of my song "Before Edison" from my first EP "done.", which I play occasionally, I have retired most of those songs. I haven't even listened to them in years. I think many artists can relate to this: where they've written songs from an era where they hadn't found themselves yet. I think I have matured, learned a lot, and have gained more self-confidence in the last 7 years.
Finally, a few months back you took home a Jersey Acoustic Music Award. What does it mean to you to be recognized in that way? Especially since many people feel you've been rather shunned by the Asbury Music Awards through the years...
Well, I don't think awards should be the reason that any of us play music. But, it means a lot to me to be recognized for something that I love doing, by people of the greater Asbury Park community. The awards were part of a wonderful evening. There was so much love and support in that room. I don't think I heard a single negative comment by anybody that evening. It was all positive. That wonderful evening happened right after the devastating earthquake and tsunamis in Japan. So, I considered myself, and STILL consider myself, very lucky to be part of something so positive.
---

Photo by Kristen Driscoll

---
---
Gary Wien has been covering the arts since 2001 and has had work published with Jersey Arts, Elmore Magazine, Princeton Magazine, Backstreets and other publications. He is a three-time winner of the Asbury Music Award for Top Music Journalist and the author of Beyond the Palace (the first book on the history of rock and roll in Asbury Park) and Are You Listening? The Top 100 Albums of 2001-2010 by New Jersey Artists. In addition, he runs New Jersey Stage and the online radio station The Penguin Rocks. He can be contacted at gary@newjerseystage.com.
---