By Gary Wien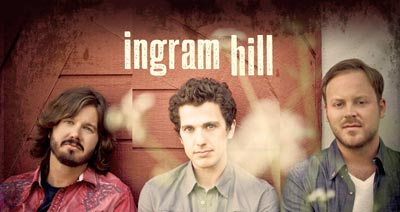 Back in 2004 or so, I was wrapping up an issue of my old magazine late at night when I saw a band called Ingram Hill pop on a CNN segment.  As luck would have it they were playing at the Saint in Asbury Park later that night.  I checked them out that night and liked what I saw; four guys from Memphis playing rock and roll with hints of southern rock thrown into the mix.  There was only a handful of people that first show, but the next time they returned to the Saint I think there was a couple dozen. 

They've since kept the Saint on their list of regular clubs they play throughout the country and will be back in town Sunday, September 9 in support of their new self-titled release.  I spoke with lead singer Justin Moore about their new album, touring, the difficulties of being named Justin Moore, and the Big East...

I was listening to your latest release ("Ingram Hill") today.  It definitely leans more to your country roots, doesn't it?  How did you guys make that change? Does it just feel more natural for you this way?
I think so.  I think we've all kind of straddled that line of being between the rock and country stuff. When our records got produced they always ended up being produced as a rock record. We produced this record ourselves and I think when you put three kids from Tennessee who have a variety of country roots the country will come out.

So, the produce really plays a major role?
Definitely. The producer shapes a lot of what your record is going to sound like. I think with us having complete control over this one, it just felt like a natural progression to make it a little more country sounding.

Normally, I think it's a bit strange when a band puts out a couple of albums and then puts out a self-titled release, but in your case I think it makes sense. Was the new sound and the move to being a trio why you self-titled it?
Yeah. It definitely was intentional. With us doing everything ourselves for the record, I think this couldn't be more us on the record. It just made sense for it to be self-titled.

What has changed for the band since Matt Chambless (the band's drummer) left the band and you've become a trio?
Well... I guess there's one less cook in the kitchen! It's interesting having to hire drummers for tours. We're actually playing this tour with a brand new drummer, so that's always quite a whirlwind. But as long as you find quality players and good dudes it's not a bad thing.

Sometimes a new drummer can inject new life to the songs too.
Absolutely.

Your new record has done very well on the iTunes country chart. How has the response been with your long-time fans?
I was kind of scared about it, I'll be honest with you, but for the most part we've had great response towards the record and the change in sound. I didn't expect everybody to be happy about it, but if there are people who aren't happy about it they're not being very vocal about it.

Well, you've always had a bit of a Southern rock feel to your songs, so it's not entirely a different direction. What would you say is new with the sound, the instruments used?
I think a lot of it is the instruments and we tweaked some of the writing. We didn't stray that far because as you said we always did lean that way somewhat. But more than just with the new instruments its the idea that our tendency has always been to get to the chorus and then add in heavier distortion guitar and make it a big rock song. That's not necessarily the proper thing to do when making a country record. Having to discover new ways to make a chorus stand out in the recording was a new fun and challenging experience.

Have you guys been trying to break into the country industry? Are you doing showcases and such?
We have been trying. With Nashville just down the road, it makes a lot of sense.

Had you done this before? Or did you kind of stray away because of the rock angle?
I think we've always strayed a bit because it was just never on our radar necessarily because we were doing the rock stuff. In the past couple of years, I think we've really started to make contacts in that scene and sort of migrated that way as we went along.

I guess being from Memphis, you sort of have some real street cred for that scene, huh?
Right, it's not like we're from Seattle, we're already Southern guys so it's not a stretch at all.

How do the new songs work live alongside the older material? Have you had to rework any of the older tunes or do they sort of fit well together?
For the most part, they all sort of fit together. I mean, there are some songs that we won't play from the old stuff because they don't really fit at all, but they weren't staples of our set. None of the songs that we're no longer playing were ones we felt we had to play at each show, they were more like niche songs to fill out a setlist. Some of those songs just don't make sense to play anymore, the rest still work.

When your band tours, you really seem to hit a wide area. Do you have a lot of clubs like the Saint throughout the country that are places you return to on a regular basis?
Yeah, actually about half of the places we're playing on this tour are places like that - especially in the south where we'll hit in October and November.

There's places like Club Cafe in Pittsburgh and Jammin' Java in Vienna, VA that have always been great for us.

How difficult is it for you guys to cover such a wide area?
It can be difficult... it depends on how sleepy we are!

So many bands struggle to survive a few years, yet the core of Ingram Hill has been together for 12 years now. Do you think that doing such long tours keeps it more fresh and exciting than if you simply hung around Memphis and Nashville scenes?
Definitely, yeah. Working definitely keeps the freshness and keeps you motivated. Just to be working and doing tours you see a constant flow of fans, you're playing songs and seeing other bands. Stuff like that inspires you to write music as well. I think the touring aspect of our band has definitely helped with the longevity.

It's funny with the band heading the country route - and I'm sure you've run into this problem - but how many times has someone in the country world thought you were the other Justin Moore?
I cannot even count how many times! It is the most frustrating thing in the world. I'm eventually probably going to have to change my name if we keep going down this road. Even when we weren't in the country world it was already overwhelming with just how often it happens.

Apparently, it happens to to him at times too. I don't know him, but people I talk to say he gets it just as much as I do.

They think Ingram is like a side band for him?
Yup!

There's just one more question I've gotta ask you. The band started out while you were at the University of Memphis, right?
Yup.

Well, since you're going to be doing a few shows in Big East country, I have to ask... how weird is it that you guys are going to be joining the Big East next year?
It's weird and it's exciting! I mean, finally! It's weird that it's finally happening. I have no idea what the rest of the Big East country thinks or if we were even on the radar, but we thought in 2004 I think it was when Louisville and Cincinnati came over -- our whole city had virtually packed our bags. We thought we were gone! And then South Florida got picked instead of us and we were like "what? are you kidding?"

We thought for sure we were going because at that point we had a good football team and a good basketball team. And when we didn't get picked, this city went into depression... We've been in our Conference USA depression for eight years now!

I think Memphis joining isn't nearly as strange as having San Diego State or Boise. It'll be a messed up conference, but it might be a fun conference.
We're just happy we don't have to do a home and home with Rice anymore!

There are a lot of Rutgers and Temple fans around here who are looking forward to a road trip to Memphis.
For basketball, we've got an awesome arena. It's in a great part of the city too. It's exciting. I can't wait to have Georgetown, Villanova, Rutgers comes to town.

Basketball should be great, you've gotta work on your football team a bit though. (laughs)
Dude... it's rough. It's been rough these past few years!
---

Catch Ingram Hill at The Saint in Asbury Park on Sunday, September 9. Admission is $12. Jared McCloud opens the show. The Saint is located at 601 Main Street, Asbury Park, NJ.

For more information on the band visit http://www.IngramHillMusic.com

---
Gary Wien has been covering the arts since 2001 and has had work published with Jersey Arts, Elmore Magazine, Princeton Magazine, Backstreets and other publications. He is a three-time winner of the Asbury Music Award for Top Music Journalist and the author of Beyond the Palace (the first book on the history of rock and roll in Asbury Park) and Are You Listening? The Top 100 Albums of 2001-2010 by New Jersey Artists. In addition, he runs New Jersey Stage and the online radio station The Penguin Rocks. He can be contacted at gary@newjerseystage.com.
---