By Gary Wien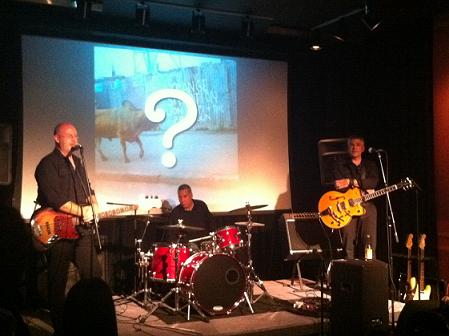 Tell me about the new band - The First Gun. How did you come up with the name?
I'll start with the name and then explain the reason we starting using it. The invention of the gun is probably one of the top-5 major events in human history. It altered power structures, interpersonal relationships, changed the way we eat, and so on. It made killing easy...for better and for worse. Of course, as a songwriter, I would love to have such a major impact on the world...partly the reason for the name. I often wondered about who created the first gun and for what reason? I have tried to research it, but it seems no one knows. Was it made for hunting? War? Scientific curiosity?
We decided to begin using this moniker this past April when our longstanding bassist, Ken Kraut, had to, sadly, leave the band as a full-time member. It was a major loss for me but also an opportunity to try to redefine the direction of our sound. Our guitar player, Doug Lane, took over on bass and we formally became "The First Gun."
There's been a change in band members, hasn't there? Who is in the new band? Did the change in lineup lend the band's sound to veer a new direction?
Not a member change as much as a "who does what" change. Doug, who was on guitar, is also a highly talented bassist. He had substituted for Ken prior to becoming part of the band so I knew how good he was. We talked about searching for a new bassist, or guitarist, but after a few rehearsals it became clear that the trio had a pretty cool sound of its own. Doug's playing is quite different from Ken's and it has changed our sound in important ways. I have also been wanting to do a more straight-ahead rock record, so the change in sound was also intention...not just a byproduct of a change in bassists.
This record is a bit more punk than in the past. Who are some of the punk bands you've followed through the years?
Quite a few actually. Ramones, Bouncing Souls, NOFX, Buzzcocks, Dead Kennedys, Bad Religion, CH3, Rancid, The Living End, Piebald... lately the Bouncing Souls have been in heavy rotation on my player...can't get enough. Also, some new acts: Off With Their Heads, and other punk influenced bands -- Gaslight Anthem, Lemuria... and of course Gene Vincent & The Blue Caps -- in my mind the first punk band...


How did your trip to Africa and the adoption of your new song play a role in the songs on the record or the overall idea behind the record?
Interesting question! Well, I didn't start the record intending any of it to be about adoption, but the adoption happened while we were recording. Adoption is a powerful experience and it started to show up in my lyrics. I had these unbelievable and somewhat strange experiences during the trip to Africa to adopt my son and thought to myself, "This would make an interesting song." The title track, Strange Situation, is a good example. With international adoption you first get a few photos and maybe a video or your future child. After having this picture, you wait many months, then on rather short notice (at least in our case) you are told to fly halfway across the world. The day I landed I was taken straight to the orphanage and introduced to my son (then 8 months old). It was a pretty strange situation - holding a child for the first time while onlookers watched, and thinking this is my child. It must have been even stranger for him...flown back to a strange country to live in a strange house with new people, foods, smells, and so on. It was a strange situation on many levels....but one of the best experiences I have ever had, and probably ever will.
For the record release, you chose a rather unique way of presenting the show with an almost "Behind The Music" look on the making of the record. Was that planned all along or something you decided to do after the record was released?
As you know, my last album, Eddie Knows! was a "rock novel" and told a complete story with each song a chapter of the tale. The ShowRoom Theater in Asbury Park contacted me to stage the album as a multimedia production which included live performance, video, interview and musical theater numbers with actors. It was a lot of fun and quite successful. After it was over, the theater owners Mike & Nancy, talked to me about "What next?" and Mike had this great idea to do a multimedia behind the music type show. After hearing his idea I thought it would be great for an album release event as there are always stories to tell in creating albums...so, we ended up doing it for Strange Situation. It was a fun, and happy to say, a sold out night .


You've taking some rather big gambles with your last few records from the concept of Eddie Knows to a different sound with "Strange Situation". Was the difference between your last three records just a coincendence or something you wanted to do? Do you already have plans for the next record? If so, will it be going in a completely new direction?
It is validating to hear that others see my efforts as gambles because it felt that way to me too. Eddie Knows! was a very thought out album in terms of lyrics, story, and the music. Each song had to match the intensity of the lyrics and I spent a great deal of time mapping it and recording it. It was also a very lush album in that it includes many layers of instrumentation and vocals - to create various soundscapes. After Eddie Knows! I really wanted to rock out a bit and do a more straight ahead and edgier record. So, I decided to almost do a 180 and do almost no layering and worrying about every second of the recording -- to go for a more natural and organic sound. And, as you noted, my punk influences starting coming through and so we went with them. It was very intentional and I have to say, at the moment, I am really enjoying this direction a great deal. We have already begun working on the next album which is even more punk influenced with many very fast tracks...straight up, old school punk... after that, I am thinking of a more 60's soul influenced record...seriously...but we'll see...like I said, this punk/indie style we are in now is the most fun I have had playing music in a long time.
Where is the record available? (Online, local stores, venues, etc.)
Online, almost everywhere...iTunes, Interpunk, Amazon, eMusic, CDBaby, etc. In stores, the album is available at Hold Fast Records in Asbury Park and Espresso Joe's in Keyport, NJ. Hold Fast has our hoodies and t-shirts too. Links to all these places can be found on my website: www.JonCaspi.com


Finally, tell me about promoting the record as an indie artist. What are some of the most difficult aspects of the process? What can fans of yours do to help?
This is an interesting question. Promoting releases these days has become quite complicated and a real challenge. A few years ago there were fairly clear steps you could take to get the word out in an organized way -- hit the arts papers, fanzines, college radio, etc. With the popularity of the internet, most of these places are either mostly gone or de-legitimized. It's unclear how folks find and connect with new music these days. Since my album has some themes, some of the promotion has been related to them. Because, for example, a number of the songs on the album are related to my adoption experience, our release event was tied to that as well as some of our other promotional efforts. We are currently looking at other promotional markets and doing some tours, perhaps abroad. We also do free downloads from time to time.
To answer the second question, fans can help by spreading the word -- burn, rip or whatever a copy of some songs you like and share it with people who have not heard it yet. Word of mouth is really helpful. Bring your friends, workmates, relatives, enemies, anyone... to shows...that's helpful too.

---
Gary Wien has been covering the arts since 2001 and has had work published with Jersey Arts, Elmore Magazine, Princeton Magazine, Backstreets and other publications. He is a three-time winner of the Asbury Music Award for Top Music Journalist and the author of Beyond the Palace (the first book on the history of rock and roll in Asbury Park) and Are You Listening? The Top 100 Albums of 2001-2010 by New Jersey Artists. In addition, he runs New Jersey Stage and the online radio station The Penguin Rocks. He can be contacted at gary@newjerseystage.com.
---