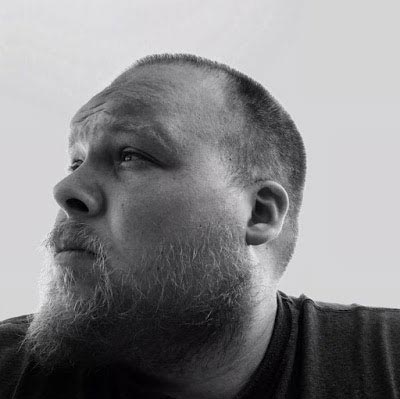 Damian Rucci is a poet from Keyport, New Jersey. His first full length book is forthcoming. Being a poet is never easy and over the summer he was able to take part in an arts residency in the midwest. Since we know many artists not only dream of doing such a thing, but have no idea how to make it possible we thought we'd learn more from Rucci about the experience.
Tell me about the Osage Arts Community residency. How did you get it?
The Osage Arts Community is a residency for artists of all mediums located in the sleepy town of Belle, Missouri (about an hour and half southwest of St. Louis). The residency has become a stomping ground for bohemians, the avant-garde, and an influx of street poets from every corner of the United States. OAC has become a place to be and I wanted to experience it first hand. I met the president of the residency Mark McClane at the 2016 Poetry Throw Down in Kansas City, Missouri. He saw my performance and invited me to come. Two years later and I was finally able to carve out two months of my life to drop everything, quit my job, and dive head first. I'm going to be looking at other residencies to start pursuing and will surely be making my return to Osage Arts Community as well.
You went out there to try to get some projects finished and to try getting a focus for your future. Were you successful?
I went out there with two major things I wanted to get done: I wanted to finish my first full length poetry manuscript and I wanted to rebuild my own self-worth. Being in the struggle of working and trying to pay the rent while still pursuing your art can break you down or worse round out your edges. When I first made it out to Belle, I felt like I was just a shadow of who I once was. I was beat down and bone-tired and I felt that my creativity had bled out through my pores. Two months of being there and the switch was flicked back on. I left OAC with my fingers beating out new poems onto the keyboard and my book The Degenerate's Anthem will be published later this fall by Stubborn Mule Press, an imprint of Spartan Press.
---
The article continues after this ad
---
---
Would you recommend fellow artists seek a refuge like Osage sometime in their career?
I would recommend anyone to try and seek refuge from the real world even if they can only swing a weekend. It's rough out there for an artist especially in New Jersey where the waves of gentrification continue to swallow our little peninsula forcing the rents higher and higher while the jobs continue to taper off. Breaking away from the chaos for even a little bit will do wonders. Hanging out with other artists and finding new influences is a huge bonus.
What was an average day for you like at Osage?
I was exposed to new ideas during my time at OAC and did a lot of reading on things like Buddhism, Sufism, and other Eastern philosophies. Like generations of artists before me, I grew tired and drained trying to find the truth in the machinery of Western Civilization so I turned to other cultures. Every morning I would meditate for 22 minutes with a mantra and by the end of the chanting, I was filled with so much energy and focus that I would sprint up the stairs and begin to start writing poems. I'm a pacer, so for three or four hours I would pace around my room, bouncing a pink Spalding ball and writing poems line by line as I read them aloud. When I was done with that I would walk around the town. Sometimes I'd stop by the pool hall Padgett's Place or go to Belle Book & Candle which has become a hub for the burgeoning bohemian movement or just kick it with the artists that are there. The nights would end with several cases of beer consumed and new drunken nights scribbled into my memories.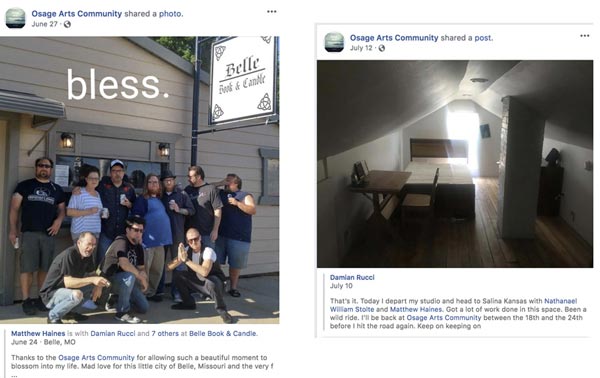 What were the best aspects of being there?
The best aspect of being there was definitely being surrounded by fantastic artists of different mediums. We would all hang out and discuss our new ideas or kick back and just read poems to one another for hours. You don't know someone until you see the work that they produce with their hands. The other artists who were there with me during my time were Chigger Matthews, John Dorsey, Nathanael William Stolte, Jeanette Powers, Becky Hernandez, Greg Edmondson, Jeff Hogue, Allana Ross, Nolan Stolz, Zophia Mcdougal, Josh Crow, Dan Crocker, and other artists who popped their head in here and there. Being surrounded by such art is breathtaking. You are who you surround yourself with at the end of the day.
How about the worst aspects?
Eh you know, when you stick a group of people together you're always going to encounter internal politics and the bits of drama that surface here or there. I was fortunate to not be tangled up in anything but artists are sensitive and you need to know how to navigate in those scenarios.
In addition to Osage, you did a bit of a tour out there. Did you do readings in places you hadn't been before?
We went out on the road twice. The first time wasn't really a tour, we just bounced around the country, hitting some open mikes here or there. But I was happy to get on the mic in Dallas and Topeka. The actual tour we read in Mishawaka, Indiana, Indianapolis, Toledo, Ohio, and Flint, Michigan. I had read in Toledo a couple times before but the rest were new experiences. We had a blast everywhere we went.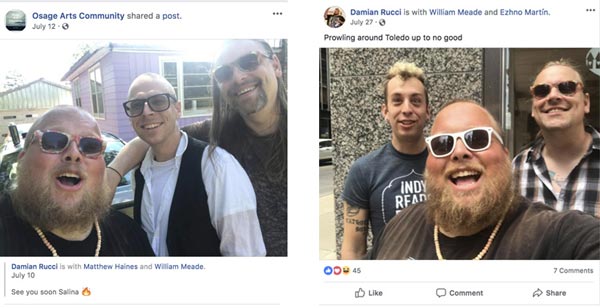 It looked like you were having a blast on tour. What were some of the craziest things you did?
The tour was crazy. In Toledo, we read at The Trunk as a huge stand-off with police was happening up the road. The whole thing turned into a party. Joints burning from all angles, smoke clouds consuming the outside deck area. I made the poor choice of taking two hits of LSD before the show and was stuck in a chair that felt like a rocket ship outside. Missed my set but eventually was able to pull it together and fat tongue my way through my set. Toledo is always a highlight and has a strong scene. In Dallas we read at Poets on X+ which is hosted by Opalina and Carlos Salas and had a huge after-party at their spot. That was just what I day-dreamed the road would be like.
Touring can be difficult for many reasons, but it can help an artist grow. How has it helped you over the years?
Touring is something that sounds really exciting and lavish to outsiders but it always boils down to just a car full of dudes who desperately need a shower singing old songs through large sections of the interstate to pass the time. It's needed though to branch out. Traveling the country and meeting people has expanded my creativity and inspired me heavily. You'll meet someone at a show somewhere in a city far away and forge immediate friendships. The common trope is that folks always say they don't have the means to tour but if you're headstrong and stubborn you can make it work with barely any cash. Just know you'll be cramped in a tiny car and looking to find a place to crash in every city. It almost always works out.
What would you say to a poet who has never gone on the road? What are they missing out on?
I'd tell them that they're missing out on everything. Local scenes are the pillars to the national poetry community and here in New Jersey we're blessed to have a stable of very talented and ambitious poets who always make sure there is something going on somewhere. The problem with NJ is that the scene exists in pockets scattered across the state from Jersey City down to South Jersey. If you never leave your scene and never get a taste of what is going on out there, you're going to live in a bubble. I've been humbled numerous times by poets I don't know who murder on stage and really give me a kick in the ass.
---
Gary Wien has been covering the arts since 2001 and has had work published with Jersey Arts, Elmore Magazine, Princeton Magazine, Backstreets and other publications. He is a three-time winner of the Asbury Music Award for Top Music Journalist and the author of
Beyond the Palace
(the first book on the history of rock and roll in Asbury Park) and
Are You Listening? The Top 100 Albums of 2001-2010 by New Jersey Artists
. In addition, he runs New Jersey Stage and the online radio station
Asbury Music
. He can be contacted at
gary@newjerseystage.com
.
---