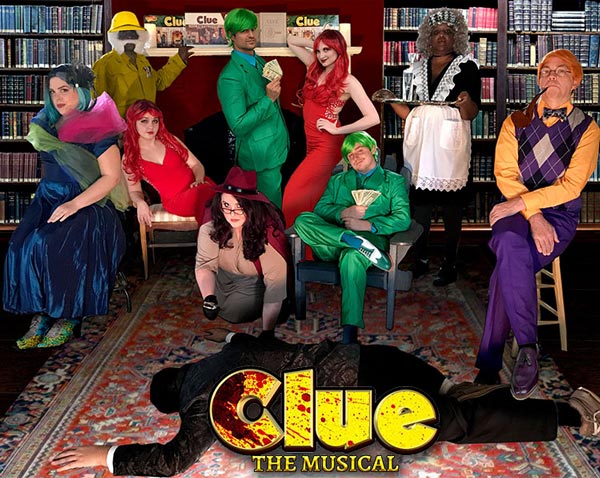 (SOUTH ORANGE, NJ) -- interACT Theatre Productions presents the musical comedy whodunit Clue: The Musical this month. Based on the internationally beloved Parker Brothers board game, Clue: The Musical was written by Peter DiPietro, with music by Galen Blum, Wayne Barker, and Vinnie Martucci, and lyrics by Tom Chiodo. The show runs for three weekends at the Baird Theatre on Three, from Friday, October 13th to Saturday, October 28. 
The musical was created after the 1985 film version was released, and ran Off-Broadway at the Players Theater in late 1997. The interactive show gives audience members a chance to be part of the action by picking three cards that will determine the answers to which suspect killed Mr. Boddy, with which weapon, in which room of Boddy Mansion. There are 216 possible solutions, so the ending of each performance can be very different! The script is designed to have some interchangeable dialogue between characters as the night unfolds, keeping everyone on their toes.
The production is directed, choreographed, and set designed by Nicholas J. Clarey, with musical direction by Holland J. Jancaitis, stage managed by Amanda M. Wingo, and costumed by 2017 NJACT Perry Award winner Lynne Lewis. It is presented in part through the generosity of Dawilla Madsen.
The cast consists of ten actors in eight roles: Jerry Narciso (Mr. Boddy), Ruth Kenote (Mrs. Peacock), David Wren-Hardin (Professor Plum), Moriel Behar & Molly Polk (alternating Miss Scarlets), Mentha Marley (Colonel Mustard), Yolanda Hamilton (Mrs. White), Dave Williams & Christopher Learn (alternating Mr. Greens), and Sabrina Santoro (the hard-nosed Detective).
The band consists of six musicians: Holland J. Jancaitis (Piano), John Straus & Matt Delavan (alternating Drums), Marisa Green (Keyboard), and Henryk Kress & Bryce Tempest (alternating Cello). Rounding out the crew are Construction Manager Jerry Narciso, Lighting Designer Zach Pizza, House Manager Dawilla Madsen, Light Board Operator Shane McCarthy, and Publicity & Media team Sabrina Santoro and Mark J. Parker.
---
The article continues after this ad
---
---
Friday and Saturday night performances begin at 7:30pm, and the Sunday matinees begin at 4:00pm. Online tickets are discounted at $22 for Adults and $18 for Seniors/Students at interactproductions.tix.com until 2 hours prior to the performance. All tickets purchased at the box office in person are $25, and are available starting one hour before showtime. Tickets cannot be purchased by phone.
Founded in 2009, interACT is now in its 9th season of bringing award-winning theatre to the community. Next on their slate are two shows in December: the interACT Youth production of The Jungle Book, and the Christmas story Black Nativity, which will be a benefit fundraiser for the South Orange/Maplewood Community Coalition on Race. More details at interactproductions.org.