By Gary Wien
originally published: 01/22/2016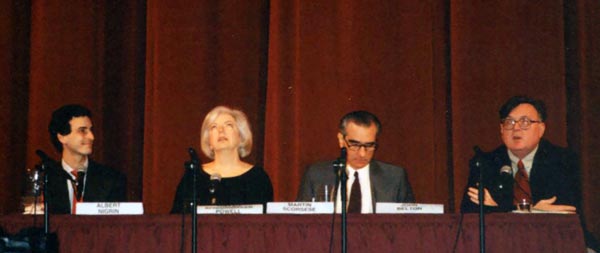 Albert Nigrin is the creator and founder of the New Jersey Film Festival and has been running it for about 35 years.  Located on the campus of Rutgers University, the film festival's seasonal approach makes it unique in the area and it's highly curated film lineup is what keeps film lovers coming back year after year.
All of the films screened at the festival are selected by a panel of judges that includes media professionals, journalists, students, and academics. Sixteen judges were part of the Spring 2016 festival.  Each film was scored on a scale of one to ten with ten being the highest.  Generally films scoring seven or more are selected as finalists.  Scoring is based on originality, creativity, production values, and performances.  All total, the Spring 2016 festival includes 21 films from over 300 submissions by filmmakers around the world.  
Many of the films screened include an introduction and Q&A session with the director or a principle member of the film's cast.  Over the years, the festival has had some of the biggest names in cinema make appearances.
"One of the most amazing sessions we had was when Martin Scorsese and Thelma Schoonrmaker-Powell (top photo) came to present Powell/Pressburger's The Life and Death of Colonel Blimp back on a frigid evening in February of 1994. Over 700 people came to see the show," recalled Nigrin. "Other great ones included when Todd Solondz (bottom photo left) came to present his very controversial film Happiness back in 1999. Over 1000 people came for that screening at the State Theatre in downtown New Brunswick. D.A. Pennebaker, who is a huge fan of our festival, came three different times to present Monterey Pop, Moon over Broadway, and Don't Look Back. I also loved when Paul Morrissey, Director of Andy Warhol's Chelsea Girls came two different times to present his incredible film. More recently I really enjoyed when Steve Tozzi, Director of Riot on the Dance Floor (bottom photo right) - a documentary about the infamous music venue in Trenton - came to premiere his film last January."
In addition to being a Cinema Studies Lecturer at Rutgers University, Nigrin is an award-winning experimental media artist with work that has been screened on all five continents.  He understands the value of filmmakers being able to meet and learn from others in their craft.  In fact, the New Jersey Film Festival is very much designed with the filmmaker in mind.
---
The article continues after this ad
---
---
"As a filmmaker who has also submitted to hundreds of film festivals, I know how it feels to be rejected and accepted," he explained. "To filmmakers that enter our festival I give them the same advice I adhere to: 'Keep working hard if you get in or if you don't.' Our Film Festival caters to the filmmaker. We make sure films are not being screened at the same time as others so all the audience's attention is on their work. Plus we bend over backwards to get as much press and media attention for all the films that are selected for public viewing. Filmmakers that have seen their film on our big screen and terrific hi-def projection system frequently comment on how great their film looks. Some have even used the term: Wow!"  
Many of the films shown over the years have gone on to be screened in movie theaters, on television, and released on home video.  Some of the recent success stories include Wildlike, which was named Best Feature of the Spring 2015 festival.  The film went on to have a very successful theatrical run in the United States.  Another recent success story was Lies I Told My Little Sister, which went on to be picked up and released nationwide on DVD as a Geena Davis Selection from her 2015 Bentonville Film Festival, championing women and diversity in media.
On February 19-20, it's time for the 2016 United States Super 8 Film & Digital Video Festival — another unique aspect of the New Jersey Film Festival.  Now in its 28th year, it is the largest and longest-running juried super 8mm film and digital festival in North America.  
"The Super 8 Festival is very dear to me as I began my filmmaking career as a Super 8 filmmaker and wanted to help the small film gauge gain more prominence," said Nigrin. "Back in 1988, Toni Treadway and Bob Brodsky of the International Center for 8mm encouraged me to create this festival so I did. The first year it was an invitational festival where I reached out to Super 8 filmmakers that I admired to submit films. I curated that first festival but all of the 27 others have been juried just like the New Jersey Film Festival."
Screenings for the festival take place on Friday, Saturday, and Sunday night in Voorhees Hall #105 (Near the corner of George Street and Hamilton Street) in New Brunswick. All programs begin at 7:00pm. Seating is general admission with at $12 for adults, $10 for students and seniors, and $9 for Rutgers Film Co-op/NJMAC friends.  For more information on the festival visit www.njfilmfest.com.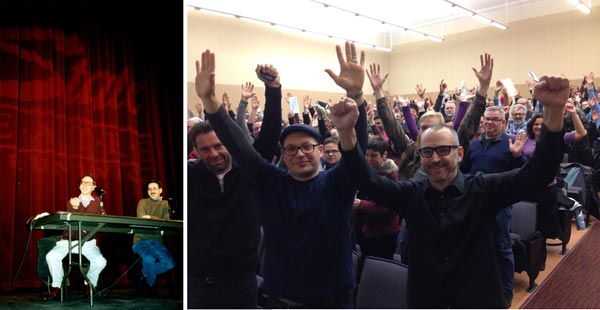 ---
Gary Wien has been covering the arts since 2001 and has had work published with Jersey Arts, Elmore Magazine, Princeton Magazine, Backstreets and other publications. He is a three-time winner of the Asbury Music Award for Top Music Journalist and the author of Beyond the Palace (the first book on the history of rock and roll in Asbury Park) and Are You Listening? The Top 100 Albums of 2001-2010 by New Jersey Artists. In addition, he runs New Jersey Stage and the online radio station The Penguin Rocks. He can be contacted at gary@newjerseystage.com.
---