By Gary Wien
originally published: 05/09/2020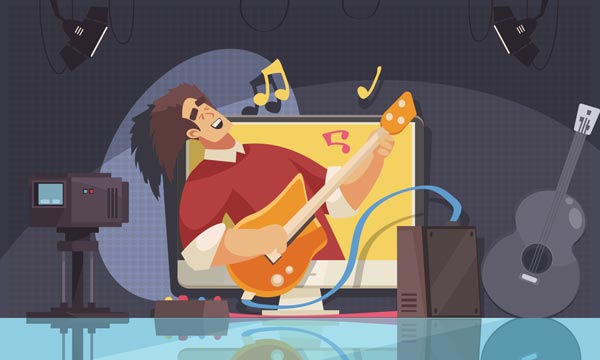 Sometime in February events started getting cancelled or rescheduled throughout New Jersey. For the past five years, New Jersey Stage has been running an event calendar which regularly listed 5,000-7,000 events a year. We tried maintaining the calendar for a few weeks, modifying and deleting listings until it became both too big of a job and a fruitless one. It was clear events would not be taking place any time soon. So on March 20th, we made changes to our calendar's programming code to make it easier to list virtual events and our virtual event calendar was born.
The Virtual Event Calendar at New Jersey Stage is quickly approaching its 1,000th listing.  Many of these have been inputed by us directly as we check a pair of websites each day and add shows we think would be good to highlight. Others have been added directly by artists or arts organizations.  
So, why should you add your shows to our event calendar?
The main reason is added exposure. Not only are thousands of people viewing our listings each week, but our event listings get picked up by the search engines. They also get sent out via alerts like Google Alerts whenever someone has set up their alert to match a keyword found in our listing. NJ Stage places our virtual calendar on nearly every page of our website, which provides high visability. The listings also appear when users search for relevant topics at NJ Stage.  Finally, virtual event listings are free and take just seconds to add per listing. We've even set it up so you can add shows throughout a series without needing to change information other than the date and time, and any other information that changes.
Virtual events can be used to help promote within a local area or across the entire world. One of the exciting things about virtual events is that they can be seen anywhere - so why only promote them to your regular followers on Facebook, Twitter, or Instagram?  Why not use this pandemic as an opportunity to broaden your fanbase?
---
The article continues after this ad
---
---
With that said, one thing we've noticed is that many arts organizations and artists are not promoting their events with press releases as they would with a regular event.  Many are submitting press releases only a day or two ahead of the event, if they send any out at all. To truly get value for your releases, NJ Stage suggests sending them out a week in advance if possible. Search engines generally pick up event listings and stories within a day or two, but allowing for a few additional days will ensure search engine visibility. Plus people are working different schedules due to the pandemic so releases a day or two in advance may not be noticed in time.
In addition, for every regular event that would take place during the year there are probably 10 or 20 virtual events. People aren't just holding virtual events on the weekend, they are presenting events every day of the week. This is another reason why promoting your events is important.
The New Jersey Stage Virtual Event Calendar will list events for any arts genre or community event. Our goal is simply to help bring more attention to the events.
New Jersey Stage made the move to virtual events long before most noticed the trend. That's one of the advantages we have of being a small, independently run operation. We can change our direction at a moment's notice and do not require lengthy meetings or approvals.  Our regular event listing area is still active and receiving new events from venues, but we will not be adding events ourselves until physical shows return.
And, like you, we cannot wait until physical shows return...
---
Gary Wien has been covering the arts since 2001 and has had work published with Jersey Arts, Elmore Magazine, Princeton Magazine, Backstreets and other publications. He is a three-time winner of the Asbury Music Award for Top Music Journalist and the author of Beyond the Palace (the first book on the history of rock and roll in Asbury Park) and Are You Listening? The Top 100 Albums of 2001-2010 by New Jersey Artists. In addition, he runs New Jersey Stage and the online radio station The Penguin Rocks. He can be contacted at gary@newjerseystage.com.
---