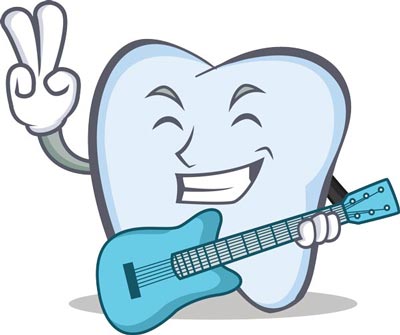 Many people hate to go to the dentist. I like going to the dentist. I look forward to my visits because my dentist, John Mamoun, is also a pianist and composer of 21st century "classical" music. There's always a little time to chat about music---like his newest composition; his performance on YouTube; that he reads NewJerseyStage.com; or that I'll be a guest singer in an upcoming concert and I hope he'll come.
I recently had a root canal. I was wide awake and didn't feel a thing. My dentist is gentle. And I like that, as musicians do, he works on weekends. It's convenient for me.
During the root canal, I was focused on the sound of the drill. It was musical. The modulating tones sounded like a female singing. Would I have perceived the sound of the drill the same way with a non-musical dentist? Maybe not. The energy in the room would be different. Beyond the surface of our awareness we are influenced by the energy field of anyone around us.
I call my dentist Dr. John.  I've never asked him if he's heard the work of the other Dr. John who's one of my favorite artists and whose given name is Malcolm John Rebennack. I wonder if my Dr. John would like the other Dr. John's New Orleans jazz/blues/gospel piano and singing style. I'm going to suggest he give a listen to Rebennack.
Recently, dentist Dr. John gave me his new book of custom arrangements of classical pieces and his own compositions. I gave him my CD, But Beautiful. He listened to my recording, likes it, and made some interesting comments about it. We are worlds apart in every way--- except that we both have musical souls. When musicians come together differences fall away. 
---
The article continues after this ad
---
---
In contrast, I gave my CD to my pulmonologist last year. He's the man whose business is keeping his patients breathing. He doesn't play music. And he never listened to my CD. He told me so. Since breathing is the foundation of singing, you'd think that even if he isn't a music fan, he might be curious as to how his long-time patient who is prone to bronchial asthma breathes when she sings!
I've had associations with many musical NJ physicians. Where I live, in Monmouth County, there's Maria Choy, my former neurologist and voice student; Robert Lillie, podiatrist and bass player; Richard Therkelsen, my chiropractor, guitarist, singer and occasional voice student; and Arthur Topilow, oncologist and jazz pianist, to name just a few.  I believe that as we go through life, we'll wind up attracting birds of a feather, often at the most unexpected time, place, and circumstance---thanks to the universal law that similar energies find each other.
Physicians are smart. Good at math. And music is mathematical. By now, anyone who reads is aware that listening to and studying music in childhood develops the same parts of the brain used for math and science. That can begin in the womb when the fetus hears ambient musical sounds, and when parents sing to the baby in the belly. 
Don't we all know musicians with day jobs in the computer science industry and who use the latest digital technology on their gigs? It's no accident that many children who had music lessons growing up become computer engineers; physicians; and research scientists in every field while continuing to enjoy playing music.
Above is my dentist's performance of his composition, "Rodeo Music," followed by a video from the Symphony of Science below. The track "We Are All Connected" features the singing of  Neil deGrasse Tyson, Stephen Hawking, Carl Sagan, Richard Feynman, and Bill Nye…I kid you not…with a little help from their friend AutoTune. The piece is a tribute to great minds of science, and intended to spread scientific knowledge and philosophy through music. If Albert Einstein were alive, he might have joined them on violin. 
Rosemary Conte is a jazz singer, voice coach, freelance writer and hypnosis therapist. Reach her at RConte9@verizon.net;  www.facebook.com/rosemary.conte or  www.facebook.com/RosemaryConteSinger/