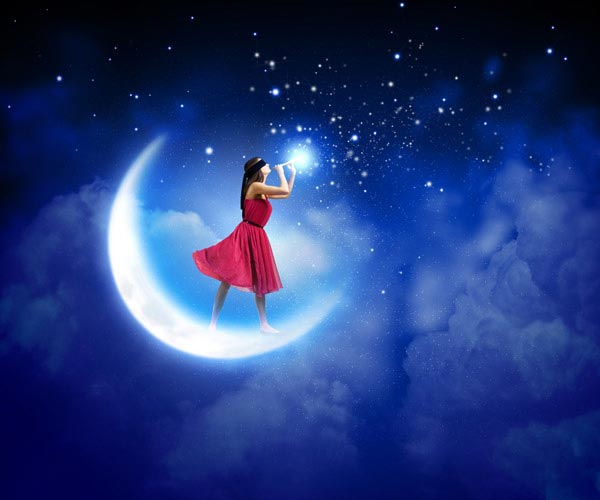 Don't discount the value of dreams to your conscious life  –  and livelihood.  Dreams have served Billy Joel, Paul McCartney, Johnny Cash, David Bowie, Jimi Hendrix, Taylor Swift, and hundreds of other songwriters well.
In a Psychology Today interview,  Billy Joel tells that as he was sleep walking -- in a dream within a dream -- he heard the song that became his 1994 hit and Grammy nominated Song of the Year, "The River of Dreams." Sometimes dreams are forgotten the moment we wake up. Joel says he often gets song ideas in his dreams and struggles to remember them.  "The River of Dreams," however, was an ear worm; it wouldn't go away. "I tried NOT to write it."  He even questioned that he, an atheist, should write it.  
On a The Howard Stern Show Joel said, "I thought, who the hell am I to try to pull off this gospel song, so I took a shower to wash the song away. But as I sang it in the shower I knew I had to write it down."  The biblical imagery in "The River of Dreams" references Psalm 23:4, "Though I walk through the valley of the shadow of death, I will fear no evil."  And in the song there are images of people being baptized in the water.  The phrase "river of dreams" is a play on the phrase "stream of consciousness." 
Dreams come from our deeper minds, referred to as the subconscious or unconscious state where we are mind only -- higher mind -- as the body is left dormant, waiting for the spirit re-entry when the alarm clock rings.  Just look at the word inspiration…and you see in spirit. John Lennon's "#9 Dream" came to him via such inspiration. 
 Last Mother's Day, I performed "Let It Be" for Unity by the Shore's Mother's Day service. I prefaced the performance with a story I heard McCartney tell and that I love.  He said that growing up, when he had problems worrying him, his mother would tell him to "let it go," and that if he took his mind away from the problem, the solution would reveal itself.  
---
The article continues after this ad
---
---
"I was going through a really difficult time around the autumn of 1968," said McCartney. "The Beatles began making the White Album and were starting to have problems.  I sensed we were breaking up… and I was staying up too late at night, drinking, doing drugs, clubbing…and in the back of my mind was the thought that it was about time I found someone. It was before I got together with Linda.
" I was exhausted! Then one night, I had the most comforting dream about my mother who died when I was only 14.  She was a hard working nurse and a very comforting presence in my life.  And it was difficult…that as the years went by, I couldn't recall her face so easily.  So in this dream 12 years later, my mother appeared, and there was her face, completely clear, particularly her eyes. And she said to me very gently, very reassuringly, 'Let it be.'  It was lovely.
"I woke up with a great feeling. It was really like she had visited me at this very difficult point in my life and gave me this message: Be gentle, don't fight things. Just try and go with the flow and it all will work out. 'The answer will come.' I went to the piano and started writing: 'When I find myself in times of trouble, Mother Mary comes to me'-- Mary was my mother's name -- 'Speaking words of wisdom, Let It Be. There will be an answer, Let It Be.'
"Those three little syllables had so much value to me. And when something happens like that (dream inspired) as if by magic, I think it has a resonance that other people notice, too.  Not very long after the dream, I got together with Linda, which was the saving of me.  Later though, the song became more like a hymn and we sang it at Linda's memorial service."
Trust your dreams. "They come to serve your health and wholeness," teaches Rev. Dr. Jeremy Taylor, known by many for his timeless book on dreams, Where People Fly and Water Runs Uphill.  You can learn to interpret the symbolism in your dreams. Therein, may be your next great idea, a song, or your invention that will help the world. 
It's a good idea to keep a notebook and pen next to your bed so that immediately upon awakening you can write your dream…and if you recall only snippets or a word or two, they would be the most significant pieces of the dream that you can chew on.
---
Rosemary Conte is a singer, voice teacher, and freelance writer. She coaches people on how to get started in music and in interpreting dreams. 
Her column appears here monthly.  Contact Rosemary to learn how you or your business can become a sponsor of her monthly Inside Music column with a text box in the column announcing your support. Or, consider buying an ad to appear in Rosemary's column at a discounted rate. Details at RConte9@verizon.net or call 732-583-4959.