By Gary Wien
originally published: 10/24/2016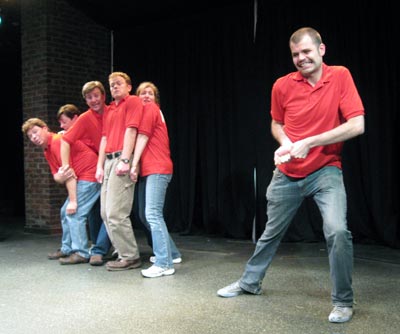 Fifteen years ago, Dreamcatcher Repertory Theatre performed their first improvisational production after ensemble member Dave Maulbeck brought the idea to the group.  They've been doing it ever since under the name Multiple Personality Disorder.  The company's improv troupe has attracted its own group of fans and helped improv become a key aspect of Dreamcatcher's educational programs.
I first saw Dreamcatcher's improv troupe perform during the New Jersey Theatre Alliance 2015 Curtain Call gala.  In addition to performing that night, the company was honored with an Award of Excellence in recognition of their 20th year.
While reading an article on how many businesses are using improv training, I became interested in seeing if Dreamcatcher's improv classes were attracting the business world as well.  Sure enough, their classes are not just attended by budding comedians or actors, but have plenty of business people as well.
"Improv skills are skills that everybody needs," explained Laura Ekstrand, Artistic Director at Dreamcatcher.  "They are skills that are easily applicable to a lot of business situations."
Generally, representatives from a company will contact Dreamcatcher and tell the group about the company's goals.  If they are interested in team building, Dreamcatcher will plan out a series of group-oriented games where the focus is on sharing ideas.  If they have more specific goals, such as listening skills, they will plan out games in which you have to listen carefully to what someone says and then repeat it back or elaborate on it.  Some of the aspects of business that can be helped by improvisational skills include collaboration, creativity, spontaneity, public speaking, and leadership - in additional to team building and active listening.
---
The article continues after this ad
---
---
"Depending on what skills they want, we can tailor it to their need," said Ekstrand.  "It's such a flexible art that you can use it for many things. A lot of business entails either dealing one on one with clients or giving a presentation to a group.  According to many surveys, the most terrifying thing for people is speaking in front of a group.  So if you can work on those skills in a safe environment, it's the best way to go about it."
Of course, improvisational skills are invaluable to budding comedians and actors as well.  Ekstrand notes that many commercial auditions do not work with scripts. In these situations, the ability to improvise is extremely important for an actor.  "You have to be comfortable enough to have a conversation, answer questions, and think on your feet.  It's crucial," she added.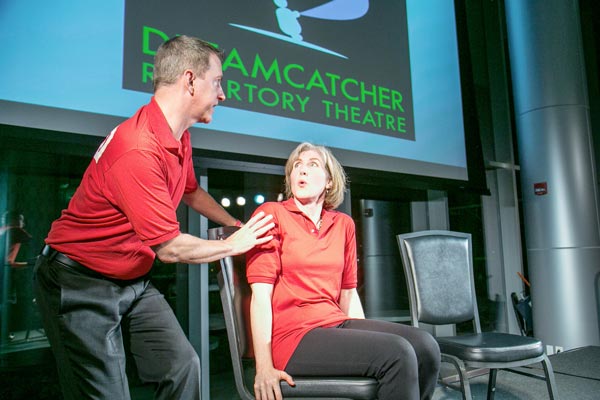 In addition to Improv for Business staff training workshops, Dreamcatcher offers two levels of improv training for the public.  Level one is for everybody - whether they have any experience or not.  Level two is for those with improvisational experience.  Even if a person has acting experience, it is recommended that they begin with level one since acting and improv have very different skill sets.  In the advanced level, the games get more complicated and the skills get more sophisticated.
All classes are taught by professional improv master Lulu French, is a long-time member of Multiple Personality Disorder.   French first took improv classes at Gotham City Improv almost two decades ago and has been improvising ever since.  In addition to being a graduate of GCI, she has also studied improv under Amy Poehler, Matt Walsh, and Matt Besser — original members of the Upright Citizens Brigade, Armando Diaz — founder of the Magnet Theater, and with various other Second City alumni such as Todd Stashwick (12 Monkeys).  She has appeared in numerous improv performances in NYC improv theaters such as Gotham City Improv, the Magnet Theater, and Upright Citizens Brigade.
In addition to teaching improv, Dreamcatcher's Multiple Personality Disorder group performs comedy sketches like those seen on the popular television show, "Whose Line Is It Anyway?" each season.  The group uses audience input to shape the scenes that the actors instantly create onstage.  Performers use ingredients such as everyday objects, strange maladies, and unusual circumstances to cook up unconventional mini-plays that appear and disappear before your eyes.
When asked what are some of her favorite sketches, she immediately turns to one called the "complaint department."  She says it is part of a whole genre based around the audience being in on something that one of the actors is not. 
"So, one person goes out of the room and the audience gives everybody else an object they're returning for some reason to the complaint department," she explains.  "It could be anything from an elephant to a bad smell to a can opener.  Then the other person comes back into the room and they return these objects without saying what they are.  Through the use of the object or the description of the problem, the customer relations person has to guess what the thing is."
Multiple Personality Disorder generally has two shows each season at Dreamcatcher, and the company includes some improv in their annual holiday variety show.  The improv troupe is also available for hire for special events. What originally began as an experiment has grown into a central part of the theatre company.  It also provides a nice change of pace throughout the season as most of their plays lean towards an adult audience, while families can all enjoy the improvisational comedy.
"The fact that it's fun for us is not surprising — we would do it all the time — but its longevity has surprised us and its popularity has surprised us," admitted Ekstrand.
BOTTOM PHOTO BY JERRY DALIA
---
Gary Wien has been covering the arts since 2001 and has had work published with Jersey Arts, Elmore Magazine, Princeton Magazine, Backstreets and other publications. He is a three-time winner of the Asbury Music Award for Top Music Journalist and the author of Beyond the Palace (the first book on the history of rock and roll in Asbury Park) and Are You Listening? The Top 100 Albums of 2001-2010 by New Jersey Artists. In addition, he runs New Jersey Stage and the online radio station The Penguin Rocks. He can be contacted at gary@newjerseystage.com.
---