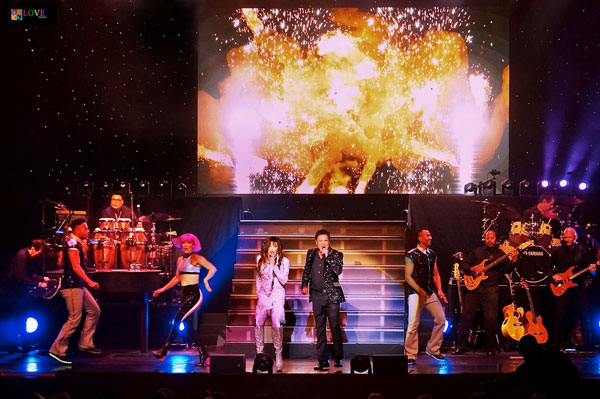 As we enter the lobby of Englewood, NJ's beautiful Bergen Performing Arts Center on Wednesday, Aug. 16, 2017, we smile when we see grown women getting down on one knee and posing with a poster of Donny and Marie Osmond. The nearly life-sized image hangs from a merchandise table featuring CDs, books, T-shirts, and even a silent auction for two of Marie Osmond's collectible dolls, complete with a backstage pass and a personal autograph from Marie.
First, two women pose on either side of the famous duo, while a friend snaps a photo of all four smiling faces.
The next woman to take a turn poses next to Donny, completely obscuring Marie's image with her own, as if to say, "Move over Marie! It's time for Donny and me!"
We take a moment to chat with this woman, Joyce from Kearny, who tells us, "I've been a fan of Donny and Marie for over 50 years — since The Andy Williams Show days."
Explains Joyce, "I love the 'battle' of brother and sister. Their talent is beyond 'beyond.' They are great singers and dancers. They have fun outgoing personalities, and they always support one another. I also loved it when they were both on Dancing With the Stars and Donny won."
---
The article continues after this ad
---
---
Confessing that she owns a few of Marie's dolls but hasn't read any of her books, Joyce goes on to admit, "I bought one of Marie's books tonight."
We also meet Judy from Staten Island, NY, who tells us she is "a longtime fan of Donny Osmond — since I was a child."
According to Judy, "One Christmas, my uncle asked me to make a list of all of the record albums I wanted for a gift."
The list she gave him include LPs from the likes of Eric Clapton, Kiss, Elton John, and Donny Osmond.
Judy acknowledges she was happy to receive all of the requested albums and, to this day, she still follows all of those artists.
When asked what it is about Donny Osmond she likes so much, Judy explains, "I watched all of the Osmonds on TV on The Andy Williams Show — first, the brothers, then Donny, then Marie, and finally Jimmy." Once she learned "the Osmond family unit always stays together" and that "the entire family makes it a point to give back to the community," she became an enormous fan.
"And, of course, I love the music!" she exclaims.
We also meet Judy's husband, Kenny, a fan of the same artists as his wife, who tells us, "I have a vinyl collection of about 20,000 singles."
Together, the couple has seen Donny and Marie in Atlantic City and, also, in New York City, both acknowledging that "the siblings always sound and look good!"
Lastly, we meet Denise, who traveled all the way from Smithburg, MD to the Garden State just to see Donny and Marie. Denise is wearing a shirt proclaiming "Music is Medicine," the title of a song Marie recorded for one of her favorite charities — the Children's Miracle Network.
The back of Denise's shirt reads, "I'm a little bit Country, Rock and Roll, Broadway, Opera, and All that Jazz" a phrase which, we're told, accurately describes Marie's concert repertoire.
Denise, who just saw Donny and Marie perform live in Morristown, NJ the night before, has been a fan of the siblings for 45 years, saying, "They are like family," explaining, "I was an only child, and seeing them on television when I was ten years old made me want a brother or a sister."
Revealing to us, "Tonight is my 50th Donny and Marie show in five years," Denise exclaims, "I've seen them in Las Vegas, Atlantic City, New York City, and other places — I love them!"
A family show, indeed, Denise acknowledges, "I took my 29-year-old daughter and my four-year-old granddaughter to see them, and we all had a great time — they appeal to all ages," before concluding, "and I will be there at their upcoming shows in Reading, PA, Wilkes-Barre, PA, and Atlantic City, NJ!"
As we take our seats inside the historic BergenPAC theater, an announcement is made that anyone who follows Marie Osmond on Twitter can tweet his or her name and seat number to Marie's Twitter account, and one lucky fan who does so will be selected to move up to two prime front row seats in the center of the house.
A few moments later, the winner is announced, and she and a friend — two very happy ladies — make their way down from the balcony to the seats of honor!
Within seconds, the curtain opens and the show begins, the audience screaming like teenagers as Donny and Marie take the stage.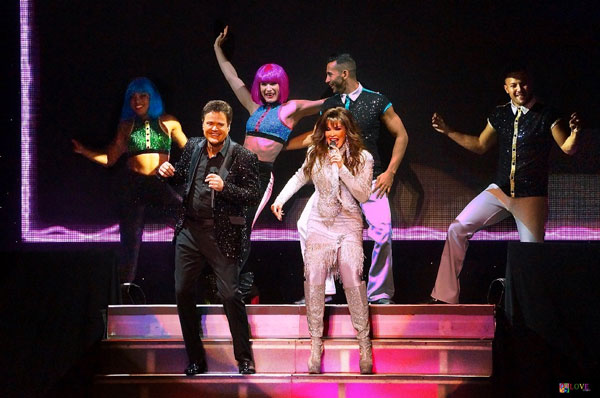 Performing "It Takes Two," Donny and Marie wow the crowd with their spectacular voices and dance moves as images from their 1970's television show mirror their actions on the huge screen behind them.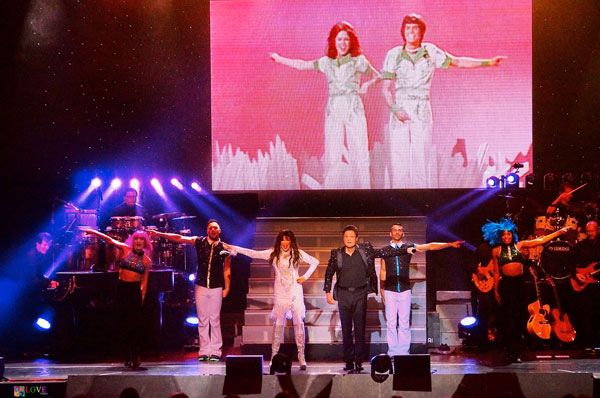 Accompanied by dancers in colorful costumes and supported by a top-notch band, Donny and Marie sing and dance their way through a high-energy medley of pop hits with intensity, passion, and precision.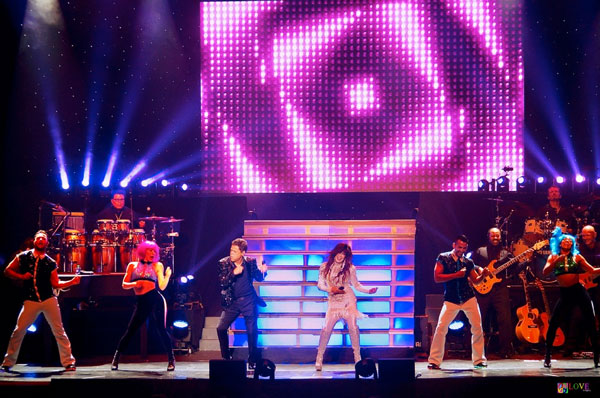 Following animated applause, the duo exits the stage, and the screen shows a scene of a younger Marie on The Andy Williams Show in which Andy asks her if she will save him a dance on her 18th birthday.
This is followed by images of Marie at various stages of her career — from appearing on Broadway to writing books to promoting her collectible dolls — until the real Marie Osmond reappears on stage to further wow the crowd.
Singing classic hits like "Paper Roses," in addition to newer classics like "Music is Medicine," Marie fills the audience in on her association with The Children's Miracle Network, an organization which she reveals helps "11 million children in 170 children's hospitals across the nation."
She also sings an assortment of rock, pop, and country songs — all complete with multiple costume changes and dances in a variety of styles — Marie's performance simply dazzling this Jersey crowd filled with music lovers.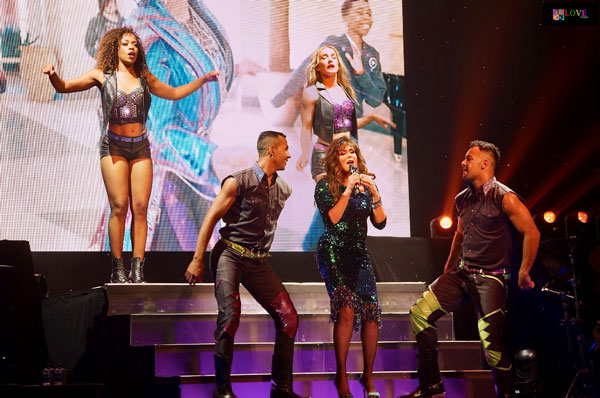 With so much to see and hear, it's no wonder some fans have seen her perform 50 times!
Marie not only charms the audience with her vocal and dancing talents, but she also offers positive life messages and even has the audience laughing with her jokes about being a "hot older woman" — literally — as she cools herself off by chugging down a cold bottle of water!
Marie is both genuine and endearing as she performs her way into the audience's hearts.
When Marie ends her set with an electrifying rendition of The Andrews Sisters' "Boogie Woogie Bugle Boy" — jitterbugging and singing along with her talented dancers and band — it's no surprise to anyone to learn that her show with Donny has been voted the Best Choreographed Show in Las Vegas and their band voted Best Band in Las Vegas on multiple occasions.
After a drum roll, Donny's adolescent face appears on the screen as the real Donny stands at the top of a set of stairs. Singing "Puppy Love," the little girl in every lady present screams, proving that her love for Donny, indeed, is "not a puppy love."
After crooning such additional Donny Osmond hits as his 1971 #1 smash, "Go Away Little Girl" and The Osmonds' 1971 chart-topper, "One Bad Apple," Donny performs a medley of "celebration"-themed pop songs including Three Dog Night's "Celebrate" and Taio Cruz's "Dynamite."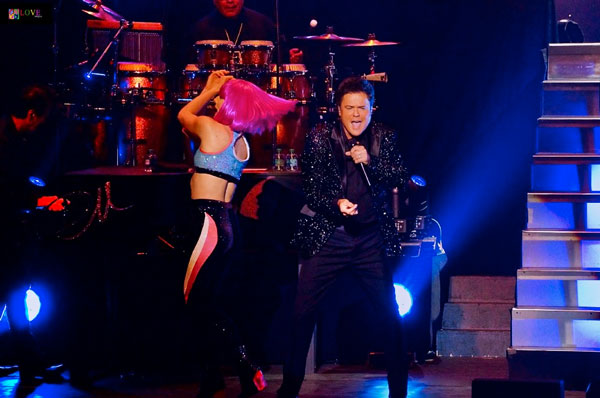 The entire audience sings along while Donny eggs them on for more! Sounding himself like a teenager, Donny has the crowd standing and cheering with his energizing performance, celebrating good times from both yesterday and today.
Going on to share a song and a story related to his Broadway performance in Joseph and the Amazing Technicolor Dreamcoat, Donny invites all Facebook followers in the house to make a comment and leave their names on his Facebook wall for a chance to win a special prize.
After highlights of Donny's win on Dancing with the Stars play on the screen, and he performs "Let's Get Down to Business" — his featured number from the Disney film, Mulan — Donny announces the winner of his Facebook challenge.
When the winner, Carol, makes her way up to the stage, Donny acknowledges that her shirt is his favorite color, purple, at which point Carol reveals that — just for him — she "even wore purple underwear."
Climbing onto the stage next to him to claim her prize — a copy of Donny's 60th album, The Soundtrack of My Life — Carol is excited to learn that in addition to the CD, she will also receive a backstage visit with Donny after the show, in addition to a personal signing of the CD.
When Donny tells Carol that, once she gets home, he would like her to listen to the recording of the next number he intends to perform tonight — "Moon River" — Carol innocently asks him, "Can I listen to it in the car?," to which Donny flashes that famous Osmond smile and graciously responds, "Yes, Carol, you can."
Here, Donny performs one of the highlight numbers in a show filled with highlights, singing "Moon River," as images of Andy Williams and Donny as a young boy appear behind him on the big screen.
Turning away from the audience for a brief moment, Donny appears to be singing directly to Andy Williams when he croons, "Two drifters off to see the world/There's such a lot of world to see/We're after the same rainbow's end," his crystal clear voice capturing everyone's heart.
The crowd responds by going wild with a standing ovation.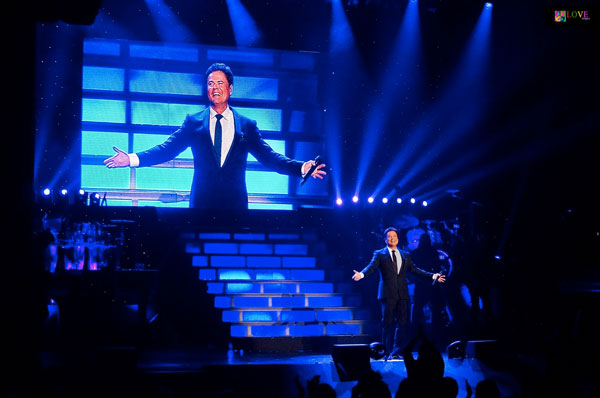 Marie soon returns to the stage in full kimono dress to perform Puccini's "Nessun Dorma" — her voice sounding powerful and dramatic. Then, changing costumes behind a screen, she does a medley of songs she's performed in such Broadway productions as The King and I, The Sound of Music, Chicago, and Cabaret, all to a standing ovation.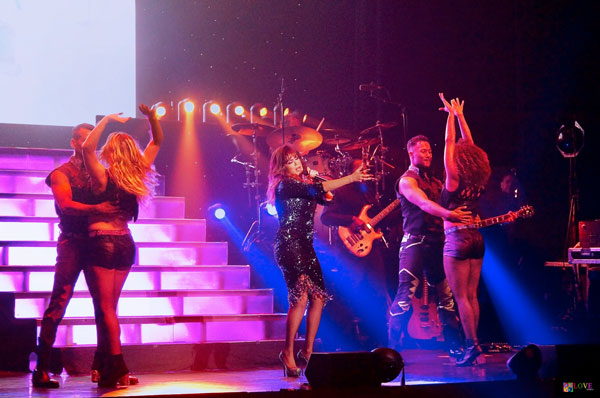 Donny returns to the stage to the electronic marching beat of his 1989 Billboard Top 10 comeback hit, "Soldier of Love." The backup dancers showcase their gymnastic strength with acrobatic moves as Donny dances and sings alongside them to yet another cheering ovation.
Moreover, women respond to Donny's performance just like they did all those years ago with fluttering hearts and screams of joy as this accomplished and good-looking man charms them with all of his talent.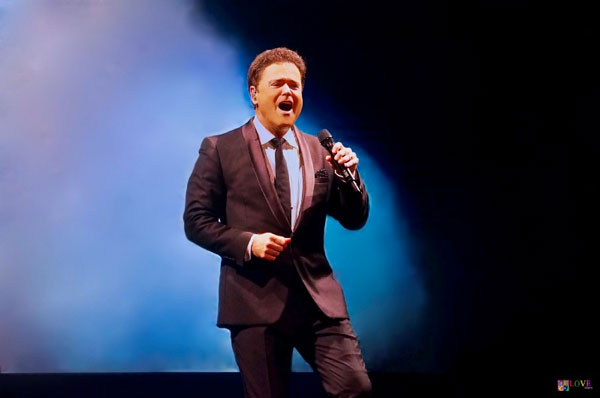 Before the final segment of the show, the audience is treated to TV clips of Donny and Marie's impressive career where they shared the stage with such show business luminaries as John Wayne, Lucille Ball, Frank Sinatra, Barbra Streisand, and many more.
Then, the duo is featured doing their famous brother and sister act, complete with corny jokes, barbs, put downs, and sibling duets that are all 100% pure Osmond.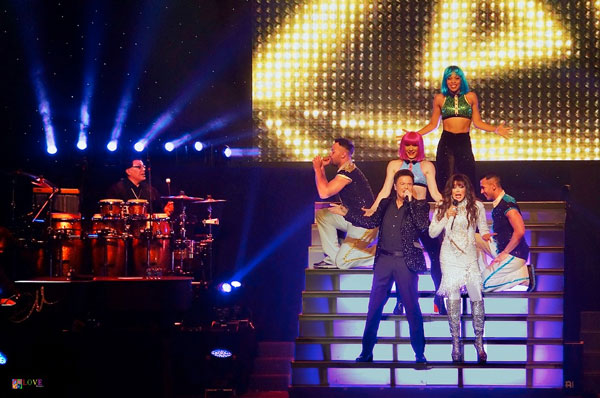 A musical journey through five decades of classic Donny and Marie, the duo ends their live show at BergenPAC the same way they ended their television show. After Donny and Marie alternately sing, "May tomorrow be a perfect day/May you find love and laughter along the way/May God keep you in his tender care/'Til he brings us together again," the pair wishes everyone a fond "goodnight" as the curtain closes.
Making our way out of the BergenPAC auditorium, we take a moment to chat with several audience members who tell us about their experiences enjoying tonight's exceptional performance by Donny and Marie.
Cindy from Garfield states, "I loved Donny and Marie tonight! They covered a lot of material, and they both looked and sounded great."
Going on to note, "I saw The Osmond Brothers for the first time in 1971 at Madison Square Garden with my mom," Cindy reveals, "at the Garden, our seats were so high up, the Osmonds looked like they were three inches tall!"
Continuing, "But this is my first time seeing Donny and Marie together," Cindy — who admits having both of their pictures hanging in her room when she was a youngster — concludes, "I liked all the songs; they were all prepared perfectly!"
We also chat with Scott and Susan Ellen, a married couple from Wyckoff. Both have been fans of Donny and Marie since they were kids. As youngsters, each watched The Donny and Marie Show on TV with their families. More recently, however, they've enjoyed spending time together watching Donny and Marie's appearances on Dancing with the Stars.
Comments Scott, "Donny and Marie were great tonight! I had heard the Vegas show was really good — and I wanted to see it there — so I'm glad I got to see it here in New Jersey," before adding, "The nostalgia truly brings you back to a time when you were young."
Susan Ellen agrees, and adds, "It was fun to see them locally. They sounded and looked great, and their banter was hysterical. And the show really moved, too — it went so quickly!"
Donna from Franklin Lakes echoes the couples' sentiments when she exclaims, "This show was so much fun!"
Revealing, "I've been a fan of Donny and Marie's since I was five years old," Donna recalls, "The excitement of tonight's concert reminded me of when I was ten and my father took me to Madison Square Garden to see Donny Osmond where everyone there was screaming!"
Lastly, Donna's friend Geralyn, also from Franklin Lakes, comments, "This show is fabulous! I think the rapport been Donny and Marie is excellent. They've still got it — their voices are spectacular and their dancing is phenomenal!"
Going on to note, "The show is so excellent, the entire time, I kept asking myself, 'Why haven't I seen them in Vegas?,'" Geralyn also comments, "And I loved the history, too — watching all of the videos of Donny and Marie on screen," before exclaiming with a smile, "I would definitely see this show again!"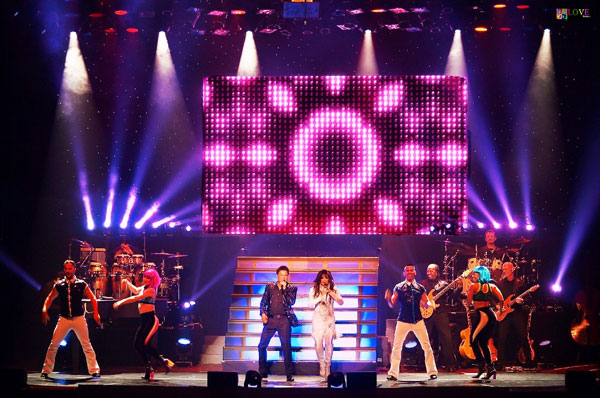 For more information on Donny and Marie, please go to donnyandmarie.com. For further information on upcoming concerts at BergenPAC — including Tom Jones on Sept. 8 and Paul Anka on Sept. 27 — please click on bergenpac.org.
Photos by Love Imagery
Spotlight Central. Your source for Jersey entertainment news and reviews
Love Imagery Fine Art Photography. all you need. peace/love/flower/power