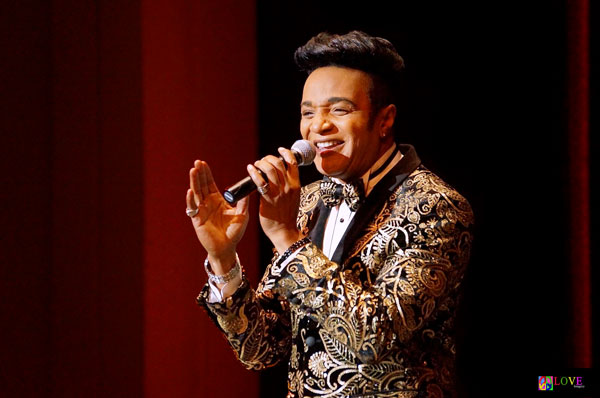 It's a chilly Friday, May 18, 2018 evening in Holmdel, NJ, but members of this Jersey crowd are prepared with wool caps, sweatshirts, and even blankets. Taking their seats inside the PNC Bank Arts Center amphitheater, they're ready to take a stroll down memory lane with the Dick Fox's Doo-Wop Extravaganzashow presented by The Garden State Arts Foundation.
A free concert for New Jersey residents of all ages, Dick Fox's Doo-Wop Extravaganza features an extraordinary line-up of talent which includes seven star-studded acts: The Devotions, The Knockouts, Johnny Tillotson, The Coasters, Chris Montez, Bobby Brooks Wilson, and The Brooklyn Bridge!
Garden State Arts Foundation VP Ron Gravino takes the stage to welcome the crowd filled with fans of classic 50s, 60s, and 70s music to this — the first GSAF performance of the season!
Taking a moment to thank the sponsors of tonight's show — LiveNation Entertainment, PNC Bank, and Sirius XM Sixties on 6 radio — Gravino also thanks the audience for their "continued support" in the form of individual donations, reminding them that no tax dollars are used to fund any Garden State Arts Foundation performances.
Following "The Star-Spangled Banner," the lights dim and emcee Emil Stucchio welcomes the crowd to tonight's show stating, "Time machines can go forwards and backwards….so let's take a time machine back to the music of the past!"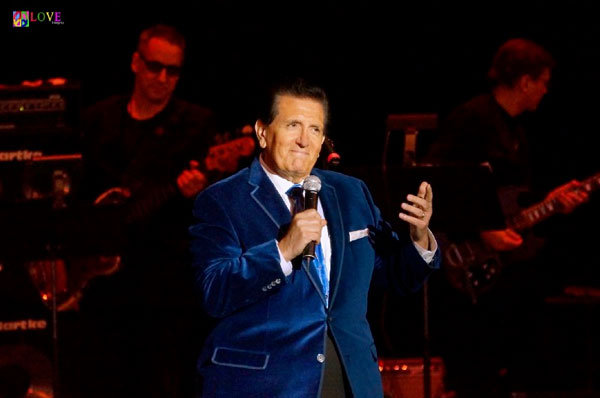 ---
The article continues after this ad
---
---
Stucchio introduces tonight's first act, The Devotions, and the group starts tonight's trip back in time with a smooth performance of "A Sunday Kind of Love," a song which features classic "doo-wop" background harmonies.
Wearing stylish blue blazers, the group segues into 1961's "Sentimental Reasons," the quartet snapping in time to the music.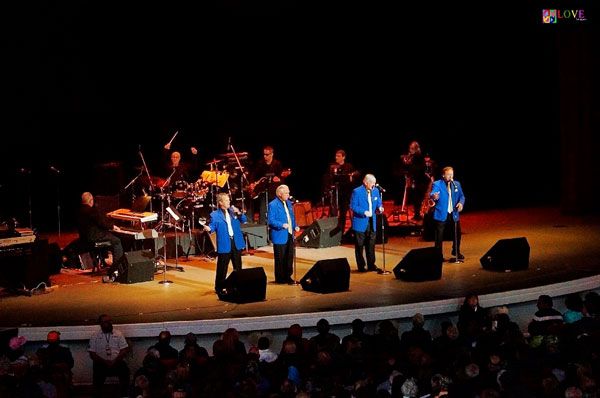 As the crowd cheers, the foursome performs their biggest hit, "Rip Van Winkle" — a number that, in 1964, reached #3 on the charts behind two songs by The Beatles. The audience claps along to this snappy number which features tight vocal harmonies and even some Rip Van Winkle-like snoring!
Following avid applause, Stucchio introduces the next performers revealing, "When I was a kid, I saw this group and I wanted to be just like them."
Here, The Knockouts open their portion of the show with a bang as they perform a rockin' version of Joe Tex's "Show Me (A Man Who's Got a Good Woman)." As Gary Criss sings lead, Bob Dandrea dances and shakes his stuff like he's a teenager!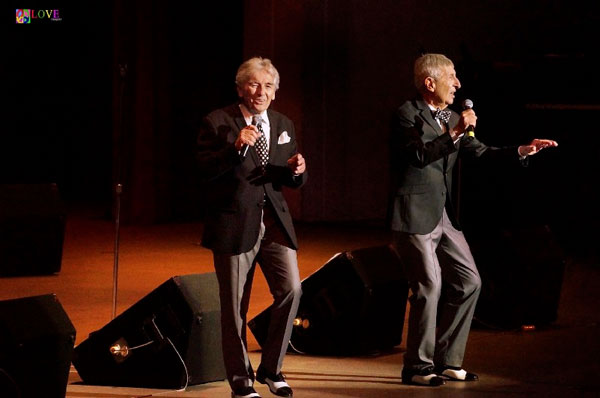 "You go get 'em, Bobby!" yells a member of the audience!
The Knockouts share stories about how they got their start in show business by playing clubs in Seaside Heights, NJ. Telling the audience to "Sing along so loud they can hear you in Seaside!" the duo knocks out the audience with their upbeat performance of Frankie Ford's "Sea Cruise." The audience happily rocks and sings along on the song's ubiquitous "Oo-ee, oo-ee baby/Won't ya let me take you on a sea cruise" chorus!
The group concludes their spunky set with their 1959 hit, "Darling Lorraine," the audience singing and swinging on this classic doo-wop number, rising to their feet to acknowledge the energy and talent of this entertaining duo.
When Stucchio returns to the stage to congratulate the duo on their rousing performance, he also reveals that on August 19th, Knockouts' founding member Bobby Dandrea "will turn 86 years old!"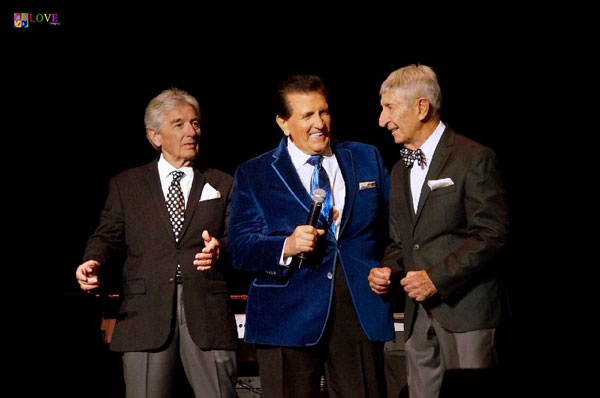 Stucchio follows up by introducing an artist whom, he reveals, earned "nine Top 10 records and two Grammy nominations" — Johnny Tillotson.
Tillotson takes the stage performing a rockin' rendition of Chuck Berry's "Johnny B. Goode" featuring a trio of female back-up singers — The Chiclettes— in addition to a wailing guitar solo.
Following a performance of his country ballad, "Send Me the Pillow That You Dream On," Tillotson announces that both Conway Twitty and Elvis Presley recorded his next composition. Bringing the audience back to a simpler time with its lilting country feel, Tillotson performs that very number — "It Keeps Right on A-Hurtin'" — much to this Jersey crowd's delight.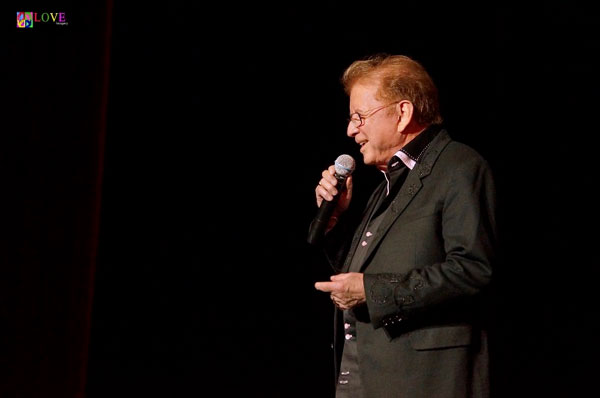 Inviting the audience to clap along to the music, Tillotson follows up with a presentation of his upbeat country swing tune, "Talk Back Trembling Lips."
Revealing, "This next song is the first one I ever wrote; I was performing at the University of Florida at Gainesville and I was inspired by a pretty girl in the front row," Tillotson launches into his original composition, "Dreamy Eyes." After segueing directly into The Penguins' "Earth Angel," he holds out his microphone so audience members can sing along with him.
Exclaiming, "I couldn't be a happier guy than I am tonight!" Tillotson performs his Top 10 hit, "Without You." Crooning, "You made me happy/You made me sing," he gets the audience singing with him while they clap in time to the beat of this classic early '60s tune.
The audience continues to sing along on Tillotson's final number — his biggest hit — 1961's "Poetry in Motion" which features a rockin' sax solo, not to mention lots of audience standing and cheering at the end!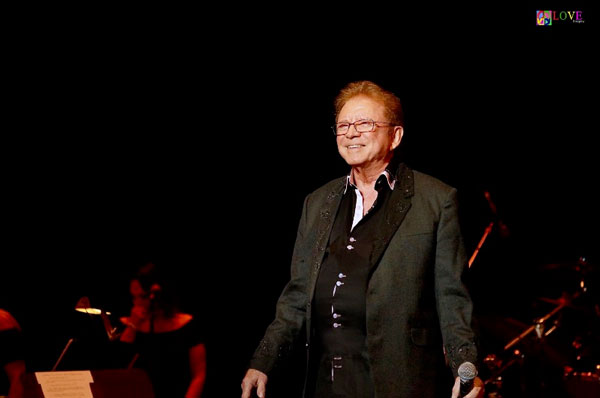 Referring to the next group as "The Crown Princes of Rock and Roll," Stucchio introduces The Coasters, who open their set with an exciting version of "That is Rock and Roll" featuring Primo Candelaria on lead vocals — not to mention exhilarating dance steps!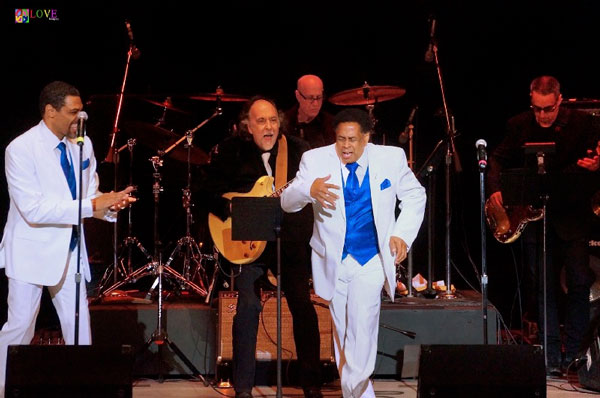 Looking sharp in their white suits, The Coasters' Dennis Anderson takes over the lead on "Poison Ivy," the polished quartet singing, moving, and clapping together like a well-oiled machine!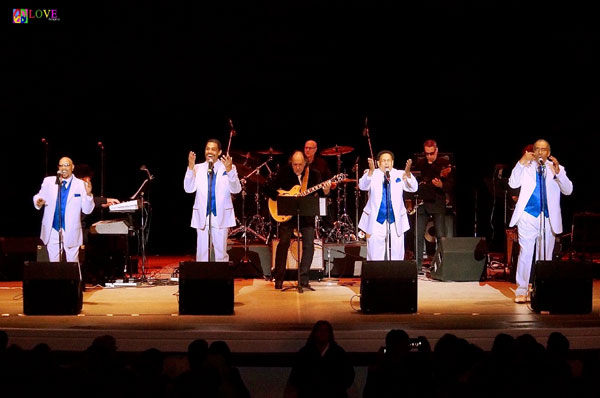 Asking the crowd, "How you feel — all right?" the audience responds with an emphatic, "Yeah!"
Continuing the fun, the foursome launches into their 1957 Top Ten hit, "Young Blood," and they follow that up with a resonant rendition of "Zing Went the Strings of My Heart" featuring Robert Fowler's lead bass vocal.
With their hands waving and fingers wagging, The Coasters perform one of the highlights of this evening's performance — a high-steppin' rendition of their 1962 Top Ten hit, "Charlie Brown."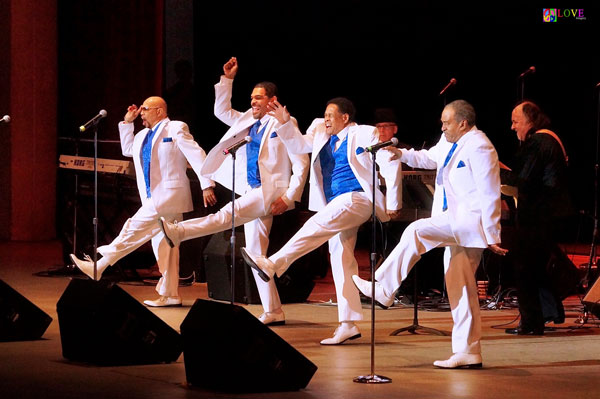 As the crowd taps their toes and claps to the beat, they joyfully sing along on the song's famous "Why is everybody always pickin' on me?" lyric.
Then, while dancing to the sound of a yakety sax, The Coasters end their set with another crowd-pleaser — their 1958 #1 smash, "Yakety Yak" — with members of the audience on their feet dancing and singing along on the well-known "Yakety Yak/Don't talk back" chorus!
Following a short intermission, Stucchio retakes the stage to introduce singer Chris Montez. With guitar in hand, Montez opens his portion of the show with his '60s hit, "Call Me" — a unique version of the Petula Clark song — the soft rock sound of the vocal and instrumental arrangement filling the audience members' hearts.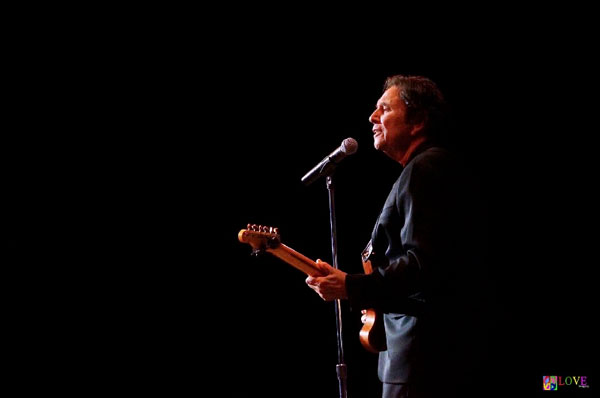 After telling a story about how his real name — Ezekiel Christopher Montanez — became changed to his current stage name, Montez performs another one of his hits from the '60s — his 1966 smash, "The More I See You," his soothing tenor voice and warm personality appealing to this Jersey crowd.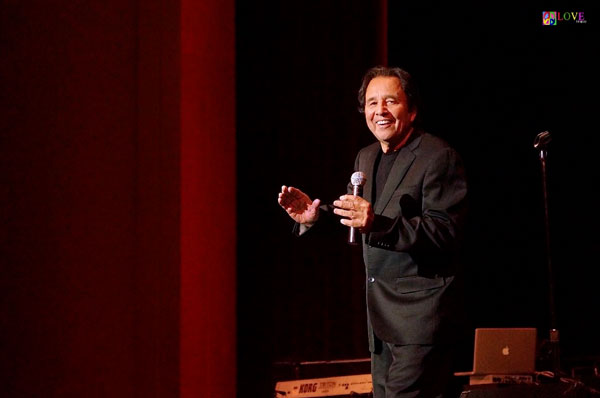 Wrapping up his portion of the show with his upbeat hit, "Let's Dance," Montez makes his way down into the audience to boogie with members of the crowd on this bouncy rock tune, the percussive '60s organ sound swirling to the beat.
After thanking the audience and taking a well-deserved bow, Montez grabs his guitar and shakes hands with his fans as he exits the stage.
When Stucchio returns to the microphone, he acknowledges, "I've been in this business for 60 years and Chris Montez is one of the nicest men on the planet!"
Then, he says, "This next act knocked me over — he is an explosion about to happen! Known as 'Mr. Entertainment,' here's Bobby Brooks Wilson doing a tribute to his father, Jackie Wilson!"
Asking the audience to clap along with him, Bobby Wilson rockets the audience straight back to 1969 with his father's hit, "That's Why I Love You So."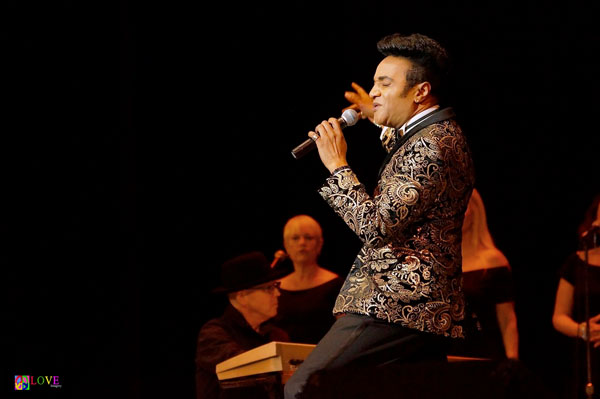 As he sings and dances, The Chiclettes sing backup harmonies and the audience even joins in singing on the song's catchy "That's why I love you so" chorus.
Announcing, "Hello, New Jersey — we're gonna have some fun!" Wilson reveals, "My dad debuted this next song on American Bandstand." Rockin' and rollin' across the stage, Wilson performs an electrifying rendition of "Baby Work Out."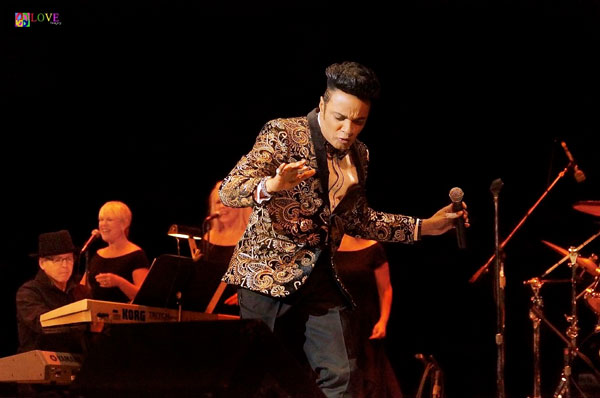 The crowd shows their love for Wilson and his music with animated cheers and applause!
Moving on to a number which he says "was written by Berry Gordy, Jr. and was my dad's first hit," Wilson performs a rollicking rendition of "Reet Petite," the audience happily echoing Wilson on the rhythmic "Oh, oh, oh, oh" chorus.
Slowing things down, Wilson sings his heart out on another Berry Gordy, Jr. number — "To Be Loved" — a performance which the audience responds to with a standing ovation!
As the crowd continues to cheer, Wilson acknowledges his backup band exclaiming, "No tracks here!" before launching into what he calls his father's "first gold record" — "Lonely Teardrops."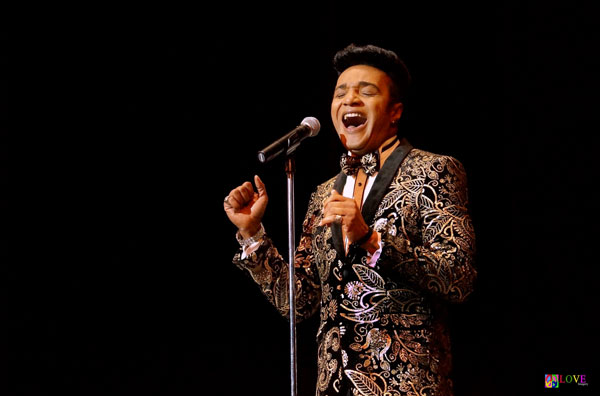 Kissing the hands of several lucky women in the front row and shaking hands with some of the men, the audience happily sings along with Wilson and the Chiclettes on the song's famous "Say you will" backup part.
After acknowledging, "This next song is from 1967 and it's Dad's really big hit," Wilson performs another highlight number of the evening — "(Your Love Keeps Liftin' Me) Higher and Higher" — audience members singing along with their arms pumping in the air while dancing at their seats!
Concluding by telling the audience to "Love one another," Wilson takes one last bow before Stucchio returns to introduce tonight's final act.
Referring to them as "members of The Vocal Group Hall of Fame with eight charted records," Stucchio introduces The Brooklyn Bridge. The group opens their set with an upbeat rendition of the Tina Turner classic, "River Deep Mountain High."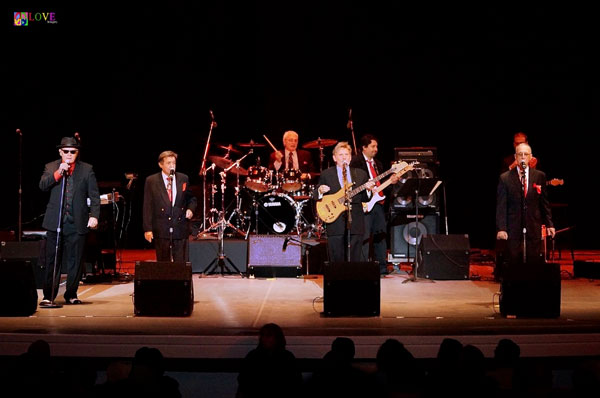 The audience puts their hands together as bass player Johnny Rosica reveals, "We do our show in tribute to former Brooklyn Bridge members Johnny Maestro and Freddy Ferraro." Then, the band gets the audience joyfully clapping along to a 'shoop-shoop-de-doop" rendition of "My Juanita."
Announcing to the crowd, "In 1969, we had a double-sided hit record," the group performs one side of that 45rpm single — "Welcome Me Love" — complete with cascading chords and tight vocal harmonies
Slowing things down, the band plays "My Prayer," featuring lead singer Joe Esposito, who pays homage to former lead singer, Johnny Maestro, with his dynamic performance.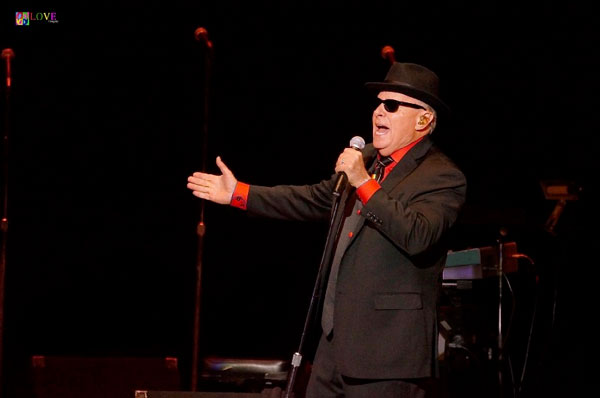 The entire audience happily joins in on The Brooklyn Bridge's masterful take on Johnny Maestro and The Crests' "Sixteen Candles." They follow that up with their brassy version of the flip side of their "Welcome Me Love" single — "Blessed is the Rain."
Moving on to The Righteous Brothers' "Unchained Melody," the crowd cheers wildly before the song is even over!
Concluding tonight's Doo-Wop Extravanganza show, The Brooklyn Bridge gives it their all on their 1969 Top 5 smash written by Jimmy Webb, "The Worst That Could Happen," the entire crowd cheering on its feet!
As audience members make their way out of the ampitheater, backstage, we get a chance to chat with several performers on tonight's bill.
First, we chat with Bob Dandrea, a founding member of The Knockouts. Originally from West New York, NJ, Dandrea jokes, "I married four times — that's why I'm knocked out!"
With regards to playing here at New Jersey's PNC Bank Arts Center, Dandrea says, "Every time we come here, it's exciting performing for that sea of people; you never get over it — it's really thrilling!"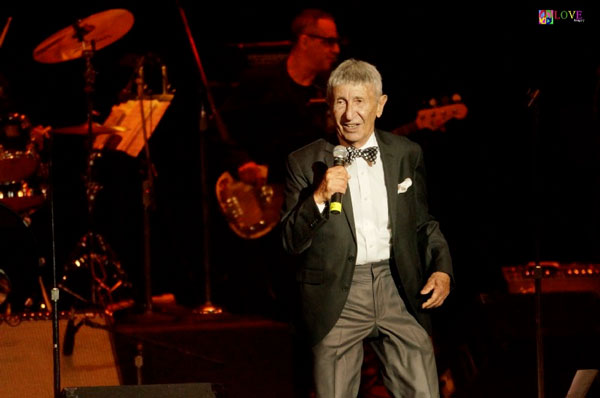 Revealing that he began his career in show business doing comedy "back in 1957 as a part of the comedic duo, Andre and Cirell" — Dandrea says he's performed live all over the world. He also adds that he's also worked as an actor, disclosing, "I was in the movie, A Bronx Tale, with Robert De Niro back in 1993. I played a bartender, and it was great!"
In closing, when asked if he has anything else he'd like for us to share about him, Dandrea replies with a grin, "Please tell the people I'm extremely handsome — if you have really bad eyesight!"
Backstage, we also chat with Bobby Brooks Wilson.
With regards to performing here in the Garden State, Wilson says, "I love it — I love Jersey! All of the original rock 'n rollers are here and most of them are wild ones —and if they don't like you, they'll tell you!"
When asked about how he got his start in show business, Wilson explains, "I live in Las Vegas now, by way of Hawaii — but it was there where I performed with Bruno Mars' father when Bruno was only five years old and doing his Elvis impersonations!"
Wilson acknowledges he also spent several years performing in Atlantic City, NJ, at Bally's in their famous Legends impersonation shows, but reveals that he is also a creator of original music. Exclaims Wilson, "I love singing my original songs! I have an album out called It's About Time and the title song is one I wrote that came to me in 1995 in my sleep!"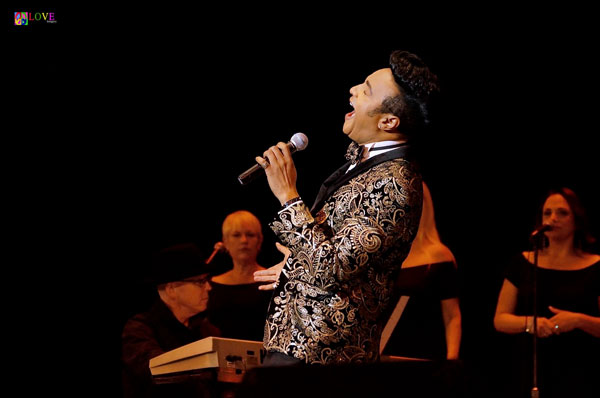 Adding, "I also love performing my dad's hits — especially 'To Be Loved,' 'Higher and Higher,' and 'Lonely Teardrops'" — he further discloses, "but when I played in England, I learned that the 'B Sides' of many of his records were hits, so had to learn them on the spot!"
Lastly, we take time to chat backstage with Dennis Anderson, Robert Fowler, Primo Candelaria, J.W. Lance — The Coasters.
When asked if they enjoy performing here in the Garden State, Anderson replies, "I love it! I live in Jersey, so I love Jersey audiences — they're loyal to rock 'n roll!"
Robert Fowler — originally from New York, but who has lived in the Garden State for the past 20 years — agrees. The newest member of The Coasters, Fowler additionally acknowledges, "I appreciate being in this amazing group and getting to sing bass!"
Long-time group member Primo Candelaria discloses, "I'm a Philly man, but I love Jersey — Jersey people are great!" Adding, "I'm a Wildwood nut — I take a vacation there every year," Candelaria further notes that he and The Coasters will perform this November with such other Philly area icons as "Chubby Checker, Bobby Rydell, and Frankie Avalon" on a boat trip known as "The Malt Shop Memories Cruise."
Last, but not least, we chat with the leader of The Coasters, J.W. Lance — a true Southern gentleman — who acknowledges that although he is originally from New Orleans, he now lives in Atlanta.
In recounting a bit of the history of the group, Lance reveals that the quartet's manager, Veta Gardner, is the reason why The Coasters' music continues to thrive to this day. According to Lance, Veta — the wife of original Coaster member, Carl Gardner — "picked the current line-up of men to continue The Coasters' legacy."
Noting, "We are an extension of them — so the legacy continues," Lance is proud to report that the group recently received the Artists Music Guild Lifetime Achievement Award for dedication and excellence to their craft. They also recently appeared for six months as a part of the Smokey Joe's Cafenational tour, stating, "It was the first time The Coasters were a part of the show — and Smokey Joe's Cafe was written for The Coasters' music!"
When asked about the staying power of The Coasters' world-famous catalog of hits, Lance replies, "It's real music!" Adding, "Young people are hearing our music and crossing over to it a lot because they like it," Lance concludes with a smile, "I just love the power of this music!"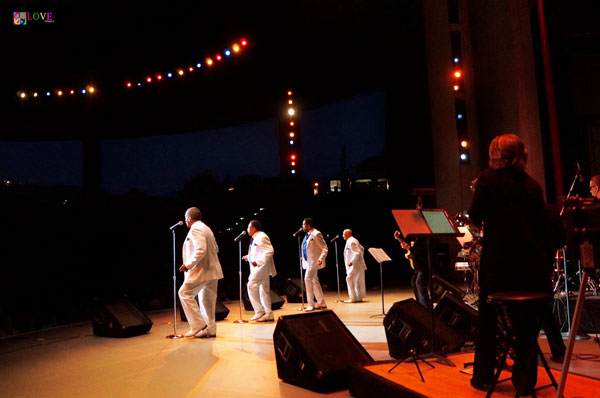 For information on upcoming free shows sponsored by the Garden State Arts Foundation for New Jersey residents of all ages — notably Cousin Brucie's British Invasion starring Petula Clark, Mike Pender of The Searchers, Peter Asher of Peter & Gordon, and Jeremy Clyde of Chad & Jeremy on June 1, 2018 — please go to gsafoundation.org. For information on Garden State Arts Foundation shows for New Jersey residents aged 55 and over — including Jerry (The Geator) Blavat Presents Pop, Doo Wop, & Rock N Roll with Frankie Avalon, The Vogues, and more on Tuesday, May 29, 2018 — please click on gsafoundation.org.
Photos by Love Imagery
Spotlight Central. Your source for Jersey entertainment news and reviews
Love Imagery Fine Art Photography. all you need. peace/love/flower/power