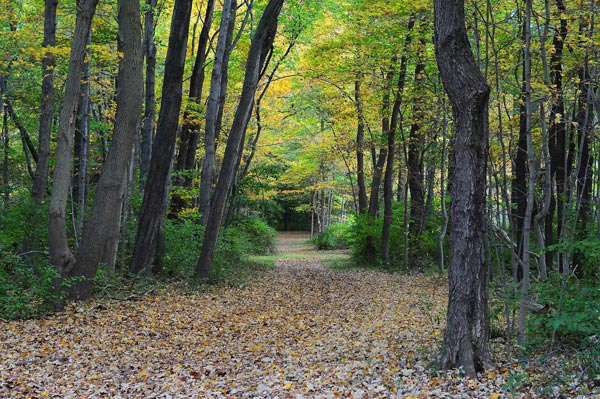 (PRINCETON, NJ) -- The Stony Brook: Connecting Us, a diverse multi-media art exhibit by Hun School students, is on view in D&R Greenway Land Trust's Olivia Rainbow Gallery through January 3. The Stony Brook, rippling from the Hun School to D&R Greenway's Johnson Education Center in Greenway Meadows Park, stirred art teacher Stacy Collingham to bring her students to this body of water for inspiration.
The Olivia Rainbow Gallery, founded and funded by Chris and Leslie Kuenne, honors the memory of their 5-year-old daughter, Olivia, who loved nature and art. Hours 9:30am– 5:00pm.   Continuing in the Marie L. Matthews Galleries of the Johnson Education Center: Same Moon: Diverse Voices of Nature, through November 22. Gallery hours Monday-Friday, 9:30am-5:00pm, at D&R Greenway's Johnson Education Center, 1 Preservation Place, Princeton. 
Many Hun school students had not previously experienced the Stony Brook, although on their property. This serves as a reminder of Richard Louv's best-selling book, "Last Child in the Woods," about 21st-century children's spending too little time in nature. In the presence of the Stony Brook, students' "interpretations went everywhere, across the board!" One young artist chose to sit in the water to achieve his nature study. A hair dryer was employed to remedy the situation. 
The artists' visit to the Olivia Rainbow Gallery to see their art in situ culminated on D&R Greenway's Scott and Hella McVay Poetry Trail.  Here poems stretch to the 1200s (by Rumi), through living poets who have read their poems aloud on the trail. At the stately oak next to the Johnson Education Center, W.S. Merwin's "Place" challenges readers to attend to nature, even at world-end. 
Poet and naturalist Henry David Thoreau described his Walden years in words that live newly for these Hun School artists: "I went to the woods because I wished to live deliberately, to front only the essential facts of life, and see if I could not learn what it had to teach, and not, when I came to die, discover that I had not lived… I wanted to live deep and suck out all the marrow of life, … to put to rout all that was not life…"
---
The article continues after this ad
---
---
D&R GREENWAY LAND TRUST IS IN ITS 28TH YEAR of preserving and protecting natural lands, farmlands and open spaces throughout central and southern New Jersey. Through continuous preservation and stewardship—caring for land and easements to ensure they remain protected and ecologically healthy in perpetuity—D&R Greenway nurtures a healthier and more diverse environment for people and wild species in seven counties. Accredited by the national Land Trust Accreditation Commission, D&R Greenway's mission is to preserve and care for land and inspire a conservation ethic, now and for the future. Since its founding in 1989, D&R Greenway has permanently preserved more than 20,000 acres, an area 20 times the size of New York City's Central Park, including 30 miles of trails open to the public.
The Johnson Education Center, a circa-1900 restored barn at One Preservation Place, Princeton, is D&R Greenway's home. Through programs, art exhibits and related lectures, D&R Greenway inspires greater public commitment to safeguarding land. 
 Photo by Bentley Drezner.