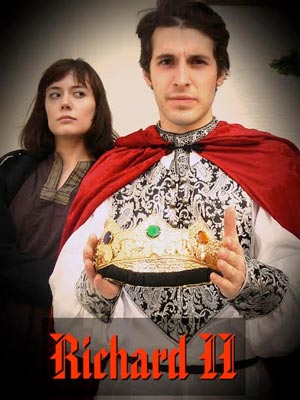 The Hudson Shakespeare Company, now in their 25th season, begins their tour with their first ever history cycle with "Richard II", Shakespeare's story of a king (Ryan Molloy) who thinks himself God's representative on earth and the clash with his blue collar like cousin, Henry Bolingbroke (Rhiannon Lattimer). First written in 1595, "Richard II" is the first in what is known as Shakespeare's major or second history cycle which is followed by "Henry IV, Part 1", "Henry IV, Part 2" and "Henry V".
More cult leader than king, Richard rules his kingdom without any regard for his subjects except for those sycophants who he personally chooses for his inner circle. While Richard lords over his country with reckless abandon, the seeds of civil war are sown as the recently banished Henry Bolingbroke returns to England to claim an inheritance that was taken from him by Richard. Bolingbroke, who has no patience for empty speeches, self-serving pomp, and divisive policies quickly launches a series of military offenses and wins disaffected followers in the process. The political philosophies and personal views of the ceremonious endowed by God incumbent and the no-nonsense pragmatist clash and the future of a country hangs in the balance.

One of its most interesting historical claims to fame is that it was used as propaganda to fuel its own civil war that never happened. In 1601, a former favorite nobleman of Queen Elizabeth I, Earl of Essex had had enough of her policies and decided that she needed to be taken out. He and his friends organized a rebellion and needed to have London's people on their side. The conspirators hired Shakespeare's company to perform Richard II as Elizabeth had been compared to Richard's less than stellar ruling qualities. The conspirators hoped that seeing the play would cause a riot to occur that would help that military takeover but it never materialized. Essex and his group were arrested but Shakespeare's theater company was not found to be guilty in the plot.
The show is free to the public and performing at the following parks and libraries:



Thursday, June 9th @ 7pm  Historic Harismus Cemetary Jersey City, NJ




Friday, June 10th @ 7pm  Van Vorst Park, Jersey City, NJ




Saturday, June 11th @ 2pm  Mahwah Library, Mahwah, NJ




Monday, June 13th @ 7pm  Montclair Library, Montclair, NJ




Tuesday, June 14th @ 7:30pm  Monument Park, Fort Lee, NJ




Wednesday, June 15th @ 7:30pm  Atlantic Street Park, Hackensack, NJ




Thursday, June 16th @ 7pm  Hamilton Park, Jersey City, NJ




Monday, June 20th @ 7pm  Kenilworth Library, Kenilworth, NJ




Tuesday, June 21st @ 7:30pm  Monument Park, Fort Lee, NJ




Wednesday, June 22nd @ 7:30pm  Atlantic Street Park, Hackensack, NJ



For outdoor showings its recommended to bring a lawn chair or blanket. Seating provided for indoor shows. For more information call 973 449 7443 or visit www.hudsonshakespeare.com.
---
The article continues after this ad
---
---
Hudson Shakespeare Company is now in its 25th season of traveling Shakespeare and continues its history cycle in July but with a twist. The next play up is "Edward III" which tells the story of Richard's grandfather and father, Ned, the Black Prince. Shakespeare wrote several scenes in the play that has been recently added to his Complete Works. The company finished out its silver season with a Henry IV parts 1 and 2, combining both plays into one 2- hour showing.