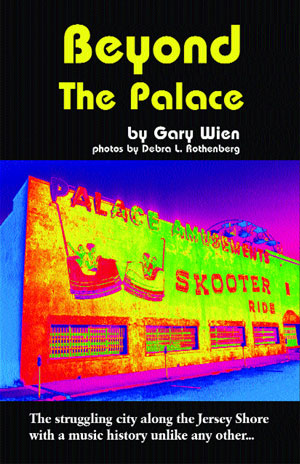 In the mid-80s, Asbury Park had already become largely a ghost town even during the summer season.  The Palace was still open but most of the rides along the boardwalk were long gone as were many of the restaurants and shops.  The once crowded beach was largely abandoned in favor of nearby towns like Belmar and Manasquan.  But for two days each year, WNEW-FM of New York made Asbury the place to be again.
Every Memorial Day and Labor Day WNEW-FM took over Asbury Park with a free all-day concert on the beach. The show took place in front of the old Casino and was broadcast live on the radio.  Tens of thousands of fans from the tri-state area used to take the Garden State Parkway to exit 102 (as in 102.7 FM) and come down for the day.  Crowds of up to 80,000 were not uncommon.  And, since school was still in session for the first show, it became the local "cut day" for students from the area.  "The fact that it was free didn't hurt," said Jim Monaghan, a former DJ at WNEW-FM.
Boardwalk vendors that seemed to be closed every day of the year sold pizza, hotdogs, hamburgers and soda.  WNEW-FM hats were given out and the station had promotional giveaways throughout the day.  Each show was more than just an event, it was a celebration of music in a town with an incredible musical legacy. 
"Bruce and Southside certainly put the town on the map, giving it an international spotlight," said Monaghan.  "Without those two, Asbury Park is just another town with a good music scene. With those two, Asbury took on a kind of romantic notion."
Monaghan believes the Springsteen connection was a factor in why WNEW chose Asbury Park. "WNEW-FM had a long history with New Jersey listeners and at the time there was still a pretty vibrant Jersey Shore music scene," he said. " I would also imagine that the station's relationship with the Stone Pony had a lot to do with the decision to have the shows there.  Asbury was also convenient to get to and had an area of beach and boardwalk large enough to hold a significant amount of people."
Shows featured such local artists as Southside Johnny & the Jukes, Glen Burtnick, the Smithereens and John Eddie.  National acts included Joan Jett, the Fabulous T-Birds, Robert Cray Band, Georgia Satellites, Nick Lowe and Roger McGuinn of the Byrds.
---
The article continues after this ad
---
---
Monaghan's own band, Bums In The Park, was a regular member of the lineup as well.  "There was always a feeling of celebrating the sense of community that the station had always tried to develop with its listeners," said Monaghan.  "Some very cool national artists played those shows with me... I was always on the lookout for good local bands that we could help break on the air because that had long been a big part of the station's history."
---
From the book Beyond The Palace by Gary Wien
---