By Gary Wien
originally published: 01/26/2012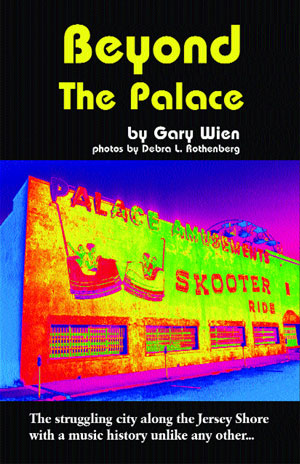 Ever since Bruce Springsteen released Born To Run and became a household name, music fans have traveled to Asbury Park to learn more about the town.  They came to see the Palace, the boardwalk and the rides and to hear Madame Marie tell their future.  They came to have a drink at the Stone Pony and see shows at Convention Hall.  They came to imagine they were cruising down the circuit on a Saturday night.  And, even after the rides disappeared and Madame Marie left town, the fans kept coming.
People in New Jersey sometimes have a difficult time understanding how a decrepit, abandoned beach town  could have such meaning for others.  While locals pass signs for Asbury Park and Freehold every day, fans from around the world actually take pictures of such signs.  They plan vacations to the Jersey Shore just to see the images from their favorite songs come alive.
"It's hard to believe that there are people that come from around the world to take their picture in front of the Pony," said Kate Mellina, Asbury Park Councilwoman.  "But people are hungry for the old Asbury Park and there's not much of it left.  The day they said the Palace would be torn down, I sat across the street and cried because I always thought it was such a goofy, kitschy place."
During the brief period of time in which the Asbury Park Rock 'N Roll Museum was open, thousands of visitors from around the globe came to learn more about their favorite artists.  It's a shame that the museum never made it to the Internet age.  The museum could easily have double or tripled the amount of visitors each year with the added exposure.
Mellina herself has first hand experience of seeing the Asbury Park music phenomenon.  Before becoming a Councilwoman she owned Cleopatra Steps Out, an art gallery in downtown Asbury.  As luck would have it, the gallery was across from where the Upstage once stood.  On several occasions, she saw buses of tourists from Europe stop and start walking around in awe.  Many would enter her shop hoping to buy souvenirs, anything that said Bruce Springsteen or Asbury Park.
Bruce Springsteen and Southside Johnny are so closely related to Asbury Park that it's only natural to see fans throughout the city.  It's rare to see an artist and a place so intertwined.  Yet, neither Asbury Park nor Monmouth County nor New Jersey has ever tried reaching out to music tourists.  But that may change sometime soon. On April 26, 2002, a group of music fans from Europe held a meeting at the Asbury Park Library to show how Asbury Park and the surrounding area could benefit from music tourism.  Speakers included Maggie Powell, Bob Stewart, Numa Saisselin, Kate Mellina, Jane McGreery, Colleen Sheehy and Simon Osbourne.
---
The article continues after this ad
---
---
"I got involved in the music tourism project mainly because I believe strongly that Monmouth County should be doing more to promote its unique wealth of musical heritage," said Maggie Powell, a noted rock and roll journalist from Germany. "The event was well attended by people from local and state level offices, local businesses and other key areas that would benefit from a successful music tourist industry.  It was also featured on News 12 who came out with us on a whistle stop tour of some of the area's most famous places and landmarks. 
"To a degree, I felt like some of what I said at the conference was 'stating the obvious,' but nevertheless, I believed I had something constructive to say and I was very glad to have had an opportunity to do so in front of such an appreciative and influential audience.  And I figured if people did realize that tourists were coming for music reasons there wouldn't be any need for a meeting!"
Simon Osbourne is a property manager for the National Trust in Liverpool and is responsible for the former homes of Sir Paul McCartney and the late John Lennon. He pointed out how Liverpool had neglected the impact fans of the Beatles had on tourism in the area for a long time.  But, in recent years, the city has found ways to use it to boost the amount of revenue brought in by tourism.  The city now holds numerous special events and tours designed for the music fan.  He believes that Asbury Park could do the same.  Although, he stressed the importance of not making the same mistake that Liverpool when it  destroyed the Cavern Club.  Asbury Park needs to keep places like the Stone Pony and the Palace intact.
The meeting received coverage in newspapers throughout the world.  That, coupled with the Today Show broadcasting Bruce Springsteen's kickoff to The Rising tour, showed how vital the link between Asbury Park and music really is.   For many music fans, that link is as strong as ever.
"I arrived in Asbury Park on a rainy Sunday in April," said Caz from the UK.  "I walked down the boardwalk with tears in my eyes... I just couldn't believe I was finally here.  It was like being in a dream.  It was a very

emotional moment."
Giacorno Squintani, is a music fan from Europe and the creator of Let The Story Be Told, a fanzine about Joe D'Urso.  He recalls his seeing Asbury Park for the first time in 1999.  "The first words that came to my mind were welcome to Beirut," he said.  "We were walking around the town, about 200 of us, and a kid shouted across the street to us, 'Why do you come here? There's nothing to see.'  Not your average tourist catch phrase but what was even more stunning was that the same thing happened when I returned for the second time in 2000.
"Now I don't know if it's just coincidence, but on my last two visits that has not happened.  I have been getting a more positive vibe on these trips.  Although, admittedly, visually there is still little to be shown for the changes in the way the city is run.  I understand it's on the up and I want to believe that's the case.  It's a town that needs to strike the right balance between making the most of its musical past, which, in terms of tourism assets, is certainly its greatest. Looking to the future, you really wonder sometimes how much help that town needs before it can get itself on its feet again.  But, rationally or romantically, you rarely wonder whether or not it'll make it in the end.  You just feel that it will."
Gail from Jacksonville Florida was prepared to see the worst.  "We'd heard the horror stories... it looks like bombed out Beirut, the 'bad' people running amuck.  Yes, it was rundown but not what people had described.  Heartbreakingly beautiful... the boardwalk, the Casino, Convention Hall - all of it.  We wandered the boardwalk and spoke with people, a few tourists and some locals.  Stayed at the Berkeley, went to the Stone Pony, took hundreds of pictures.  The entire 13-hour trip home was spent trying to figure out how to get back for another vacation."
Long ago, Asbury Park was a wonderful place to visit.  With its beautiful beach, thriving downtown shopping area, boardwalk attractions and amusement park rides, it was the 'Jewel of the Jersey Shore.' As years went by, the town lost its status as a premier ocean resort and music was the one thing holding the town together.  The music scene found here during the 70s was every bit as strong, every bit as vital as any music scene in the world. 
"The Stone Pony... it's one of a short list of genuinely famous physical locations that people can actually visit," said Mike Sauter, long-time disc jockey at the Jersey Shore currently working for 90.5 FM in Lincroft. "It would make it onto a list that also includes the Abbey Road crosswalk, Jim Morrison's Paris grave, Max Yasgur's farm, and Strawberry Fields next to the Dakota in NYC.
"That's why Asbury Park's government is today veering off into complete lunacy when they talk about getting rid of or moving the Stone Pony. You just don't do that to a place with a world-wide reputation, even if you don't care about that reputation in the abstract, it's still a potential cash cow as an engine of tourism."
Asbury, once again, is on the verge of a great music scene.  Matt Witte reminds me of a talented young Springsteen with so many ways to go musically. DeSol is like the second coming of the Asbury Jukes, a home-grown band that just makes you want to get out there and dance.  And JPAT is like the spirit of the Upstage himself.  Asbury music is truly back!
---
From the book Are You Listening? The Top 100 Albums of 2001-2010 by New Jersey Artists by Gary Wien
---
---
Gary Wien has been covering the arts since 2001 and has had work published with Jersey Arts, Elmore Magazine, Princeton Magazine, Backstreets and other publications. He is a three-time winner of the Asbury Music Award for Top Music Journalist and the author of Beyond the Palace (the first book on the history of rock and roll in Asbury Park) and Are You Listening? The Top 100 Albums of 2001-2010 by New Jersey Artists. In addition, he runs New Jersey Stage and the online radio station The Penguin Rocks. He can be contacted at gary@newjerseystage.com.
---