By Gary Wien
originally published: 01/26/2012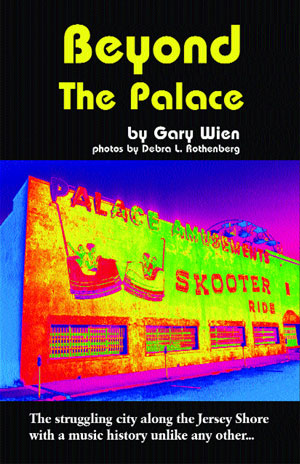 By the mid-80s, the Jersey Shore music scene was pretty much running on fumes.  Cover bands were the rage, original artists were no longer getting record deals and the drinking age had been raised, forever changing the face of the bar crowd.  Things certainly looked bleak until a small radio station in Eatontown decided to change its format and wound up creating a music scene of its own.
WHTG (106.3 FM) was a radio station that played beautiful music, something akin to elevator music, but the disc jockeys really wanted to play anything else.  According to Rich Robinson the station was far from a success back then.  "It was going absolutely nowhere," he said.  "I could tell we were losing our shirts.  We would have hours without any commercials."
Robinson was attending Monmouth College at the time and had an interesting project for marketing class.  Each student was to choose a business, deconstruct it and then bring it back up again with a complete marketing plan.  Robinson chose WHTG for his project.  Together with many staff members from the station, they handed out surveys dealing with radio listening habits to people at the Monmouth Mall.  Roughly 1500 people took part during the three days surveys were handed out.  The end result was that people wanted a rock and roll station.
"The owner made us go really slow with it, but I started infiltrating more and more music in," explained Robinson.  "We had this guy who did a Sunday night rock and roll show called 'The Friendly Stranger in the Black Sedan.'  It was the anniversary of 'Rock Around the Clock' by Bill Haley.  I pulled him aside and said 'It's the anniversary of the record that everybody thinks was the birth of rock and roll, why don't we do something for that?' And his eyes lit up.  So we did a whole night of rock and roll like Bill Haley, Chuck Berry and that kind of stuff.  The phones lit up and the owner realized what happened.  I was like, 'See the audience wants to hear rock and roll, here's what the research says to do, we're starting to infiltrate it anyway so let's just bail on this stuff and do it.'"
If people didn't recognize the changes at the station they found out soon enough when JT, one of the disc jockeys that stayed on after the changeover, came on for his big band show.  The show always opened with the song "Jersey Bounce" by Benny Goodman.   On this particular night, the song didn't last very long.  "He let it play for about 30 seconds and then killed the turntable," said Robinson.  "After the song died he cued up 'Party Out Of Bounds' from the B-52s where it goes 'Surprise!' And as soon as the word 'surprise' came out he had 'Rock and Roll' from Led Zeppelin come on.  When it went into Zeppelin the phones lit up and people thought JT was on drugs! I told him to go ahead and have some fun and he just started playing rock and roll for the rest of the night.  And that's how it started."
In the beginning WHTG was similar to the progressive FM radio stations popular in the sixties.  But over time the station began building its identity as a source of new music.  The station took chances on artists that the more popular, mainstream stations were largely ignoring.  WHTG became the commercial version of a college radio station.  It not only was one of the first alternative rock stations in the nation, but it launched the careers of several influential alternative rock disc jockeys.  People like Matt Pinfield, Mike Marrone and Lorretta Windas got their professional starts at WHTG.  Each would go on to highly successful careers.  Pinfield would go on to MTV as the host of "120 Minutes" for several years, Marrone and Windas both would DJ at major market stations.  Today, Rich Robinson and Mike Marrone can be found worldwide through the dueling satellite radio services Sirius and XM Radio, respectively.
---
The article continues after this ad
---
---
Passion for music was one of the ingredients needed to be a disc jockey at WHTG.  According to Robinson, the station's Program Director, many of the disc jockeys hired had never even seen the inside of a radio station before, they had only been disc jockeys at clubs.  "The original reason for hiring all these people was I wanted them to be real music nuts," explained Robinson.  "I wanted them to be able to mix music like you heard in a club.  I wanted that to be on the radio.  I didn't want anybody that had all these preconceived commercial radio notions and all that crap.  They were to bring that kind of club vibe on to radio.
"Everybody that worked at that station had an undying passion for music and they knew about all this local music and they were all excited about bringing in a new record whether it was on a major label, an indie label or their friend's label.  It was like, 'Here, you've got to listen to this.'  We had everything in the world going against us.  That's what made the whole event so spectacular because if you had everything there and were successful it would have been expected."
"We just played stuff that we liked," said Mike Marrone.  "It was the old concept of progressive radio.  In the very, very beginning it was more like WNEW but we played what would become alternative music.  And when you're doing anything different like that you're going to attract the musicians in the area."
Musicians took to the new station quickly.  The Jersey Shore has long lived in the shadow of New York City and radio was no different.  New York stations like WNEW and WPLJ dominated the Jersey audience but were far too big for local bands to gain any airplay.  WHTG gave budding artists a chance to be heard.  "A lot of these guys cut records and probably sent them out to stations thinking they would never get played," said Lorretta Windas.
"When WHTG started doing the alternative stuff I think they were just happier than pigs in shit," said Windas.  "I remember when I did overnights and 2:30 a.m. was album side time.  One time, instead of doing a regular album side I decided to do both sides of the EP put out by the Whirling Dervishes.  I remember getting a call from this girl Eve who was a friend of the band.  She said, 'I can't believe that you're playing these guys on your album side.  I think that's great!' She was just tickled pink that I was playing her friends as an album side.  I think that the way Eve felt probably epitomizes how most, if not all, of the local bands felt to be getting their records played on a commercial radio station.  The really great thing about what we were doing at the time was we really felt we had made a mark in some people's careers.  It was like we helped them get there."
Mike Marrone remembers the first time he ever heard Red House, a band from Union County that would become an WHTG favorite.  He was working as the disc jockey at the Melody Bar in New Brunswick when the importer from GEM Records came in with a test pressing of the record.  "He said to me, 'Hey Mike, you gotta hear this you're gonna love this!'", recalled Marrone.  "And I put it on the cue phones while I was spinning Cure remixes for the Melody Bar crowd.  I heard 'Rain' and I was like oh fuck, this is going in! I was gonna put this on the air and we started playing it from the acetate tape.  So whenever you start to play that stuff in an area, it takes a while, but eventually they'll be a room or a club that will have live music and that's how the bands started to come to play there."
Local alternative bands found that club in the Green Parrot.  Located just outside Asbury Park on Route 33 in Neptune, the club was literally designed with WHTG in mind.  Tom Ackerino, the owner of the Green Parrot, wanted to create a club that went hand in hand with WHTG.  He wanted the club to play the music heard on WHTG and wanted to book the bands that were being played.  Together the station worked out a deal to have the WHTG disc jockey become the club's DJs.
"I'll never forget my first night walking in there to DJ," said Windas.  "None of the staff knew me.  They were like how is this going to turn out? I don't think they really knew the music at the time.  I mean, a couple of them did and they were really psyched about it but they were dance music types.  The crowd was okay numbers wise, but it was really fun.  Within a couple of weeks we were all buddies and they were psyched because it was very successful."
Night after night, the Green Parrot brought the feeling of New York club's like the Ritz to the Jersey Shore. It gave people a reason not to leave for the city anymore.  It became a home for many local bands and was host to many classic performances by upcoming national acts. 
WHTG did everything they could to make Ackerino's club a success.  They sent him the station's playlist, they told him what the new ads were, they would talk about the bands being played and let him know which bands were getting requested and which had record labels willing to promote them.  "I looked at the Green Parrot as a very cool, cheap way of getting as much free publicity as humanly possible," said Robinson.  "So, it was to my benefit that Tommy was really successful."
"The Green Parrot was really the perfect size," said Marrone.  "Because it was small enough that it was very intimate, but it was big enough where you could get a decent sound and get a nice sized band on the stage.  And that was a room where we could bring bands in and we had some great shows there, just unbelievably great shows.  I have a lot of them on videotape because we had video cameras set up in the DJ booth and tape decks up there, since I would run cartoons and video art while we were playing music.  In fact, Springsteen himself even showed up one night to play guitar with Jah Love and the Survivors because one night of the week was reggae."
Tons of great shows took place at the Green Parrot.  There were nights like Faith No More and the Red Hot Chili Peppers for 3 bucks.  Shows with national bands like the Bolshoi, Flesh for Lulu, the Del-Lords, Social Distortion and Husker Du.  And local bands like Red House, Dramarama, the Blases and the Whirling Dervishes made a name for themselves there.  It was truly a club unlike any other along the Jersey Shore.
One of Rich Robinson's favorite memories of the Parrot was the night that Living Color played there.  "We were the only station playing them," Robinson said.  "They had put out the album and the record label went after a track that was like the worst song on the album.  We started playing 'Cult Of Personality' and it just blew up the phone lines.  People just went rabid over the song.  So, Tommy booked them into the Parrot for two nights. 
"I remember the first night going there.  The place was so packed I had to sit on the ledge by the windows and all of the windows were wide open.  It was dead of winter but the windows all had frost on them because there was so much sweat going on inside and it was so cold outside that the windows had fogged over.  I got seasick from watching everybody jump up and down when the band took the stage.  The whole building was shaking.  The place must have been oversold that night.  It was just a madhouse.  When they broke into 'Cult Of Personality' I thought the building was going to come down.  And that's when I knew... It was the first time that I looked out and though, holy shit! This is a mob scene and it's all because of us!  It had nothing to do with any New York radio.  They had no exposure anywhere, it was totally us.  It really worked."
The combination of WHTG and the Green Parrot succeeded in creating its own music scene apart from the traditional world of the "Asbury Sound."  They succeeded so much, in fact, that bands that had routinely packed the house at the Green Parrot would struggle to sell out shows down the road in Asbury Park.  The Stone Pony and the Green Parrot were about as far apart as two clubs could be.  Part of the reason why was that the Pony had always had relationships with New York stations like WNEW and didn't want anything to do with WHTG.
Many of the people involved with WHTG believed that there was an undercurrent of resentment from the Stone Pony because the radio station didn't play Bruce Springsteen,  a charge that Robinson says was misleading.  "We used to play 'Candy's Room' and stuff like that from Bruce," he said.  "The funny thing is we used to get requests all the time from Julianne Phillips, his first wife.  We'd get calls all the time from Julianne from Rumson requesting songs.  And two others who used to be big fans of the station was Dorothy and Jon as in Bon Jovi and his wife.  All these people that the Pony hated us for not playing used to listen to us all the time because we weren't playing them." 
It took years before the Stone Pony ever let WHTG sponsor a night at the Pony.  Mike Marrone says the first time was when WHTG presented Julian Cope at the Stone Pony and even that night had its share of WNEW-related problems.  There were people outside the show handing out WNEW hats and bumper stickers.  "That's how much they hated us," added Marrone.  "Of course, that all changed years later when the alternative became the mainstream.  That all changed and then WHTG and the Pony had a good relationship."
The success of alternative music along the Shore prompted many clubs to start booking WHTG-related acts.  The Fastlane became home to acts too large for the Green Parrot to hold.  This actually brought the Fastlane back to its roots as the premier place in the area to see New Wave bands.  In the early 80s, the club was host to shows by such legendary bands as U2, the Police and the Psychedelic Furs.
The radio station also helped alternative bands get booked in other Asbury Park clubs like Club Xanadu and Visions, a short-lived club located next to the X-Rated movie theater by the Palace building.  Rich Robinson recalls seeing the club change before his very eyes. "It went from a gay bar to our club to a gay bar almost overnight as the bands were playing," he said.  "I think they changed it to a gay bar as the bands were changing sets.  When they came back in everyone was special and everybody's wardrobe looked so much better than when I went outside for a cigarette."
The Green Parrot days were special to everyone involved. "It was such a scene that we were a part of and I'm grateful that I was part of such a happening hip thing," added Windas.  "People could not believe it, this club just fell from Heaven.   All of a sudden there was a club in town playing the music that they loved to hear and booking the bands that they wanted to see so they didn't have to schlep into New York all of the time.  It was too much fun, it was incredible!"
Unfortunately, the club's history was short and sweet.  The last artist to play there was Richard Barone, former frontman of the Bongos.  Even Barone had no idea the club was closing until after he had completed his set.  The last three songs played at the Green Parrot were the encores of "I Belong To Me," "Barbella" and finally "Numbers With Wings."
"It felt like something had been ripped out of me," explained Windas.  "Because nobody knew it was closing until that night.  The management had their reasons for not telling the staff that it was closing.  So, we all found out after the show, although rumors had started going around while the band was on.  People were upset.  We were crying.  That had been such a huge part of who we were.  Not just the fact that it was this happening scene-making place to be, but it had just ingrained itself into ourselves.  It was a humongous part of my identity.  I felt like something was ripped out of me and I know other people felt the same way."
The memories of the Green Parrot became tales of lore that WHTG disc jockeys passed down to the station's new blood.  Long after the club was just a memory, the stories of those classic shows were told and retold often.  Mike Sauter, a disc jockey that joined WHTG after the Parrot had closed recalls the last days before the station was sold to Press Communications near the end of 2000. "The power of the Parrot was such that by the end of WHTG we had an hour-long show on Friday night called ''HTG Old School' which played nothing but classic WHTG artists," said Sauter. "The host of the show, Tod Lewis, was fresh out of college, and he was inundated week after week during with calls from listeners asking him, 'Hey, remember the Green Parrot?' Despite the fact that he was probably about 12 when the Parrot closed."
Even after the Green Parrot closed, WHTG remained a force in the local music scene.   One night, the band Dada was playing at the Stone Pony.  Although they were originally supposed to be the 2nd or 3rd opening act, they wound up being the headliner when the others were forced to cancel.  They had just released their debut record and figured nobody had heard of them, but WHTG had been playing their music for a while.  When they took the stage they were surprised for find a huge crowd of people that actually came just to see them.
The Fastlane picked up most of the slack and became the leading place to see alternative shows.  There were concerts with such WHTG favorites as Concrete Blonde, Matthew Sweet, the Connells and Material Issue. Meanwhile, WHTG continued to be the area's leading source of alternative music, a position that confused many people who thought the Jersey Shore only listened to Springsteen.
"In 1992, when Springsteen released his Human Touch and Lucky Town albums, some reporter somewhere else in the country came up with the brilliant idea that he would write a story about an Asbury Park radio station playing the new music from the Asbury scene's most famous cultural export," recalled Sauter. "He called up WHTG, which despite being physically located in Tinton Falls had an Asbury Park mailing address (Tinton Falls has no post office, so its mail is routed through Asbury), and spoke with our Program Director at the time, Mike Butscher. Butscher patiently explained to this reporter that we were an alternative rock station, and we didn't play any Springsteen. I don't know whether it was because grunge hadn't really taken hold of the cultural zeitgeist yet and this reporter simply didn't understand what alternative rock was, or perhaps he was just dense or he just wouldn't let go of what he thought was a really good angle on a story, but he spent 20 minutes on the phone trying to convince Butscher to play Springsteen just so he could write his story.  That's the strength of the Springsteen legend - the power of the Asbury Park mythology.
"We always knew that his reputation was clouding the waters of what we were trying to do at 'HTG, but even so, we always were glad to have a rock and roll mailing address. There are only about a dozen towns in the country that are closely identified with a rock scene - Nashville, Memphis, Detroit, Austin, Woodstock NY, Seattle, Athens GA. Cities like New York, Los Angeles, Boston, Chicago, Philly, and New Orleans have so much going on that their rock and roll heritage gets diffused. But Asbury Park ranks up there, and it's largely due to Bruce."
Rich Robinson thinks that many people forget that WHTG played a wide variety of music, including many bands that people wouldn't normally associate with an alternative radio station.  "A lot of people when they look back at WHTG may have selective memory," he said.  "They forget that we played a lot of mainstream rock acts but it was within the context of this music that we were playing.  We'd play the Smithereens and follow it up with the Kinks or play a Jane's Addiction and then an off-Zeppelin track.  What other alternative station anywhere would think of playing a John Lennon song or a Chuck Berry song? But it all fit within the flow of what we were doing and that's what made WHTG special."
"It depended on the set you were playing," added Windas.  "It was all about the flow of the set you were doing. That's what our listeners appreciated, the open-mindedness."
WHTG was far more successful than many people realized.  The station helped launch the careers of local bands like the Smithereens, Dramarama, the Whirling Dervishes, Red House and the Blases in addition to dozens of national acts like Living Color and Dada.  Fans plastered street signs with FM 106.3 bumper stickers throughout Central New Jersey.  According to Robinson, during one 3-month period of time the station distributed 250,000 bumper stickers.  Many of those can still be found on signs throughout the Jersey Shore.
"I can't think of a better feeling than watching Dramarama when they did that big outdoor tent show at the Pony and there were several thousand people there," said Robinson.  "They had the big stage and the big logo behind them.  The scene was packed and when they broke into "Anything, Anything" to see the rush of people and fists in the air and people singing... Just to know that we helped them get there, there was no better feeling in the world."
Unfortunately, radio as with all businesses, has to deal with a bottom line and the station constantly struggled to sell enough advertising space to compete.  The station's Arbitron ratings were always subpar and never seemed to reflect the true audience along the Jersey Shore.  A secondary rating system, Scarborough, provided a much clearer look but was largely ignored by advertising agencies.
"I remember one time we didn't get creamed by Arbitron, but we had our usual so-so numbers," recalled Robinson.  "We got the Scarborough report and came in as the number one rated station in the county.  Our average listener was a 30-year old white guy making over $50,000 a year, which was like the prime advertising demographic.  We had the longest time spent listening of any station in the New York Metro area.  We just kicked ass and took names, but none of the advertising agencies would look at the information so we couldn't get the kind of national buys that we needed to make any money.  It was like a great compliment that didn't do us any good.  But we knew what we were doing, we knew we had the audience out there."
The audience stayed with WHTG even as the original disc jockeys moved on.  Early DJs like Bart, Chopper, Mike, Rich, Matt and Loretta left the station after staying about five years each, a remarkable number considering that the pay wasn't very much.  But WHTG was a special place, the disc jockeys all hung out together.  They were like a family.  Even  today many of the disc jockeys stay in touch with one another.
"That passion for music was our common bond and it was so strong that we're all still friends," said Windas.  "These guys were like my big brothers that I never had back then and they still are."
Nowadays, WHTG appears to be in a constant state of flux.  Ever since the station was purchased by Press Communications in 2000, it has become more and more like a traditional chart-reading, strict playlist type of station that turns its back on the local music scene.  Each day it looks a little less like the station, which once was voted the best small-market radio station in the United States by Rolling Stone Magazine readers.  The station now bills itself as "G-106.3" in an apparent break from its history as well.
"I've heard it, yeah, it's frightening!" said Marrone.  "It's just a joke and the thing that gets me is that we created that place and I underline the word we – meaning the entire staff – out of pure love for the music and nothing else.  We weren't making any money there.  We had to work at clubs to survive, and then you get a bunch of people afterward who either used it as a stepping stone or just totally trash the history of the station."
Mike Sauter was the last DJ on the air with the "old" WHTG.  The station pulled the plug after a two-hour edition of "HTG Old School" filled with highlights from throughout the station's history.  According to Sauter, the station will never be the same.  "The era of WHTG under Press Communications has seemed like any other corporate radio approach," he said. "They nurture few new bands except those on major label agendas. They don't support the local music scene. They appear to care little except for the bottom line."
Many of the disc jockeys from the second era of WHTG like Jeff Raspe and Mike Sauter can still be heard in the area on the public radio station WBJB ("The Night" 90.5 FM) from Brookdale Community College.  The memories of the Green Parrot and that period of time was evident at a recent Peter Case show at Brookdale Community College, which was sponsored by WBJB.  Cheers from the crowd were heard when Jeff Raspe introduced Case and mentioned seeing him play back at the old Green Parrot club.  WBJB is the station that a lot of the old WHTG fans listen to now. Unfortunately, its signal does not reach that far.
Memories of the old WHTG are still strong.  WBJB fills the void  somewhat, but there was nothing like that period of time, before playlists took over, when that little station from Eatontown played one great song after another.
Many former WHTG disc jockeys have rediscovered that freedom with the Internet and satellite radio.  Rich Robinsion is now with Sirius and Mike Marrone is with XM Radio.  Both can now program their shows the way they want... the way radio was meant to be.
---
From the book Beyond The Palace by Gary Wien
---
---
Gary Wien has been covering the arts since 2001 and has had work published with Jersey Arts, Elmore Magazine, Princeton Magazine, Backstreets and other publications. He is a three-time winner of the Asbury Music Award for Top Music Journalist and the author of Beyond the Palace (the first book on the history of rock and roll in Asbury Park) and Are You Listening? The Top 100 Albums of 2001-2010 by New Jersey Artists. In addition, he runs New Jersey Stage and the online radio station The Penguin Rocks. He can be contacted at gary@newjerseystage.com.
---