By Gary Wien
originally published: 01/26/2012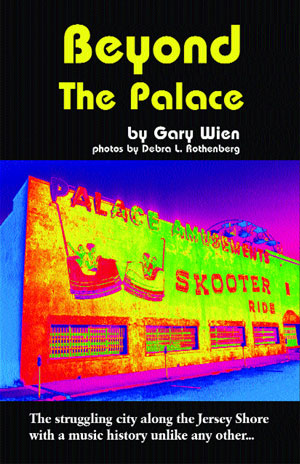 Red House was formed by a bunch of guys in Union County in the early 80s.  They became one of the most popular bands along the Jersey Shore and one of the leaders of the alternative scene taking place in clubs like the Green Parrot and the FastLane.
Success came quickly for Red House after the release of an independent record in 1987.  The band found themselves on the cover of the College Music Journal (CMJ), an unheard of feat for an unsigned band.  Record companies were soon bidding against each other to be the one to sign them. Red House ultimately signed with SBK and released a CD featuring the alternative hit "I Said A Prayer."
Unfortunately, problems with the label surfaced after the band's first tour.  A second record was recorded but never released.  The band ultimately called it quits and headed their separate ways.  I was able to conduct phone interviews with all four of the original band members of Red House, a band that always deserved a better fate.
Let's start with what you've been up to lately.  What have you done since Red House broke up?

I played around with Bruce Tunkel for a little while and then started recording with a friend of mine from South Plainfield, NJ.  We did a bunch of demos under the name of Wormwood. It was power pop combining influences of Jesus Jones, Faith No More and Rush. We ended up recording a somewhat crude CD with the help of Bob Nicol and Ron Baumann. Didn't get too far, still have plenty of copies sitting in my closet.
Tell me about the band Brother Eye.

I've been playing with them for over three years now under the name Leslie St. Ives. Two Tony's in a band gets very confusing.
Are you hopeful that the band will go to the next level or are you just having fun playing now?

Hard to say... I would love to get some kind of recording contract. I feel we've been writing some great material lately. As far as going further than that, I do have a mortgage to meet every month so it would be a little difficult to go at it full strength.
---
The article continues after this ad
---
---
How much would you say the radio station WHTG played in the success of Red House?

Mike Marrone gave us the biggest break ever.  I remember the day he played us for the first time. He put us on a light rotation, but it was strong enough to start bringing people out to the clubs.
What do you remember about the Green Parrot?

The Green Parrot was our home. The cleanest club I ever played, very comfortable. The Parrot was still relatively new at the time for a rock club and it seemed more laid back, the Pony had more history and an attitude.  I guess it was obvious that we were part of the scene, but I never personally felt I was a part of it. I used to leave after we played. I wasn't much of a club person.
There Is A Window certainly opened doors for you guys. What do you remember about making that record?

I just remember it being a lot of fun. There was no pressure, we did what we wanted.
What was it like landing on the cover of the College Music Journal?  

It was fantastic. I can remember being more excited about that than actually getting a record deal.  We did a lot of showcasing. SBK tried to give us some kind of image. We never really got one.  I think we had signed some kind of a contract on a trial basis until they were satisfied with the final result. Then we signed the real deal.
What do you remember about that album's tour?

Mostly the venues and the fans. The traveling kind of sucked and by then the band was starting to get split apart.
During the recording of the second record the label started sending other songwriters to work with? Do you remember any of that?

Sure do. One guy won an Oscar, not for us though.  We were certainly not the band that we used to be. Although I feel some of the best recordings came out of those sessions. I wish we recorded the first album under the same watchful eye of Producer John Hampton.  We recorded it in Memphis and he got such great sounds.
Looking back, did you think SBK gave you guys the support needed to make it?

Absolutely not. They didn't know what to do with us.  They had their minds occupied with Wilson Phillips and Vanilla Ice anyway.
If the band could do anything different, what do you think would have been changed during that period?

We would not have signed with SBK. Before we got signed we seemed a lot more focused as a band.  It would have been great to re-record There is a Window with some strong production behind it.  I believe that There is a Window should have been our first release. There were a lot of great songs on that record.
How would you like Red House to be remembered?

As a band ahead of its time.
---
From the book Beyond The Palace by Gary Wien
---
---
Gary Wien has been covering the arts since 2001 and has had work published with Jersey Arts, Elmore Magazine, Princeton Magazine, Backstreets and other publications. He is a three-time winner of the Asbury Music Award for Top Music Journalist and the author of Beyond the Palace (the first book on the history of rock and roll in Asbury Park) and Are You Listening? The Top 100 Albums of 2001-2010 by New Jersey Artists. In addition, he runs New Jersey Stage and the online radio station The Penguin Rocks. He can be contacted at gary@newjerseystage.com.
---