By Gary Wien
originally published: 01/26/2012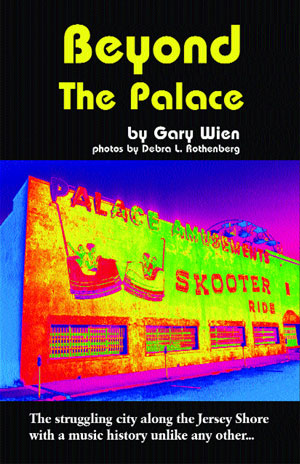 The Whirling Dervishes was a classic alternative band.  They were the typical popular band, always drawing large crowds, always on the brink of success but never quite getting there.  During the 80s, the band was part of the emerging music scene along the Jersey Shore in clubs like the Green Parrot and Fast Lane and was a favorite of the alternative rock radio station, WHTG.
The band released a pair of independent records and had a brief renaissance in the mid-90s before morphing into the lounge band, Everlounge.  They continue to play throughout the area today and have released two records as Everlounge.
The band's name is based upon a spiritual offshoot of Islam that can be traced back to the 13th century Ottoman Empire.  The Dervishes, as their fans called them, can still be heard each Christmas with their classic version of "the Grinch." 
I caught up with Don Dazzo, the band's lead singer, for a phone interview one night to talk about one of the strangest and most interesting bands in Jersey Shore history.
How did you guys come up with the name Whirling Dervishes?  I know what the actual name means, but you don't see many bands named after ancient religious rituals.

Uh, Bob Archie, our guitar player... Bob and I were the principal songwriters in the Dervishes.  He came up with it.  He was reading about it when he was in college and thought it might make a good name for a band.  I went to Rowan, which was Glassboro, and he went to the University of Delaware.  We were both from Westfield, New Jersey. 
When we first put the band together it was more of a cover band and it was called Johnny Bravo and his Whirling Dervishes.  Then when we decided to write a bunch of songs and go the all-original route, we shortened it to Whirling Dervishes.
---
The article continues after this ad
---
---
When did the Dervishes get together?

Well, we really started playing in clubs in 1983-84.  It was around 1984-85 that we put out our first record and WHTG started playing the record.  I'm not so sure of the dates, you should probably check on that chronology.  That's when I remember it starting to happen for us.  We just happened to release the record independently and WHTG picked up on it.  That's what kind of gave us a push to start playing down in the area.
We really started down the Shore at the Brighton Bar.  And then we got involved with a couple promotional showcases that put four bands on the bill at the Stone Pony.  We played a couple of times at the Pony that way.
The local music scene of the 80s kind of gets forgotten in Shore history.  Everything focuses so much on Bruce Springsteen.
Certainly, but it was kind of an anti-Bruce Springsteen / Asbury Park sound too.  It was kind of like alternative rock before there was such a term.  That's the way I looked at it.
Did you guys feel like there was something going on in those days?

Oh, definitely.  It was a great time that we had there.  There was a great scene.  There was a great bunch of bands.  Really the credit should go to whoever did the booking there, which I guess was Tony Ackerino or people in his family.  I think WHTG had a lot to do with it too.
Are there any Dervishes shows that really stand out for you?

My fondest and most rebellious memory was when we played at the Pony in March sometime in the late 80s.  For some reason, we were asked to headline on St. Patrick's Day along with three other bands.  I have a crazy friend named Frank who still lives in the area.  In a dark corner with a bandanna around his head and a denim vest, he might have you thinking that he looked a little bit like Bruce Springsteen.   Nothing like a close resemblance.  So, we planned this little hoax while the band learned a quick medley of "Born In The USA" into "Born To Run". 
There was about 300 people tops in the club.  About a third full.  We had planned it with a guy in the audience to have him come up and whisper something in my ear and that would start the process.
Mid-set the guy comes up and whispers something in my ear.  I'm like, "ladies and gentleman, we have an extremely special guest!'  People at the Pony automatically think it's going to be Springsteen so they rush the stage.  The band goes into "Born In The USA" and we bring out Frank who's very drunk.  He just goes into some Iggy Pop rant over the top of the song.  Meanwhile, the band shifts gears and goes into the "Born To Run" riff and by now I'm looking at the audience and I'm seeing all these nasty faces.  All of a sudden, the bouncers are on stage dragging him off.  I played it totally straight.  I was like, "Wait a minute... you're not Bruce Springsteen!" I don't know if they knew right then, but they never had us back.  We didn't get back into the Pony until it changed hands.
One time we played the Fast Lane and opened for Hawkwind.  They were a British acid-rock band that spawned Lemmy from Motorhead.  Lemmy was the bass player in Hawkwind.  They're kind of like a little known but fairly famous international band and they did a kind of special biker acid rock, which I didn't know back then.  It was complete with psychedelic movies and Spinal Tap like lyrics.  It's silly but cool.
We opened for them around the time we had released a movie called Thin Mints.  It was a really sick John Waters styled movie and the star was this overweight great actor named Fred Hallow dressed like a drag queen.  We decided to bring Fred up and have him sing this really corny song from the movie.  The audience was restless as it was because they were really a bunch of bikers, real tough guys, and they started getting nasty.  And when Fred came out and started singing this kind of sappy song that was the end of it.  They started booing and stuff like that.  I came out, it was a packed house, and I said, "I distinctly think I heard people booing Fred Harlow."
They're like, "Yeah, get the fuck off the stage.  We want Hawkwind." Then we launched into Queen's "I'm In Love with My Car" and it shut them up.  
How does it feel to have a song, like your version of "The Grinch" that you always know will be played and you pretty much know when it's going to be played?

Yeah, it's amazing.  The thing gets played every year all across the country.  I have people calling me to say they heard "The Grinch" in Hawaii or in Philadelphia or in Giants Stadium.  I just wish we wrote the fucking thing.

The way royalties work you don't get any radio royalties.  We've never really made any money on "The Grinch."
The thing got released several times on our label and on some better indie labels, but the money never came through.
Was it a little disappointing that they didn't use your version for the Jim Carrey movie?

That was disappointing because we got our version to the right people.  They just passed on it.  Jim Carrey really wanted to do it.  At least I know that it got to the right people, but they passed on it.  That was disappointing because they really could have used it in that.
For a lot of years, you guys had the label of probably being "the next" to break from New Jersey.  How difficult was it to be playing with that kind of pressure?

Well, I mean, that never really bothered me.  I'll tell you what happened.  We just didn't get the right kind of breaks.  I'll never forget we played - this is a funny rock and roll stupid story.  There was this big shot at like Warner Brothers and we had got his interest somehow.  We did a showcase at the Pony.  It was like a weeknight, but we had a pretty good turnout. 
You know how things go with bands, you're playing in places where labels can come out and see you, you're hoping the timing is right and the band is on.  Well, about a month before this was happening, we had just met these girls that claimed they were designers.  They wanted to design a look for us, which I kind of bucked from the beginning, but then I said what could hurt? I've always considered myself a good dresser, but I don't know about the rest of the guys.  Anyway, these girls had come up with these designs and they wanted to try them out.  I said there's no way I'm gonna try something out the night of a showcase unless I truly fall in love with it.
They were supposed to have these things ready for weeks and weeks and weeks, but sure enough the showcase happens and that's when they have them ready.  We were actually in a hotel room that night when they broke out the clothes.  They had me wearing a burlap robe.  It reminded me of that Lord of The Rings crap that people are wearing or something from Star Wars.  It was kind of an old-fashioned Robin Hood type of wear.  It was like no! And we got into an argument with these girls and everybody started fighting among themselves.  I really think that put a damper on our show.  Anyway, they passed on us after that showcase.
I wasn't as good as I could have been.  My guts tell me that.  The audience was there with us but I don't know.  That was just one example of a record company executive coming to see us because we were kind of quirky, you know? We had talent as a whole but there wasn't any singular talent that stood out in the band other than our songs.  Who knows? It takes a lot of different things to make it happen.
We actually had kind of a resurgence years later in the early 90s.  We got signed to a publishing deal with Herb Albert's company.  So, I guess to answer your question about being the next big thing we kept trying to do short goals and keep things going for as long as we could, which kept us amused and enthusiastic.  So, we never really got down on being the next thing.  We never really took that seriously until it was all over. There was a number of bands that did get deals at that time and you don't hear anything from them anymore.  Once you get your record deal that's when it really starts.
How did the evolution of Everlounge come about?

First of all, there was always that element of tongue-in-cheek cabaret in the Dervishes.  There was a couple of songs that had goofy, comedic and blues - different genres of music within songs.  But it was just something that evolved naturally with age.  We had kind of run our course as far as we had a publishing deal but we never got signed to a major.  We were running out of opportunities with the Dervishes. 
Yet, I wanted to keep singing and there was a whole lot of covers that I wanted to do.  I felt like ok, I'm not going to really go as far as I wanted to with this original band and the rock and roll dream is dying, but I can still do ok as a second rate singer in a cover band or lounge thing.
We've played all over the place with Everlounge.  We've played  some really nice clubs in New York, fancy parties, weddings. It's been fun.  It's totally different.  I think it was just really a survival mechanism.  If we had just continued to try playing one-set gigs with the Whirling Dervishes and attract new audiences it just wasn't going to happen.
Is it a lot more fun now that you're  not out there shooting for deals?

Totally, and I actually do really enjoy it.  I think I enjoy performing now more than I did with the Dervishes.  There was more pressure with the Dervishes and the material was rough on my voice.  It was all different things.  It was louder.  It was harder to hear one's self.
Do you guys get an entirely different crowd now?

Well, we're so old now.  It's like with bands there are generations of fans and friends.  It's usually like a five-year cycle (or even shorter) where people will come out for what seems like forever and then the fans will drop off the face of the earth and a new group will come in and then they'll fall off the face of the earth.  Because what happens to most ordinary folks is they do their going out and drinking and dating stuff and then they settle down and don't want to do it anymore.  I guess, I just never got tired of going out.  But a lot of people do.
When the Whirling Dervishes get together on stage now, how does that differ from Everlounge? All different songs?

Yeah, there's very little cross over in the songs.  I think there's like one or two.  Both bands do "The Grinch" and a handful of Dervish originals.  For the most part, it's that kind of dark, hard alternative rock with the Whirling Dervishes and light pop sounds for Everlounge.
What would you like people to remember about the Whirling Dervishes?

Just those great nights that we had live.  That's the main thing.  For people that liked our records and bought our records I think that's brilliant and thank you.  But really the scene was the Brighton, the Pony, the Fast Lane and the Parrot.  My wife looks back on those days as such a great time.  I was dating her then and we got married in 1989.   We all loved it and it left a mark on all of us.
---
From the book Beyond The Palace by Gary Wien
---
---
Gary Wien has been covering the arts since 2001 and has had work published with Jersey Arts, Elmore Magazine, Princeton Magazine, Backstreets and other publications. He is a three-time winner of the Asbury Music Award for Top Music Journalist and the author of Beyond the Palace (the first book on the history of rock and roll in Asbury Park) and Are You Listening? The Top 100 Albums of 2001-2010 by New Jersey Artists. In addition, he runs New Jersey Stage and the online radio station The Penguin Rocks. He can be contacted at gary@newjerseystage.com.
---