By Gary Wien
originally published: 01/26/2012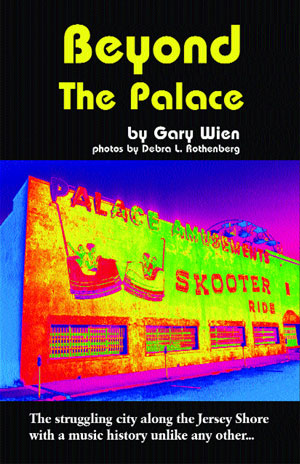 I was born right around the time the riots were taking place.  Racial trouble was boiling in towns all across New Jersey as well as the entire nation.  Asbury Park just happened to be one of the towns hit the hardest.  The Asbury I knew and grew up with was very different from the Asbury pre-riot.  A lot of things have to happen for a town to die, but the riots certainly pushed Asbury towards that end.
Growing up along the Shore you aren't told much about the riots, even though they basically took place in your backyard.  People don't like talking about it much.  I guess it's a period of time we all wish we could forget.  But it did happen and it did change the face of Asbury Park forever.  Redevelopment may come and the town may be rebuilt someday, but I doubt it will ever erase the memory of the riots.
Music, along the Shore, was profoundly affected as well.  Asbury Park was the center of the music scene.  After the riots, few people were willing to return to the clubs.  The scene, which was so vibrant, started to wane quickly.  Important clubs like the Upstage were forced to close.  House of Hits, a record store in the black section of town, which was where many musicians went to learn about the great blues artists, burned down.  The days of "going to musical college," as Southside Johnny described it, were over.  And musicians were forced to move on as well.
-- Gary Wien
David Mieras grew up in Ocean Grove, the town that borders Asbury Park.  Ocean Grove was basically secluded from the rest of the world.  It's a mile square town, bordered by lakes with just five entrances in and out of town.  On Sundays, they used to put a chain across.  "It's a really protected onclave," said Mieras.  "It's kind of like a fort.  And when the riots did happen that's how they treated it.  The townsfolk, not just the cops, were on the corner manning their posts with shotguns and stuff."
In 1970, Mieras was 17 years old.  He was hitchhiking his way out to California when he changed his mind in Omaha, Nebraska and decided to come home. "I put my thumb out and I got a ride from Omaha, Nebraska and got dropped off at the Casino in Asbury Park, I swear to God," recalls Mieras.  "Now that's a hell of a drive.  I got to drive a little.  They had a muscle car that was really fast.  I got dropped off at the Casino on a Sunday.  I got out and started walking towards Ocean Grove and looked up at the sky and was like what the heck is that?  All this smoke was coming up.  Must be a big fire somewhere, I thought."
---
The article continues after this ad
---
---
He stopped by his house, but nobody was home.  His first thought was that everyone must be hanging out down at the beach, so he dropped off his stuff and headed down there.  Sure enough, the beach was packed with people.
"What are you doing back?" someone asked David.
"Aw, you know, whatever," I said.  "What's that over there?"
He said, "you don't know what's going on?" 
"No."
"There's a riot going on over there."
"Riot?"
"Yeah, they're rioting in Asbury Park. Race riot."
"You're kidding me."  I said, "Hey Skip, let's go over to Upstage and see what the hell's going on."
Skip McGrath was a close friend of David's from Ocean Grove.  They often went to the Upstage together.  The two went over to Upstage, went upstairs and someone told them that everybody was up on the roof.  So they went on up.  There they saw John Luraschi and his brother, Fast Eddie with his brother, Vini Lopez and some other people.  From the roof of the Upstage, they could see the destruction taking place.
"Buildings... Whole blocks of buildings were burning," recounted Mieras.  "It was ugly.  It was really ugly.  We were the youngest out of all of them guys.  They were more concerned with whether somebody was gonna blow up Upstage or the town or what.  I said, 'Skip, let's go to the railroad tracks and see what's happening.'" 
So the two took off again and headed towards the railroad tracks.  This was the area where the riot was really in full force at the time.  They were next to the Orchid Lounge on Springwood Avenue and Memorial Drive when they realized they were smack in the middle of a war zone.
"Man, there was people running around throwing shit," continued Mieras.  "It was crazy.  Then, all of a sudden, in comes marching all these police.  They've got these shields and there had to be like 40 or 50 of them all lined up and marching like they were in the army.  They came right up from Main Street to Springwood Avenue and when all the people who were rioting saw them they all came up to Memorial Drive.  So there was a big crowd over there and the police were like in a face off – like a stand off.  And did we see some crazy stuff.
"It was absolutely terrible.  We're standing there and the first thing that we really saw that was bad was one of the New Jersey Transit trains came along and, I guess they didn't know there was a riot.  They didn't have to worry about anything, they were a big old train.  The train came, and all these people rushed it and started throwing bottles and rocks through the windows.  They were destroying the train.  It was unbelievable!  And that got the cops going.  The cops started marching towards the people.  All of a sudden, out of everywhere Molotov cocktails start coming down.  Cops were on fire.  It was right in front of our face and we're standing there.  It's like watching a movie.  It was incredible."
Then, what might have been the most frightening scene of the day, occurred right before them.  They saw a car pull up to the street.  A woman was in the car all by herself.  Apparently, she didn't realize she was driving right in the middle of a riot.  The car stopped at a red light.  A bunch of guys grabbed this extremely large piece of wood and rammed it straight through her window.  There was a loud smash as the glass was broken.  Somehow, the woman was able to get out of there. 
"Well, I don't know how she did it but she got out of there," said Mieras.  "It was like one thing after another.  All of a sudden all of these rocks and bricks and shit started raining down on us.  Skip got hit with a gigantic thing in his arm. It was like a big brick.  I thought it was gonna kill him.  That's when I said let's get the hell out of here."
Mayor Joseph F. Mattice ordered a curfew throughout the town and a state of emergency was declared at 3 a.m.  Reports from the first day told of injuries to 6 policemen, 20 arrests made, damage to at least 75% of Springwood Avenue and considerable looting taking place.
The problems persisted and the next night saw another 8 buildings destroyed or seriously damaged in fires and the number of people arrested grew to over 100.  The state police was called to provide help.
Police reported having human feces thrown at them, urine and hot water poured down upon them from upstairs windows and several police cars firebombed.  Some people helped put out the fires while others hindered the efforts of firemen by bending their hoses.
Throughout the town graffiti spelled out messages like "fight for your rights." One said "pigs" and was painted by a pig's face.  Boards covering a store on Springwood Avenue contained the messages "power to all black people" and "soul sister."
July 7th was the final day and by far the bloodiest.  According to police records, the riot peaked at about 4:30 p.m. when hundreds of people were out of control in the area.  The outbreak resulted in injuries to 56 people, including 32 who were treated for gunshot wounds.  Police reported being shot at by snipers in the area.  The devastation was unbelievable.  From the railroad west to DeWitt Avenue (the heart of the business district) there was hardly a store window that was unbroken and the whole area looked like it had been torn apart from bomb bursts.
After three straight days of peace, the state police withdrew from Asbury Park.  While the situation cooled there minor uprisings started in Red Bank and then Freehold.  Bruce Springsteen described the tension of the time in the song, "My Hometown."
News about the riots in Asbury Park could be found in the major newspapers of the day.  Articles also appeared such publications as Time Magazine, Newsweek and even TV Guide, which wrote about television coverage of the race riots.
"There's no doubt in my mind," Mieras said. "After that happened people were just plain scared.  They didn't want to go down there. A lot of people won't admit it that it was the downfall of Asbury Park, but there's no doubt in my mind.  We were the ones that were down there, we knew what was going on, we knew what was happening. People just didn't go there anymore.   It was like I'm not going to Asbury. They were scared.  Who wants to go somewhere where they're scared?"
"I think that was definitely the beginning of the physical decline of Asbury Park," added Sancious.  "Not just the club scene but the whole scene.  Between that and the advent of shopping malls, it affected the whole downtown Asbury scene and boardwalk.
"Everything was difficult after the riots, anything to do with anything. It wasn't so much as the energy.  I mean, things did cool out for a minute, but it wasn't like everybody sort of shut their doors and stayed inside.  Some of the places were damaged in the riots, some buildings were burned or destroyed or partially destroyed, but it was more just the psychic energy of the times.  Nobody got out of that unscathed, you know."
---
From the book Beyond The Palace by Gary Wien
---
---
Gary Wien has been covering the arts since 2001 and has had work published with Jersey Arts, Elmore Magazine, Princeton Magazine, Backstreets and other publications. He is a three-time winner of the Asbury Music Award for Top Music Journalist and the author of Beyond the Palace (the first book on the history of rock and roll in Asbury Park) and Are You Listening? The Top 100 Albums of 2001-2010 by New Jersey Artists. In addition, he runs New Jersey Stage and the online radio station The Penguin Rocks. He can be contacted at gary@newjerseystage.com.
---