By Gary Wien
originally published: 01/26/2012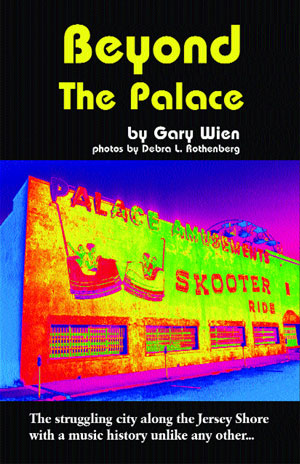 What bands were you in before playing with the Jukes?

Before Southside, I toured with Melba Moore from '77 through '79, played and wrote arrangements for the Cotton Club orchestra in Harlem, and freelanced as a studio musician and jazz and R&B sideman.  Then late in 1980, a drummer named Mike Micara, who was in a little recording unit out in Brooklyn that I was working with called me about joining the new band that was being formed to back Gary U.S. Bonds.  Gary was in the middle of recording Dedication with Bruce Springsteen and Steven Van Zandt.  I ended up playing on over half the album and toured with Gary until April of '82.  This gig was my entree into the whole New Jersey/ Asbury Park scene.
Who were some of your musical influences?
I loved jazz, blues and R&B growing up, and I still do.  I guess my favorite influences would be Herbie Hancock, Ray Charles, Dr. John, Red Garland and Richard Tee.  I love classical music as well, but never pursued it to any degree.  I like a lot of classic rock and roll, but more individual artists than as a broad style.  Most of the people I've toured with (including Johnny) have gravitated much more to R&B than rock and roll.
How did you first get involved with the Jukes?
I was first contacted about joining the Jukes by a guy named Pete Croken, who was then their tour manager.  I was recording with Little Steven Van Zandt, for the Men Without Women album, and Pete was doing some production assistance on the sessions.  He mentioned that Johnny was interested in adding a second keyboard player, mainly to be a piano specialist.  I had recently left Gary U.S. Bond's band, so I was interested.  This was spring 1982.  I went out to Jersey to play with the band and shortly after that Johnny called to offer me the gig outright.
What I didn't know at the time was that Little Steven was planning to put his the Disciples of Soul together, and was planning to ask me to do that as well.  I spent the rest of '82 jumping between the two gigs.  At the end of '82, I chose to go with the Jukes exclusively.  Alas, Trash It Up was my first LP session with the Jukes.
---
The article continues after this ad
---
---
Would you say the Trash It Up recording session went about as rough as people were led to believe?
Yes, the Trash It Up sessions were very rough.  Johnny and Nile Rodgers never got along and the vibes just got worse as the sessions dragged on.  It was really Billy Rush's record rather than a Jukes record, and a lot of it was me on synth bass and various keyboards over drum machines.  A lot of the guys in the band didn't get to participate much and the music was the worse for it.  With some fleeting exceptions, it's just a lousy piece of work.
What was your best memory of playing in the Jukes?
My best memory? I can't name one! There was an absolutely magical show at the Grosse Freiheit in Hamburg that went on for almost four hours in '92.  The Southside tightrope act worked to perfection that night.  Every bizarre out-on-a-limb musical chance Johnny took panned out amazingly. 
There was also a concert with the acoustic group in Holland in '95 in a sit-down, chamber-music sort of hall that I remember fondly as a really quality musical experience.  Incredibly artistic in a way Jukes' shows seldom had a chance to be.  Of course, the recording processes for At Least We Got Shoes and Better Days are very fond memories as well.
What was your worst?
As for the worst... well, that's easy! I got really drunk during a show in Germany on some bad vodka and blew my stack at Johnny for the way he was running the show.  I left the stage, went upstairs to the dressing room and started wrecking the place.  Johnny showed up, started screaming at me and I threw a half-sized metal stepladder at him.  We kept screaming until we calmed down and talked things out.  I had initially demanded a plane ticket home on the spot.  We all had a tendency to booze it up in those days and that night I really hurt myself.
Your last recorded album with the Jukes was Better Days.  What led you to leave the Jukes?
Actually, it's not quite accurate that Better Days was my last Jukes recording.  I did a live recording with Southside In The Acoustic (Johnny, Bob Bandiera on guitars, David Hayes on acoustic bass guitar, and myself) in Paris in 1995 that was released as Spittin' Fire.  I also played on a project that Johnny financed and released himself (it seems to have been the beginning of a trend for him that's still apparently going on)  called Ruff Stuff.  That mini-CD contains some of the most interesting music I'd ever done with Johnny, including a song of his called "King of the Night" that's my personal favorite of all his own songs.
I decided to leave the Jukes because I had just gotten serious with the woman who became my wife, and was already helping her raise her two boys from a previous marriage.  She and I also had plans to make music together and I had a band called S'killit that had just been signed to a record deal.  The deal went sour and I had to get out of it.  The label was capsizing and it took us a while to figure that out.  I had spent almost 20 years on the road in one band or another and I wanted to stay home now.
I recommended Jeff Kazee to take my place.  He was the best cat I knew for the gig and I thought he and Johnny might click.  Fortunately, they did.  It seems to have turned out really well for both of them.  How it happened is that I just called Jeff and asked him if he had eyes to do it and he said yes.  Then Johnny agreed to take my word for it about him. 
His first gig was apparently a typically chaotic Jukes Jersey extravaganza, but he hung with it (this guy is a man!) He's also subbed for me with the Blues Brothers' Band. 
Is the music that you're playing now in a similar R&B style?
Some of the music is similar.  The Blues Brothers Band, which is my chief "sideman" gig right now is, of course, pure R&B.  My work with my wife involves a few different directions, as we do a lot of "affairs work" (benefits, weddings, parties, etc.) to make the bread and butter.  I'm playing a lot more jazz now, which is where I kind of started, and much of the work I do with Claire falls into that category.
In 2000, you released Every Little Dream.  How has it been to work and record with your wife?
It's been wonderful working with Claire.  It's the ultimate in making a life together.  We have the wherewithal to integrate work and family and that's very satisfying to both of us.  She's a unique songwriter with a musical sensibility all her own, and writing with her has been a great process.
Would you ever consider being part of future Juke reunions or have you basically closed that chapter of your life?
I would always leave it open to participate in Juke reunions.  I just haven't done so up until now because I needed the time away to sort of clear my head about the whole experience.  I was contacted about bringing S'killit down to participate in the Jukestock event a while back, but I lost patience with some of the people I was dealing with and the process fell apart.  I have very mixed memories about my whole association with the "Jersey" scene, but I made a lot of great friends over those years and you don't just "close the chapter" and walk away forever from something like that.
---
From the book Beyond The Palace by Gary Wien
---
---
Gary Wien has been covering the arts since 2001 and has had work published with Jersey Arts, Elmore Magazine, Princeton Magazine, Backstreets and other publications. He is a three-time winner of the Asbury Music Award for Top Music Journalist and the author of Beyond the Palace (the first book on the history of rock and roll in Asbury Park) and Are You Listening? The Top 100 Albums of 2001-2010 by New Jersey Artists. In addition, he runs New Jersey Stage and the online radio station The Penguin Rocks. He can be contacted at gary@newjerseystage.com.
---