By Gary Wien
originally published: 01/26/2012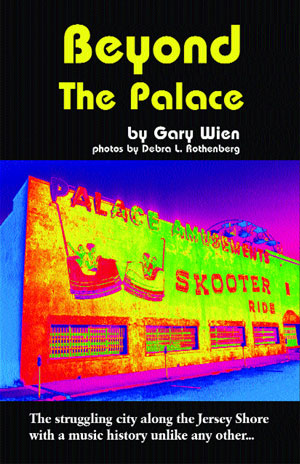 Let's get this straight, there never was an Asbury Sound.  It was simply a way of grouping the bands from the area into one category.  It was probably more derogatory than anything.  It gave the impression that everyone was trying to capitalize on a winning formula.  To the musicians and people closely involved, each of the bands had a personality and style of their own. 
"I think it was either the New York Times or People Magazine," said Tony Amato of Cahoots remembering an interview that took place during the height of the Jersey Shore scene.  "The guy comes out and says, 'Well, with this Asbury sound...' I almost fell out of the woods.  I said, Asbury sound... What Asbury sound? There is no way that the Shakes sound any way like the Jukes.  The Jukes don't sound anything like Cahoots.  Cahoots doesn't sound anything like the E-Street Band."
The Stone Pony became known as the home for SOAP (Sounds of Asbury Park) music.  In a way, this was where the evolution of the Upstage really reached its peak.  While playing at the Upstage, the local musicians were able to hone their craft and develop personal styles.  It was the perfect place for a group of young musicians hoping to make a living as artists.  The Upstage was where they all pushed each other to be better than the day before.  At the Pony, they were provided a stage and a venue to claim their own.  It was here that they opened up their jam sessions to a much larger audience.  One of their members, Bruce Springsteen, had already released two records and was becoming known nationally when the Pony opened in 1974, but fellow Upstage players stayed in Asbury and created a scene of their own.  This wasn't easy, at first, because the Stone Pony wanted bands that played disco music.
Butch Pielka and Jack Roig, the original owners of the Stone Pony met as bouncers at a Jersey Shore bar called the Riptide.  They took their savings and borrowed whatever they could to buy a club known as the Magic Touch.  That bar was an out and out disco.  At the time, disco music was sweeping the country and the Jersey Shore was no different.  Except for the fact that the local musicians didn't want to play disco.
Cold, Blast and Steel was a four-piece band with two drummers, a bass player and a guitar player.  The band was comprised of former E-Streeter Vini "Mad Dog" Lopez, Rick DiSarno, John Luraschi and Steven Schreager.   They wanted to play the Pony, but the Pony was a disco club.  Butch told them they had to learn how to play disco. 
"Vini looks at him and says okay, we'll do disco," Amato said, retelling a story he's told a thousand times.  "So, they wrote a song called 'Butch's Bump.' Well, they played that song one time and that was the end of that.  Then the Pony started bringing in all these rock bands."
---
The article continues after this ad
---
---
Steven Van Zandt was one of the main reasons the Stone Pony didn't go down in history as a legendary disco club.  But more than that, he may have been the person most responsible for building the local scene.  He was playing with Southside Johnny in the Blackberry Booze Band, which later became the Asbury Jukes.   Van Zandt asked the Pony to let them play on one of the club's off-nights in exchange for the money brought in at the door. 
"He was like we'll take the door," remembers Amato.  "Everybody's like there's ten guys in this band what do you mean take the door? Well, the first week it was like three dollars.  Second week was like six dollars.  It kept growing and growing and the Jukes started getting going.  Steve told us to bring our boys down there.  So Shakes started playing and it started, started causing a scene.  The three bands were getting lines around the block.  There was already lines there before Bruce ever showed up.
"You'd have Southside Johnny and the Asbury Jukes playing, the Shakes and Cahoots. Bruce and the E-Street Band never really played in the clubs, but Bruce would hang out, Clarence would hang out and Van Zandt would hang out.  And whenever those three bands were there, Bruce would come down to the Pony.  See, what actually brought Bruce to the Pony was those three bands.  We had a thing where if it was say Cahoots and the Jukes, we'd play our normal set and by the end of the night Cahoots and the Jukes would both be on stage and Bruce knew it was Upstage time - time to jam."
Record executives in New York, who for years had ignored the Jersey Shore, finally realized that they had an emerging music scene practically in their backyard.  They began paying attention to Asbury hoping to find the next Springsteen and the Stone Pony became the place to be.  "I guess what happened is that Bruce made Born to Run and everything just exploded," thought Southside Johnny.  "People started coming down to Asbury Park to see what was going on.  And we (the Jukes) were the beneficiaries of that, of course.  The Stone Pony benefited too because we played there so much.  And the people who played Convention Hall would come over and jam with us.  They'd just come over after hours and try to pick up chicks and drink and play.  It was great because we were the kind of band that could play just about anybody's songs.
"I remember Boz Scaggs coming and playing," added Southside Johnny.  "He had refused to do 'Somebody Loan Me A Dime' for years because he was too associated with it and he wanted to do new stuff.  I said, 'Look, I think that's a great song.  Will you do it?' And he did it at the Pony and it was great!"
It didn't take long before Southside Johnny & the Jukes caught the eye of Steve Popovich of Epic Records.   "He was this complete nut from Cleveland," said Southside.  "A complete psycho, he was like a 50s rock and roll record executive.  Completely insane, loves the music and not really a businessman as much as an enthusiast.  He said, 'You've got to make a record.'  So we made a four-song demo.  We used high school kids from Asbury to play from the school band.  Popovich put out the demo and he gave it to a DJ in Cleveland named Kid Leo who started playing it.  I was furious because it was out of tune.  And that was the start of it.  It was all very seat-of-your-pants kind of stuff.  Nobody knew what was going to happen next.  So, the idea of it being history it was more like a random history.  But I guess all those scenes are like that.  Nobody really knows what's going to happen next."
The Jukes held a record release party at the Pony with a live show broadcast on the radio.  According to Lee Mrowicki, the long-time disc jockey at the Stone Pony, this was the night that brought the club national attention.  Lee was working at WJLK, the local radio station in Asbury Park, at the time.  WJLK was going to be the local outlet for the national broadcast of Southside's record release.  "There were nine stations throughout the country, mostly in the east and midwest, running it," said Mrowicki.  "And, of course, that's when anybody who was in the music industry paid attention to what was going on."               
Lots of special guests came up for the show.  Ronnie Spector and Lee Dorsey, who were both on the first album were there.  And two disc jockeys instrumental to the Jukes career - Kid Leo and Ed Schiaky, who was big in Philadelphia - made the trip.   "It was just this wild scene with all these radio stations hooked up," remembered Southside.  "It was great! That was a record company doing promotion.  It was like it happened around me.  It wasn't my idea, but it was really great."
The Jukes were always thought of as a great dance band.  If a Jukes show didn't get you on out on the dance floor there must have been something wrong with you.  "I was there when they played three nights a week," recalls Mrowicki.  "That was a lot of fun because Johnny wouldn't play unless there was people on the dance floor.  He'd say, 'You ain't dancing folks!' And the place would just get up and everybody would start dancing.  You'd dance the whole night most of the time."
After the Jukes left Asbury for bigger and better things, bands like the Shakes, the Shots and Cahoots took over the scene.   "Everything just carried on," added Mrowicki.  "People who loved the Jukes loved those guys as well.  Everybody was looking at them.  They were supposedly the next big thing from Asbury."
Billy Hector, known today as a legendary blues guitarist, played in the Shots when the Asbury scene was still going strong.  He recalled the impact WNEW had on the scene.  Being so close to New York City, people on the Jersey Shore used to listen to New York radio stations and WNEW was the biggest of them all.  "That was the rock station so anybody that was on that station had made it," said Hector.  "Bruce played on that station live.  I remember, I was with Tony Pallagrosi at Drew University listening to it.  It was a big deal.  And then Tony was in the band when the Jukes were on the radio and they interviewed Southside.   They were talking about Cahoots and the bands."  Whenever one of the bands was doing well, the rest of the bands got a boost because they knew that they were all involved.
"It was a real scene," explained Hector.  "It was buzzing.  It was like Seattle was in the early 90s.  Everybody was talking about it.  The press would talk about it, people would talk about it, everybody was excited.  The Pony was packed every night on the week.  We were there, I think, Tuesday, Thursday and Sunday.  We were there through the summer.  The Jukes had made it so everyone's eyes were on that club and any band that played Convention Hall down the street would come to jam at the Pony.  When the Jukes cleared out, the Shots and the Shakes took over and the scene was still going pretty strong.  There were lots of record companies looking at the bands... well, at the Shakes anyway.  We were more like the Commitments."
Fran Smith Jr., who went on to play with bands like Cats on a Smooth Surface and the Hooters, joined the Shakes in 1975.  "Everyone thought that the Shakes were going to be the next big thing to break out of the Asbury scene," Smith remembers.  "We had an exceptional amount of press at the time and many record companies were pursuing us.  Bruce and the boys were always up on stage with us.  The times were great and the fans were pumped.  To say the least, it really was a magical time at the Pony.  There were many rock stars coming in to catch Bruce and we were lucky enough to ride in the wake of his growing success."
According to Tony Amato, the Jersey Shore was loaded with bands getting signed by record companies.  "We all had deals," he said.  "Southside had their deal with Epic, the Shakes got their deal, then we had our deal with Columbia.  Bruce and Jon Landau brought our tape to Mickey Eisner.  We had the deal signed, sealed and then Eisner said, 'Get your boys ready, we're gonna meet.'  That was like on a Tuesday.  We played the Royal Manor on Wednesday.  Columbia was supposed to come down with the papers on Friday.  Thursday morning I get a phone call from George Theiss saying he quit the band."
It's possible that Theiss may have had a problem with Springsteen trying to help Cahoots out.  Years before, Theiss had played with Bruce in the Castiles.  A talented songwriter in his own right, George may have been adamant on making it on his own.  Amato believes Bruce was simply trying to give his friends a chance at making it.  "See what George didn't understand is that the man isn't doing anything," explained Amato.  "What the man did is open the door to get us in.  What I kept trying to tell people back then was look, 'Bruce ain't doing this for you, he's opening the door.  He's bringing everybody in because this is our family.  He's opening the door and once you go through the door it's up to you to stay there.'"
Some people think the record executives were looking too closely at bands with the so-called "Asbury Sound," hoping to find a carbon copy of Springsteen or Southside Johnny.  In a scene filled with extremely talented musicians, it's a wonder why more bands didn't make it from the area.  They had the crowds, but bands need more than that to make it. "None of them had the personality or the songs that Bruce did," said Mrowicki.  "They were looking for hit songs, stuff that was going to be played on the radio.  But Asbury was like an island on to itself.  It didn't get affected a lot by what was happening in New York or with disco or punk music.  It was always a little different throughout Asbury."
Looking back, Amato still believes that Cahoots was good enough to make it, but the band soon broke up for good.  It was around this time that the idea of an Asbury scene had started to wane. 
"After 1979, the scene sort of stopped," said Amato.  "Anything after 1979 they're riding on what everybody had created acting like they did this.  We sort of got out of it, you know. It's like there were four bands in the 'Asbury Park Sound,' that's all.  There wasn't all these other bands that people think, they were after everything.  The whole Asbury Park scene was actually from 1969-1979, a ten year span.  That was from the days of the Upstage.  The Upstage closed, so we just moved to the Pony and we kept doing what we did at the Upstage.  What made the Pony something special was the bands playing and the impromptu jam sessions.  That's what the Pony is noted for, that's what the people came to see.
"What the sound was I have no clue, but there was sort of a blood relationship," continues Amato.  "It's like today if I'm in a room with me, Bruce, Little Steven or any of those guys there's no difference.  It doesn't matter that you're Bruce Springsteen and you're a major star.  There's no separation.  It's the relationships that we had with each other, the kind of music atmosphere and the vibe we were creating - that's what it was.  It's not a sound, it's an energy.  We all had this certain type of energy that we were spewing out on the crowd.  It was really never a sound."
Hal Selzer, a long-time veteran of local bands such as the Bobby Bandiera Band and Adrian Dodz, believes that the scene may have been created because of the level of the musicians in the area.  "I don't know what it's like in other scenes that sprung up like with the Beatles, but around here I think it's got something to do with the quality of the players," he said.  "To get into the scene you've got to be a good player.  It's the quality of the players and the kind of music we play.  You've got to be able to play with soul and feeling."
After Southside Johnny & the Jukes graduated from being a house band, the Stone Pony began booking national acts.  According to Mrowicki, agents started calling the club to get their acts booked there.  In the beginning, many were R&B oriented but the club eventually started taking chances with a lot of different types of music.  Nowadays, the Pony is probably best known as a place where you can see national acts up close.  It's an intimate setting that you don't find in too many places.
Mrowicki has seen his share of memorable shows at the club, but one show quickly comes to mind when asked to name the most magical night.  It was the first time that Jimmy Cliff played the Pony.  "The first time he played it was just... it was like seeing Springsteen because it had that same electricity," said Mrowicki.  "The guy came out, looking like a boxer with a black hooded cape with a hood on and everything.  Came out of the dressing room, threw it off and he was all white underneath.  White in everything - white pants, white shirt, and everything.  So it was a real contradiction.  He was speaking very religiously, almost like taking in the whole crowd and saying we could move mountains.  It was an electrical show and then Bruce played with him.  They did 'Trapped,' which Bruce had been covering anyway."
Springsteen has jammed with many artists on the Stone Pony stage. "There was a time when we couldn't get rid of him," jokes Mrowicki.  "Back then, he would just show up.  Nowadays he'll call to send somebody in advance because it gets kind of nuts.  But back then it was just show up and play.  And there were times at that point he would say can we have the band play tonight?"
The spirit of the Upstage certainly is alive and well at the Stone Pony. It doesn't matter if you've sold millions of records or if you've never had a record deal.  The comradely among the musicians is just as strong.
"Bruce said to me one night in here," added Amato.  "I was walking out in the back, not paying attention, and he yells, 'Yo, Bacc... everything's different, but it's still the same.' Now everything is different but it's still the same.  We're still doing the same shit.  We're hanging, we're partying, we're having fun and we're playing.
"Money... greed... corruption and greed, it kills every town," said Amato.  Instead of getting back to what they should or try to keep what's going on.  This town is known for that in that time and this in this time.  And during our era it was known for rock and roll.  Geez, at that time rock and roll... aw, drugs, alcohol, booze, rock and roll and sex, it was like too bad you got it.  I mean, people would make pilgrimages here. What they should have done was capitalize on it, but they didn't really capitalize.  They took the money that the town was making, put it in their pockets and walked.  Even today they're still in trouble for that shit.
"I think before there was Asbury Park, Bruce Springsteen and all that bologna – Asbury Park was already a noted entertainment town.  If you watch the "Jackie Gleason Show," or "The Honeymooners," they took vacations to Asbury Park.  If you watch older movies, way before that, like movies from the 20s and 30s there's references to Asbury Park.  Before Atlantic City there was Asbury Park.  We're going to Asbury Park.  And it was all about entertainment with the ballrooms and dance rooms.  What they want to do now is make it a condoville.  And, hey, it might work it might not work, but you're changing what the town was.  You're changing the atmosphere of the town.  People would rather come here for what it was not for what it's gonna be."
---
From the book Beyond The Palace by Gary Wien
---
---
Gary Wien has been covering the arts since 2001 and has had work published with Jersey Arts, Elmore Magazine, Princeton Magazine, Backstreets and other publications. He is a three-time winner of the Asbury Music Award for Top Music Journalist and the author of Beyond the Palace (the first book on the history of rock and roll in Asbury Park) and Are You Listening? The Top 100 Albums of 2001-2010 by New Jersey Artists. In addition, he runs New Jersey Stage and the online radio station The Penguin Rocks. He can be contacted at gary@newjerseystage.com.
---