By Gary Wien
originally published: 01/26/2012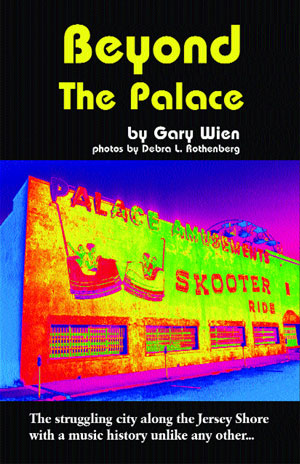 There was a time when Bruce Springsteen really knew how to rock.  I mean really rock. Picture the best guitar licks from the Darkness On The Edge Of Town record and then multiply them by ten.  That will give you a little bit of the hard hitting sound of Steel Mill, one of the legendary bands of the Jersey Shore.
Legions of Springsteen fans have since heard this material from scratchy bootleg recordings that fail to do the band justice.  Their sound was intense from the powerful drum beats of Vini Lopez to the scorching guitars of Springsteen and heavy bass lines of Steven Van Zandt and the soothing, almost mystical organ of Danny Federici.  The music was meant to be heard live where it takes on a life of its own.  Like great jazz,
Steel Mill sets had an often improvisational nature to its music.  It was bluesy, hard rocking and it would go on seemingly forever lost in a myriad of jams that neither you nor the band ever wanted to see end.  Solos flowed like the wind, vocals mourned with true heartache and the lyrics were always unforgettable.  It was with this band that Springsteen really began focusing on writing his own songs.  And he would prove to be a prolific songwriter even back then as every Steel Mill show featured new material.
The idea for Steel Mill came about after Bruce Springsteen discovered the Upstage.  He originally formed the band Child with Vini Lopez, Vinnie Roslin and Danny Federici.  They changed their name to Steel Mill after learning about another band called Child.  Later, Vinnie Roslin was replaced by Steve Van Zandt and the band's lineup was set.
Steel Mill may have felt a friendly rivalry by the music of Godzilla, another local Jersey Shore band.  While Springsteen was living in his manager's surfboard factory, Godzilla used to play the Pandemonium just down the street.  According to John Mulrenan, a guitarist with Godzilla, they were one of the first really heavy bands in the area.  "I think we were a precursor to heavy metal because that's what we were pretty much," said Mulrenan. 
"When we first started playing there our first set was at 9 o'clock and there was nobody there so we said let's just jam for an hour and get our chops together.  It was like free-form, no key, no time just an open jam for 40 minutes and the funny thing was that more people would come for the open jam than for anything else.  It was packed!
---
The article continues after this ad
---
---
"So, Bruce used to come down with Southside Johnny and Steve Van Zandt after they got done rehearsing.  They would come and sit in the back room and check us out, which used to make us nervous.  We'd be whispering, 'What the hell are they saying about us?' I think maybe it was the first time they saw a band just jamming and not playing songs or covers."
Jamming at the Upstage provided Springsteen with the experience of performing in a spontaneous environment.  Steel Mill took that experience and structured it a bit to form a sound that could take a rock song further than it had gone before and the crowds loved it.  Every show became an event.  Fans poured in to see the band in action.  They routinely had several thousands fans at their shows - an unheard of feat for an unsigned band.  In 1970, they went to San Francisco where they played a bunch of shows at the Matrix and were invited by Bill Graham to record at the Fillmore Record Studio.  Graham liked the band enough to offer them a contract but Tinker, the band's manager, turned him down.
Steel Mill returned to the East Coast and continued as they had left off.  They played up and down the Jersey Shore but those who really followed them knew that their fanbase spread out much farther than the borders of the Garden State.  They had a second home in Virginia.  In fact, Richmond, Virginia became one of Steel Mill's favorite places to play.  Fans there loved the band every bit as much as those along the Shore.  Part of the success had to do with a popular band from Richmond called Mercy Flight who would open for Steel Mill at nearly every performance. 
"I think we complemented each other," said Tom Yolton of Mercy Flight.  "It was a good combination.  We might have been a little bit lighter in our sound than Springsteen.  They had a heavy sound.  We became friends, everybody liked each other.  We were all in the same boat together, Springsteen wasn't famous at that point.  He was really good, but he wasn't famous.
"We were all sort of comrades in the same predicament," continued Yolton.  "We were trying to play music and do something with it and after we did a couple shows together I think it just became that it's not a complete Steel Mill concert unless Mercy Flight's with them.  They'd go, 'What? Mercy Flight's not playing with them.  What's wrong with that?'"
The two bands got along so well that Tinker invited Mercy Flight up to the Jersey Shore for a few gigs.  They were shown around the local hot spots like the Upstage Club and opened for Steel Mill at a huge show at Monmouth College.  They even played a high school prom where Steel Mill actually opened for Mercy Flight! And when Steel Mill needed someone to fill in on drums they turned to David Hazlett, Mercy Flight's drummer, who helped them out on several shows.
One of the most famous shows involving both bands took place in Richmond and was known as the 7th Marshall Street Parking Deck Show.    Mercy Flight's manager was able to rent the space which might have been the biggest place to play in the area.  It was the 7th floor, the top floor of a parking deck.  Many of those in attendance that night remember it well.
"I swear to you if you could imagine a night that was just a magic night that would be it," remembers David Hazlett.  "You're on top of the parking deck, you've got all of your friends and basically everybody that you've ever known through playing music up there.
"The sky was just wild," said Hazlett.  "I mean, it was black clouds that were like - you know how at night when you look at the sky and it's like the clouds are moving real fast across? That's kind of the way it was.  Everybody was just up there partying, having a great night, and the sky from the top of that parking deck was furious.  I remember we played and then Brucie came on with that "Hail, hail resurrection" and "Sweet Melinda", songs like that.  It was just like the sky was going crazy.  I mean, the clouds were just mystical.  It was the damnedest night.  I'll never forget it as long as I live."
Yolton adds, "It was probably the biggest thing in Richmond that summer. It came off completely peaceful.  It was like a mini-Woodstock.  People were peaceful.  People were friendly.  I remember they had signs that they had put on the edge of the parking lot deck on the top floor that said, 'please, don't jump.'"
The crowds and the sky made for an unforgettable night.  "Oh man," said Hazlett.  "I don't mean agitated, but I mean that with the sky doing what it was doing and being on top of the parking deck and just the whole aura of the night - it was an anticipated night.  The crowd was really into it.  From the very beginning, even before the bands started, the crowd was wound up wide open.  It was great."
After the show Springsteen asked Robbin Thompson, Mercy Flight's lead singer, if he wanted to join Steel Mill.  Thompson would stay on as lead singer until the band called it quits and Springsteen headed in a different direction musically.  Bruce would create bands like Dr. Zoom and the Sonic Boom and the Bruce Springsteen Band while forming the blueprint for the E-Street Band.  Mercy Flight added a pair of singers and continued on for a few years.  Robbin Thompson returned to the band for its final round of shows and then launched a successful solo career. 
Mercy Flight saw Springsteen at the time he was truly emerging as an artist.  I was able to reach three of the original members of Mercy Flight for interviews which provide a look at a part of the Steel Mill history that is usually overlooked. 
---
From the book Beyond The Palace by Gary Wien
---
---
Gary Wien has been covering the arts since 2001 and has had work published with Jersey Arts, Elmore Magazine, Princeton Magazine, Backstreets and other publications. He is a three-time winner of the Asbury Music Award for Top Music Journalist and the author of Beyond the Palace (the first book on the history of rock and roll in Asbury Park) and Are You Listening? The Top 100 Albums of 2001-2010 by New Jersey Artists. In addition, he runs New Jersey Stage and the online radio station The Penguin Rocks. He can be contacted at gary@newjerseystage.com.
---