By Gary Wien
originally published: 01/26/2012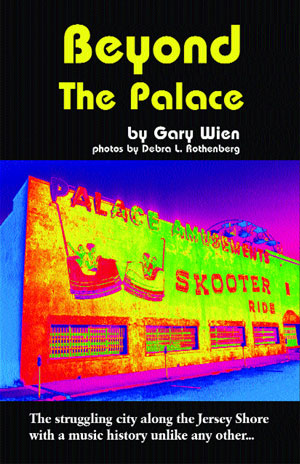 Soul Engines was one of the most popular bands along the Jersey Shore in the early 90s.  Built around the brilliant songwriting of Mark Nuzzi, the band had a largely acoustic rock sound that picked up a loyal following of music fans in Shore towns like Asbury Park and Long Branch.
The band's first independent record, Ghosts On A Landscape, was released in 1991 and sold nearly 10,000 copies.  Soul Engines found themselves opening shows for artists like John Eddie, Glen Burtnick, the Bodeans and the Spin Doctors, while local critics frequently picked them as the band to watch from the area.
After putting out Learning To Live, the band landed a record deal with One World Records, a New Jersey based independent label.  In late 1993, the band headed back to the studio, but the record label closed its doors before the new album was released leaving the band without a record or a record deal.  Soul Engines never did get that momentum back and even disbanded for a few years. They ultimately got back together in 1997 and have released three additional records, including the long awaited Endless Carnival and their most recent, Closer Still.
Recently, Soul Engines has been doubling as a cover band under the name Mama Luke while trying to book shows for their originals.  I caught up with Mark Nuzzi one night to find out whatever happened to this great Jersey Shore band.
Soul Engines was a very popular band along the Jersey Shore in the early 90s.  What did playing in Asbury Park mean to you?

It was definitely special because I'm a big fan of Asbury music like Bruce Springsteen and Southside Johnny and some of the other people who passed but never made it to the same heights like Glen Burtnick and John Eddie.  So, it was a big deal.  But the scene was basically dead in the early 90s and thank God T-Birds opened up.  It was a place to play.  A small venue, very intimate, people were right on top of you.  We had a great time doing that.  For a certain extent, there was still a mystique about Asbury Park and Bruce Springsteen.  But, at that time, he was personally living in California so he was nowhere to be found.  But it still meant a lot.
Being largely from North Jersey.  Was it strange to be grouped with the up-and-coming bands along the Shore?

It was a good thing.  The name of the band makes reference to a Bruce Springsteen song.  People always thought we were a cover band, like a Springsteen cover band.  So, we were automatically lumped into that.  And, no, I didn't mind at all.  We're nobody's...
---
The article continues after this ad
---
---
Soul Engines kind of disappeared for several years and resurfaced with the cover band Mama Luke.  How did that band come about?

We needed to play covers so we wanted to come up with a name that was silly.  So we weren't playing under the name Soul Engines  because when someone like yourself comes to see us play our own music we really can't in this atmosphere.  So now we have this other identity where we just be a cover band and make money.
I don't have fun doing this.  I have much more fun doing our own music.  This is not fun.  These people aren't here because of us.  We're here tonight and there's a lot of people having a good time, but it has nothing to do with us.  It could be six other musicians up there and it wouldn't matter.  They're here because they're just hanging out and they hear songs that they like.
The band was kind of stuck in legal limbo after the record label fell apart. Are the legal issues completely over now?

Yeah, that's over with now.  But we're older now so I don't know if we can recapture the same thing again, like what we had before... ten years ago, twelve years ago.  Do you catch the magic twice? Who knows? Is what we're doing still contemporary?
Well maybe it's the right time.  Highway 9 had lightning strick twice and they were playing the clubs around the same time you were.

That was the expression I was looking for, lightning striking twice.  Maybe, yeah maybe.  They were definitely around the same time.  Well, hopefully good music is good music no matter when it is; fifty years ago, a hundred years ago or ten years ago.
What is the worst thing about being in a cover band? Is it that the crowd isn't coming to see you or the fact that you can't do your originals?

That they're not coming to see you.  You can do your originals.  They don't even really care about the cover music that you're playing.  And there's nothing wrong with that.  They come in here to hear music they know and have a good time. 
I hate using the term originals because nothing is original, but when you play your own music even if three people come that's three people there to see you and hear the songs that you wrote.  You could have 500 people listening and going crazy over "American Girl" or "Me & Julio Down By The Schoolyard", it's better to have three people who like something you write.
I saw that Soul Engines has a page on MP3.com now.  Is the band actively marketing the new records?

No, not really.  That was just a simple thing.  Everyone is kind of into it right now because who knows what's going to happen with the music.  We'd love for something to happen with the music.  We'd love for something to happen as far as with publishing.  We're not really seriously considering something happening as far as us being signed as artists because we're fat old guys.
Is the story about "You hardly even know this guy" really true?

Yeah, we were in this place, which kind of goes through the whole line of questions about cover bands.  We were totally bored and once in a while when there's no one there we kind of make stuff up on the spot.  And when there's no one there we do it a lot.  And that night, I was totally bored and we asked the audience for a key to play in and then somebody said E-flat.  Then we asked this girl who was sitting in front,  I think I asked her, "What's the name of your boyfriend there?"  She said, "That's not my boyfriend, I don't even know this guy."  It was like a first date. 
So, then we made a song up.  Not the whole song, just "you hardly even know this guy, you hardly even know this guy at all."  That came right at that point and then we just sat down and finished it and crafted it.  Yeah, that was just made up on the spot.  A lot of stuff we do just happens that way.  So, Dave and I sat down and finished it.
Hey, you know what? If it becomes a hit song somewhere in Hamburg or wherever that'd be great.
Do you ever see yourself pursuing some kind of a record deal?

Yeah, if we got something like in Europe where there's a little interest in us from a company in Germany right now.  If we had interest there and we got signed to a European contract we would definitely pursue something that would physically enable us to put out our own music.  And that would be great.  But if somebody like Faith Hill came along and needed a song that would be great too.
Is playing covers needed for a band to survive?

No, you don't need it, you don't have to play cover music.  We do it now because we're in a situation where we're older and we have families we have to deal with.  But we didn't do it before.  I had never played in a cover band before until the other thing fell apart.  But, it sucks, it really sucks.  I'd rather play my own music to one person.  We're here tonight and there's a lot of people having a good time. But it has nothing to do with us.  It could be six other musicians up there.  It wouldn't matter.
---
From the book Beyond The Palace by Gary Wien
---
---
Gary Wien has been covering the arts since 2001 and has had work published with Jersey Arts, Elmore Magazine, Princeton Magazine, Backstreets and other publications. He is a three-time winner of the Asbury Music Award for Top Music Journalist and the author of Beyond the Palace (the first book on the history of rock and roll in Asbury Park) and Are You Listening? The Top 100 Albums of 2001-2010 by New Jersey Artists. In addition, he runs New Jersey Stage and the online radio station The Penguin Rocks. He can be contacted at gary@newjerseystage.com.
---