By Gary Wien
originally published: 01/26/2012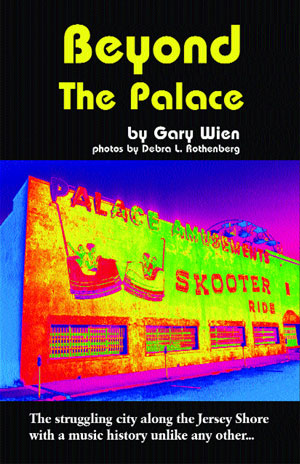 At the end of the eighties a new band took over the Jersey Shore scene.  Known as Mr. Reality, the band featured the songwriting of Gordon Brown and the vocals of Peter Scherer.  Together, along with Rob Tanico, they formed an acoustic trio playing sets unlike anything else.  Everything seemed to move fast for the band.  One day Peter was opening the door for people at the Fastlane, the next day the crowd at the Fastlane was there to see him.  Mr. Reality soon was signed to a deal and released a debut record.  A tour of the country followed and then just as quickly as it had started the band was finished.
After several years, the band members reunited under the name Samhill.  Fans from the past spread the word to other Mr. Reality fans that the guys were back while Samhill started attracting its own fans.  Record companies once again came calling and the band had another deal.  They were forced to change their name after discovering another band was called Samhill.  But it didn't take them long to come up with Highway 9, a name that proudly lets the world know their roots.
I caught up with Peter and Gordon after they finished playing a show at the Stone Pony on the day The Rising was released. 
What did it feel like when you finally changed the name from Samhill to Highway 9? That first show was a benefit for 9/11 at the Stone Pony, right?

Yeah, our first show was here and, actually, Jon Bon Jovi introduced us as Highway 9 for the first time.  I think it was sometime in maybe October or November, not long after September 11th. 
When we decided on changing - when we were notified that we had to change the name - we immediately started to think of things because we knew it would be difficult for us all to come across with something that we could all connect with.  And, as soon as we put the idea out of naming the band after a road that we were all familiar with and I made the suggestion of Highway 9, I think there was a sense of completion, maybe in a way that we hadn't had before. 
Samhill was a really cool name, but it didn't necessarily identify with our roots specifically.  And so coming across the name Highway 9, we immediately felt like we were representing where we came from and our roots, our New Jersey roots.  It was a great feeling to finally tie in.
---
The article continues after this ad
---
---
The name Highway 9 will certainly bring in the Bruce connotation, especially for a band from the Jersey Shore.  Did you feel any pressure to avoid the comparisons?

Personally I didn't, I never feel pressure or feel like we're put off because of Bruce Springsteen.  I always feel like we are.  One of the reasons why our band has been able to evolve as it has, along with our sound, is because of the music of the Jersey Shore and places like the Stone Pony and the Fastlane.  Obviously those artists frequented these places and made it their home and they allowed us to do the same. 
Highway 9 to me is the road that my mother drove me in our car to go buy my first record.  I grew up in Marlboro.  I grew up in a town off Highway 9, just two towns over from Springsteen.  So, to me, we have the same backyard.
How did you guys get associated with Long Branch?

We all moved there.  Actually, we all moved there a bunch of years back.
I noticed that the band still has the same mailing address.  Was there always the thought that you would eventually get back together?

Yeah, I think the break that we took in between Samhill and Mr. Reality was a break that we needed.   We were kids when we got together.  I think that we all needed to experience some life and take some time to journey on our own so that we could bring back more of ourselves to making music.  And, because I don't think our lives... our lives aren't about music.  Our lives are full about other things and we bring those things, those experiences in our lives, to the music that we play.  
What have you learned since the first time?

(long pause...) You know, it's amazing, most things don't change.  Most things stay pretty much exactly the same, but I feel like we have become more focused on the things that we want to sing about.  We realize that you have certain opportunities in a certain amount of time on the stage and a certain amount of time with an audience to listen to an album.  So you want to be as focused as you can to represent those things that you feel most driven by and passionate about with that opportunity.
I think that we've gotten better with that.  And picking subjects to sing about, the sound of the music that we want to help us evoke that feeling.
Speaking of the sound of the music it seems to really have a good roots rock feeling and you've got a couple of songs that could be great country hits.

Yeah, well Gordon just came back from Nashville.  We recorded the album in Nashville and it's interesting, we had toured before in Tennessee and in more of the country landscapes of America and it has always moved us.  And even growing up here, we grew up among farms and horses and cows.
And you were big Eagles fans too.

Big Eagles fans.  And there's always been a home, down home feeling to what we're about.  And I think it's really come out even more and more.  I also think that by listening to our scene - Springsteen made us unafraid to explore those feelings that we had - those sounds, those ideas.  We became less afraid because we saw how they embraced them in their own way.  So why couldn't we embrace it in our own way? We felt good about it.  It's true to who we are and so we felt comfortable.
You guys grew up in the atmosphere.  In fact, didn't you used to work at the Fast Lane?

Yeah, I worked there from the time that it reopened.  It had been open before.  I remember that one of the first staff meetings they flat out said, "We're not here to make stars, we're here to promote local bands." 
I wasn't singing at the time so I kept quiet and did my job and I loved working around bands and working in Asbury.  So, that was definitely a place for me to be here in town.
What sort of led you towards the stage?

I guess an artist... an artist takes time to do other things, whether they read or they go off on their journey to explore things that might influence them, things that they might need to find out about themselves and about the world we live in.  And I think that all artists go back to their art. If you're an artist you go back to your art.  So I think it was inevitable.  Just like you asked, "Why did we keep the mailing address," I guess Brian, our manager, felt it was an inevitable thing that time would find us back together.  He's been very instrumental in keeping us focused on the priorities and the goals.
What do you remember about those days at the Fastlane?

They were really good times.  There were no rules.  We basically would have ideas about what we wanted to do and then we would do them.  If we didn't want to play on the stage we would set up on the floor on a couple of stools, and everybody would sit around us.  And we tried all different kinds of things, whatever we felt musically or vibe-wise.  Whatever we wanted to do we had a place that embraced that, embraced us to do it and it was right here in Asbury Park.  We were able to become part of this history.
The legacy...

Yeah, and that's an exciting thing.  It means everything to us.
What was the biggest problem with Mr. Reality? Was it that you all were just too young? Was it label merging?

Well, we were really happy with what we did musically.  It was very overwhelming to go into the studio at such a young age and be presented with all these different options and not have experience to fall back on to make those decisions.  We're proud of the record that we made. I think the industry was really going through a lot of changes and it's hard to become a priority at these big, corporate companies. 
This being the second time to get through the door, we've been luck to get a record made again.
And you also realize how unlikely and special it is to do it twice.  Especially when you see all the bands that you playing with struggling to get a deal...

Absolutely, and because we've been playing together for so long we appreciate everything that we're doing.  There isn't a moment that goes by that we don't appreciate us playing together, our friendships, the places we play, the people we meet or our relationship with the label.  We certainly don't take it for granted.  I think, sometimes the people at the labels might because they have so much talent that they work with all of the time.  But we are very strong and we realize that persistence is really what it's about.  You have to keep at it, just keep at it.
How was it after the end of Mr. Reality? You guys were the hottest band to see at the Shore at the time.  What was it like in the years after the band disbanded?

It was difficult.  It was difficult in the sense that, I think, life is all full of change.  And those changes can be very painful, but they bring tremendous rewards if you're willing to see them through.  I think none of us were afraid to make a change at that point.  We all knew that there was something, other things that we needed to fulfill ourselves with, not necessarily musical, but other life experiences that became more important than the band itself at that point.  And some people will say it's unfortunate because there were a couple of years, three or four years, that went by when we didn't work musically together.  But I think if we hadn't taken that time for ourselves, we would not have come back together as strong as we have.
Were you guys in other bands or did you just take time off?

I personally took time off.  I didn't sing, I didn't perform or sing for a couple of years, about two years or so.  And Gordon and Rob... Rob jumped into a band called the Outcry and was filling in, and Gordon was writing and recording and working on his songwriting.  So those guys kept active and playing, but I don't think they pursued putting together another band.  And then I showed up again after a few years ready to really get back into it.
Refreshed?

Yeah.
What was it like the first show you guys played together again?

It was fantastic!  Our first show as Samhill was here at the closing night of the Stone Pony before it closed for a period of time.   It was a whole weekend and that was our first show.  That was really exciting.  I think the stage was on the other side.  They had moved the stage to the side.
What does coming back to the Stone Pony mean to you now?

It means that we, in a lot of ways, have come full circle from our roots, from where we started as an acoustic band and now, here we are, at the Pony years later as an electric rock and roll band.  I think it shows how we embraced the roots music that came from here and how we've shown that because of these clubs and these rooms that it's enabled us to continue to explore musically our ideas and our songs and end up here. 
On August 10th, with a new record on Epic Records and a new beginning. August 10th is really - it's going to be very special for us, for Domenic, for the Stone Pony.  I think we feel like we are of the regular house bands at the Pony.  There's no doubt about that.
You grew up in Marlboro.  Did you ever go to Asbury as a kid?

Yeah.  My parents divorced when I was 14 and my mother moved to Long Branch.  I stayed with my father about 6 months more and I moved with my mother to Long Branch.  The first weekend that I was here I had heard that there was a WNEW concert on the beach.  So I said to my mother,  "Can you drop me off?" All of a sudden my backyard was Asbury Park.
It was the Smithereens and the Hooters.  And they were set up right on the boardwalk, right out here.  And my mom dropped me off and when she picked me up at the end of the day I said, "Mom, one day I'm gonna play one of these shows."
They would broadcast the shows live on Memorial Day and that was a special thing.  Last night, coming here for the record release party I was saying to myself.  Twenty years from now we're going to look at July 30th, 2002 as the day Bruce released The Rising and we played the Stone Pony and had a new record out as well.  Those are memories.
What's it like to be considered "the next" again?

I like to look at us as instead of the next, just that we are.  Because we are.  It's about today, it's about yesterday, and it's about tomorrow.  And just the fact that we are a band that is from Asbury Park, from clubs like the Stone Pony and the Fastlane, we have, we are, and we will always play these rooms.  It's our home.  We will always have a home on stage at the Stone Pony.
What's it like when your friends jump on stage?

It's the best.  When I look around and I'm with my buddies and, over the last few years, being embraced by artists like Springsteen and Bon Jovi and performing with them.  It's like I said, this record and this time is a time where we realize things have come full circle and there's a sense of completion that we are.
You're one of the lucky bands where I've never been at one of your shows and heard people scream for Bruce.

Isn't that amazing?
It seems like there's a little bit of a boundary, which is nice.

I think it may be a generation thing, maybe.  Maybe when people see the artists of Bruce's generation they feel more like they're thinking more about him.  But we're a new generation of musicians and there's a twenty plus year difference in age.
It's cool that you get the benefit of jamming with him but you still have a crowd that's coming to see you.

Yeah, it really rocks.  That's right.  And what a better crowd than on events like this and other events that we've participated in that are revolving around a Springsteen event.  I couldn't think of a better audience to want to play for, that really cares about music.  There's a sensibility of songs and music and the community and all the things that matter to us are there in the audience.  So they're always good shows for us.
What is it about Asbury and music?  Is there something special?

I think there's something beyond, you know.  Our community of Monmouth County is really a heart and soulful community.  And all of us coming together to embrace music and songs and lyrics and each other in a venue like this is everything.  It's everything musical and everything about community that can happen.  But beyond that, the geography of Asbury Park with the lakes, the ocean, the architecture, the streets and the sky, there's something very special here that happens with a synergy of all of those things that isn't duplicated anywhere in the world.
We can travel from coast to coast, city to city, and you will never duplicate this town. And, so, we have a tremendous sense of pride.
---
From the book Beyond The Palace by Gary Wien
---
---
Gary Wien has been covering the arts since 2001 and has had work published with Jersey Arts, Elmore Magazine, Princeton Magazine, Backstreets and other publications. He is a three-time winner of the Asbury Music Award for Top Music Journalist and the author of Beyond the Palace (the first book on the history of rock and roll in Asbury Park) and Are You Listening? The Top 100 Albums of 2001-2010 by New Jersey Artists. In addition, he runs New Jersey Stage and the online radio station The Penguin Rocks. He can be contacted at gary@newjerseystage.com.
---