By Gary Wien
originally published: 01/26/2012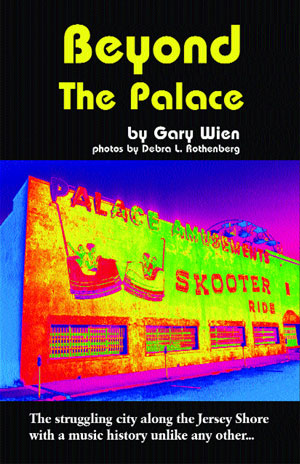 Maybe Pete is the latest in a long list of great Jersey rock and roll bands to find a home along the Shore.  The band is based out of North Jersey, but has been playing clubs like the Saint and the Stone Pony on a regular basis.  Maybe Pete was formed at the end of 2000 and includes the husband-wife team of Frankie and Kelly McGrath on guitar, Marc Gambino on bass and Sal DiMaria on drums.
The band's name comes from a line in the film Almost Famous where the character Jeff Bebe says, "No one can explain rock and roll, except for maybe Pete Townshend." 
Their music shows a variety of influences from the Replacements to Bruce Springsteen to the Rolling Stones and the New York Dolls. They may not be able to explain rock and roll, but they sure understand it.  I was able to talk with Frankie McGrath and Marc Gambino after a show at the Saint in Asbury Park to talk about this band on the rise.
Where are some of the places Maybe Pete has played so far?

Frank: We've been together for about two years.  We recorded our disc about a little over a year ago, sometime around Christmas 2001.  We've played shows in Asbury at the Saint and the Stone Pony, in Hoboken at Maxwells and Love Sexy and played gigs in the city at places like Kenny's Castaways.  We try to keep that whole New York to Asbury thing going and hit everything in between.
And you're in the process of recording again.

Frank: Yeah, we started on some new tracks and hope to have something out as soon as possible.  We'll probably shop it around.  I mean, we've got nothing to lose.  You hear some horror stories about people that shop stuff around and stuff...
So, you're a little wary of labels right now?

Frank: I'm a little iffy right now.  I mean, I've heard some good things.  I've heard that the industry might be changing as far as nurturing artists and that kind of thing.  The bottom line is that it's supposed to be fun.  If anything else came from it that would obviously be more than welcome.  At the same time, I don't want to set myself up for a letdown.  But you only live once, so why not go for it right?
---
The article continues after this ad
---
---
You guys have a very sharp, sound live.  Have you had many bands in your career?

Marc: I've been in three bands.  I was in one band for about 9 1/2 years.  We even made it to like #3 on the import charts in the UK before things fell apart.

Frank: I've been in four or five bands now.  It's a pretty wide range of stuff. Everything from punk to some blues and straight ahead rock.  There's a lot of different influences.  This is where my heart is at and I hope that everything I listen to is represented and comes across in what we do. 
I've had people tell us that we sound like everything from Bruce Springsteen to Elvis Costello to the New York Dolls, which I think is great.  It's like, "Alright they get it."  Because that's what I kind of what them to hear.
Here's another name to add to that list... to me, you guys sound very much like a band that was around here a decade ago - James Deely & the Valiants.

Frank: That's really cool that you say that because one of the bands I still play in is Bruce Tunkel's band.  And, I guess Bruce and James Deely used to play together at the Green Parrot way back when.  Bruce tells me all the time, after a couple of beers, he's like, "I wish you would have known Deely... You and Deely would have been best buddies."
What do you do with the comparisons to Springsteen? They've come and they'll probably keep coming.

Frank: They have come.  I mean, there's a part of me that welcomes it.  I'm not going to deny that he's one of my biggest influences.  But, at the same time, there's a lot of influences and you don't want to be pigeon-holed into one thing.  I guess it happens.  It's bound to happen in Jersey.
Do you ever try playing away from Asbury to get away from it?

Frank: Not really, I want to spread it out.  You hope to make something happen up and down the East Coast.  We just played in Philly for the first time a couple of weeks ago, I'd like to hit Boston eventually.  Again, I'm not going to deny that I'm a die-hard Springsteen fan, but I'm also a die-hard Stones fan and a die-hard fan of a lot of bands.
Have there been any shows that really stand out with this band?

Marc: We played Kenny's Castaways in Manhattan.  They're in a weird period where they have a cover band come in and take over the stage from 12:30 a.m. on and that's kind of like the headliner, but there's three or four original bands on before that.  It's really about whoever draws the most or makes a connection with the crowd.  We played there a few days before September 11th and it was just a magical night.  There were hardly any of our own people there, but we just made the connection with everybody who was there.  But that wasn't the night...
It was about a month after September 11th that we came back again.  It was packed.  People were out and it was just such a good thing to see people out at a club again having a good time.  Frankie was winging CDs up to the people in the balconies and stuff.  He said something to the effect that "it was nice to see people out again and having a good time after everything that had happened."
Frank:  For me, it's probably when we played the Saint in January.  We opened for Jason Ringenberg from Jason & the Scorchers.  We got to open for him and back him up on three songs.  It was like we did our set and then we closed out his set.  It seemed to go over really well.  I thought we played a great set, his set was great and then when he pulled us back up it just felt like one of those magical nights that should happen in Asbury Park.
Everything just clicked and everybody seemed to dig it.  Jason was a great guy and I was very proud of my band because we stepped up and rocked with someone else.  That was a departure for us because we're just so used to playing our own tunes.  And I thought we nailed it! It made me feel really good.
What would you say Asbury Park music means to you?

Frank: Wow... what does Asbury Park music mean to me? One of my biggest influences in the world was Little Steven.  As much as I'm a die-hard Bruce fan, a lot of people will argue that Little Steven is the one that created the "Asbury Park Sound" and I kind of swear by that myself.  Steven's one of those guys who I kind of model our band after as far as doing the straight ahead rock or the punk rock, the political rock, dance music or R&B.  He's a great producer, songwriter... the whole works.  If that's the "Asbury Park Sound" than it's like sacred territory, you know.
How would you describe the band's music?

Marc: Punk with an edge and catchy.
Frank: Nice... Yeah, pop, punk, folk, Jersey, downtown New York City all wrapped into one... I hope.  On our good nights we're doing it well.
What are you hoping to do with this band?

Marc: I just want to make a connection man.  That's what it's all about to me.  If I'm going out and playing and I'm looking out into the crowd I just want to see that there's some kind of interaction going on.  That somebody's going home and thinking about us, maybe talking about us and having a good time when they see us.  That's the only thing that matters.
---
From the book Beyond The Palace by Gary Wien
---
---
Gary Wien has been covering the arts since 2001 and has had work published with Jersey Arts, Elmore Magazine, Princeton Magazine, Backstreets and other publications. He is a three-time winner of the Asbury Music Award for Top Music Journalist and the author of Beyond the Palace (the first book on the history of rock and roll in Asbury Park) and Are You Listening? The Top 100 Albums of 2001-2010 by New Jersey Artists. In addition, he runs New Jersey Stage and the online radio station The Penguin Rocks. He can be contacted at gary@newjerseystage.com.
---