By Gary Wien
originally published: 01/26/2012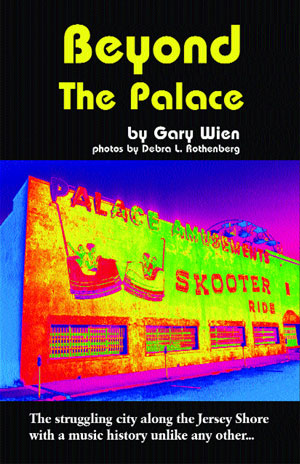 Matt Witte just might be one of the most exciting artists to come out of the Jersey Shore in decades.  He's known as a brilliant songwriter and tremendous live performer but what really sets him apart from others is the type of music that he plays.  Matt infuses bluegrass and country influences with folk, punk and rock and roll.  The result is a sound not heard around the Shore for some time.
The New Blood Revival is Matt's band.  They've been building a following throughout the New Jersey/New York area from New Brunswick to the Jersey Shore; from Hoboken to New York City.  They have played such well-known clubs as the Stone Pony, Maxwell's and the Bitter End. 
Last year the band dominated the Asbury Music Awards winning five different awards: Top Roots Band, Top Live Performance, Listeners Choice Award and Top Record Release.  In addition, Matt took home Top Male Vocalist honors.
With seven independent records already released we knew it was only a matter of time before Matt signed with a major label.  Sure enough, he signed with Atlantic Records in March, 2003.  I caught up with Matt during a solo show in New Brunswick to learn more about this rising star.
When did the New Blood Revival get together?

About two and a half years ago.  I started playing New Brunswick acoustically about four years ago and then I met all these guys through other bands and bands breaking up.  That's how we all got together.  It was all based in acoustic singer-songwriter stuff, but then I met these guys and changed it.
I lived in Hawaii before I came here.  There really wasn't a lot of bands to play in there.  When I came here I started playing at the Harvest Moon on Monday nights.  Nobody really came or anything but I started getting a small following.  I wasn't really used to playing before a crowd.  Then the rest of the guys started playing with me.  They all came from different bands and I think that helped a lot because all of sudden there was a crowd in front of us.
---
The article continues after this ad
---
---
Your music has been called everything from "funky, contagious folk" to "sexually-charged storytelling."  How would you describe your music?

It's not really folk right now.  I have a bunch of different stuff going on.  I have a bluegrass thing which is called Possom.  Then I'm playing with the Pumps, which is more acoustic material than what we're doing with the band and the horn section.  And then there's the New Blood Revival, which is our big band.
The New Blood Revival is mostly electric now.  It's a little bit louder, a lot louder than the other stuff.  And so, I don't know if it's sexual.  I mean, some of the older stuff definitely is.  It's all stories.  Sometimes sexuality is kind of a metaphor in a sense and then sometimes it's just blatant.  It's whatever it says.  It's a little bit of everything.
I listen mostly to really old stuff from the 20s and 30s.  That's what inspires a lot of this stuff but we do everything now from swing to just about anything.
Are you actually hearing the music like on 78s or are you  reading the sheet music?

All the stuff that's on 78s are on CDs now.  I don't read music at all.  So, it's just CDs and records.  I have a lot of vinyl.  The band can go anywhere.  Everybody listens to everything, so there's no specific style.
How did you first become interested in that type of music?

I probably started listening when I was 18 or 19.  I didn't grow up on it.  I just always liked that style of guitar playing and I would hang out with people who knew more about it than I did.  Even the people that I'm playing with now in Possom, they're a generation ahead of me so I learn a lot from them.  I guess it started about ten years ago, that's how I got into all that stuff.  
What do you like best about the music of that period?

It's really natural sounding.  I like the arrangements, the chord structure, the way the song moves.  And I like the country/blues progressions a lot too.  It's just very real to me.  I'm not from that time period.  I'm not trying to replicate it or anything like that, I just like the way it sounds and I like to play that style.
I love the different styles of singing, nobody sounds the same.  Everybody's got a very different sound to something that they're doing, which is relatively similar but varies from one county to the next.  It's just a cool kind of music that's all.  The only reason I like it is for the fact that it sounds really good and real.
You've got so many different styles of music right now.  Are you ever afraid a record label will want you to go in one particular direction? Is what you're trying to do marketable?

I don't know if it's marketable.  We're definitely not what you hear on the radio right now.  As far as being marketable, I think anything's marketable.  I think that if you go back the right way anything can be marketable.
We're not really like what's going on right now but hopefully we'll be able to acquire a pretty decent audience if we start touring on a regular basis and get some support.
Have you tried big-time touring yet?

Not really.  It's mostly like small trips that work out.  Well, financially they're disasters but they work out musically I guess.  We want to take it national.  We'll play anywhere... open for people.  I honestly don't know what we're gonna do but the next step is definitely getting on the road.  From there I don't know.  I'm not sure where it's gonna take us.
The nice thing about us is that even though you might not be able to find something specific to define as a category we can play a lot of different venues or open up for a lot of different people.  We're neither here nor there, you know.  So, that's nice I guess.  I mean, we could even open for a country band... old country not the new country.
Country music gets a bad rap... At least, I think it does.  I'm a big Hank Williams fan.  I like Pierce, Buck Owens, Jimmy Rodgers, Ernest Tubb.  That stuff is killer.  New country I like Hank Williams III.  He does that punk rock thing and old country.  He's very anti-Nashville.  He's cool.  I'm not into that new country stuff.
Do you ever think it might be easier for the band to get noticed if you moved to a more country atmosphere like Nashville?

No, because in Nashville they really know what they're doing!  Here in New Jersey I can fake it alright.  That's why we're not a bunch of strummers on stage.  As far as what we're doing with the country stuff there's a lot of fast finger-picking, Danny's chicken pick, he's a flat picker... really, really good.  And I'm a finger picker.  So, if we went down there that's how we would be.  But it wouldn't even happen, we wouldn't move there now, Nashville is more new country right now.  I don't think we would fit in with what they're doing.
I read a review online where you were called a "lyrical genius."

I don't think it's like that.  No, it's not like that.
Are you a writer who plays or a musician that writes?

I try to do both.  It's pretty much even.  I love playing the guitar too.  I play a lot of guitar except when I'm with the New Blood Revival where I don't play as much guitar because we've got Danny Wacker.  But I'd like to be good at both.  There's a long way to go, there's a lot I have to learn and a lot of people I can learn from.
Everyday, it's like you're never completely happy with your playing and your writing.  When I listen to it, I hear where I've gone from this point to that point.  It's writing stories.  I always think that somebody will eventually catch on like all he's doing is writing stories and stuff.  Some of it is from conversations I've had, nothing is so thought out.  A lot of it is written fast and furiously.  It's all got a flow to it.  It can't sit too long otherwise it will just die.  Everything that I do I try to keep it going relatively fast and finish it.  I commit myself to finish it.  
Tell me about some of the records you've got out.

We've got 7 CDs but two of them we haven't really been able to print so I'm just giving out the discs.  Those are the most recent and those are my favorites.  They're really cool.  We recorded everything in a couple of days so it's got a really nice live feel.  It's my favorite stuff to date.  Some of it's electric and some is acoustic.  It's more mellow than the other stuff.
Was there anything behind the band's name?

Well it's like a blood transfusion, I guess you could look at it like that.  It's nothing too deep or anything.  I heard there are some rock stars that pollute themselves to the point where they have to get a complete blood transfusion.  There's like a place in Sweden or something that does it.  What they do is they take the old blood out and pump new blood in.  They can't do it in the United States, it's illegal or whatever.  But they go and they take all the blood out and get basically new blood and that's how they continue to live the lifestyle that they've had.
I've heard stories like that.  I don't know if it's true but it's funny anyway.  So that's what we're doing.  Nothing is coming from me just sitting there and saying, "Oh, I'm gonna write a different style of music."  It's just all old stuff that we're trying to revive not for any reason other than we love the way it sounds and we don't want it to die.  But it's not dying, it's doing really well right now, I think.  We're relatively young and we're playing old music.  It's pretty simple.  The blood transfusion thing I think is cool.  
You have a following along the Shore and New Brunswick.  Is it kind of a mutual scene?

Yeah, it definitely is because everybody gets along.  We do events and everybody comes from north and south.  It's always a good time. They seem to all get along with each other.   Our crowd is our crowd.  If it's light it's still a mix.  I mean, when we play New Brunswick we probably don't get anybody from the Shore, but when we play the Shore we get people from New Brunswick and the Shore.
How do you see the New Brunswick scene right now?

I don't think New Brunswick is very accommodating right now to a lot of the bands that made it a good town.  When I first came here there was a lot of good bands playing places from the Melody to the Budapest.  All of the places had really good bands all of the time.  And now, some of them are still open but the Melody's gone, the Roxy has been gone for a while.  You have all these great hardcore bands, punk rock bands and others that are running out of places for them to play.  And that was always the best music that came out of New Brunswick.  
What do you think of the music scene all over Jersey right now?

There's a lot of talented people.  I've met some of the most talented people I've ever met in New Jersey.  People that I've played with, people that I don't play with anymore - just all around.  So I think it's a really good place for music.  I think it's just a matter of finding it.  A lot of people that are really good aren't playing out.
How hard is it for bands to get noticed by the clubs?

Reputation.  Build a following and then open for somebody else and prove you can bring people in.  And sometimes it's hit or miss.  We want to bring people in all the time, but we can't always do it.  The Stone Pony has been really good to us.  They appreciate music and they've been really, really good to us.  It's one of our favorite places to play.  It's got a lot of history.  I used to come here when I was younger, before it looked this nice, but it still had a good vibe then.
Do you think there's too many bars looking for cover bands?

I think a lot of it is due to the fact that the bars have to be accommodating to the people down from up north, from New York or whatever, that want to see cover bands.  And there's nothing wrong with any of that.   It's just that's what thrives.  I mean, we couldn't make it playing D'Jais.  Nobody would come to see us.  We couldn't play Bar Anticipation, I don't think anybody would come honestly.  And there's nothing wrong with those places. 
New Jersey is notorious for cover bands.  A  lot of cool things come out of here, I think New Jersey gets a bad rap.
---
From the book Beyond The Palace by Gary Wien
---
---
Gary Wien has been covering the arts since 2001 and has had work published with Jersey Arts, Elmore Magazine, Princeton Magazine, Backstreets and other publications. He is a three-time winner of the Asbury Music Award for Top Music Journalist and the author of Beyond the Palace (the first book on the history of rock and roll in Asbury Park) and Are You Listening? The Top 100 Albums of 2001-2010 by New Jersey Artists. In addition, he runs New Jersey Stage and the online radio station The Penguin Rocks. He can be contacted at gary@newjerseystage.com.
---