By Gary Wien
originally published: 01/26/2012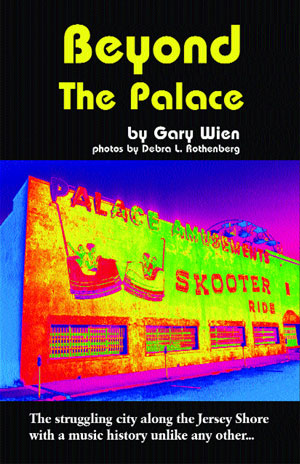 Last Perfect Thing is a band based in Asbury Park that has a sound based more in punk music than it does with traditional Asbury sounding bands.  They've been around since 1998 and are a regular at clubs like the Stone Pony and the Saint.
In 2002, the band traveled to California for a few showcase gigs in front of record executives.  It's easy to see why the band is getting noticed.  They have an explosive live show with good lyrics and a good sound.  The Asbury Music Awards named them Top Rock Band. This was the fourth Asbury Music Award for the band. And they capped off a great year with the release of their latest CD, Without Justice on WEMAKE Records with a record release party at the Stone Pony. 
Last Perfect Thing really believes in their music.  Although the band members are still relatively young, they've been honing their skills along the Jersey Shore for several years and are ready to take their act national.  Judging by their popularity along the Shore, It's only a matter of time before they do.
I caught up with the band during one of their rehearsals at the Hot Dog House in Asbury Park.  The interview contains comments from three of the four band members: Greg Wilkens, Joe Parasole and Justin.
You've been together since 1998.  Your shows consists largely of original music.  Does the band have one song writer or does everyone get involved?

Joe: It's a total democracy.  It's gotta be.  If it's split, it doesn't happen.  Everyone votes on something.  Everyone puts in something.  Lyrics, music, rhythms, everything.  It's either gonna be all unanimous or its not happening.  So, I mean, we throw away a lot of stuff that way, but we also get exactly what we want that way.
How difficult do you think it is for a band to break on to the scene playing originals?

Joe: Well, it takes a lot of time.  Some of the greatest bands don't get signed for years and years and years.

Justin: Or don't ever at all.

Joe: Or don't ever at all.  And it takes commitment.  Especially  since we're all grown up, we're all at the age, well he's 21, the rest of us are gonna be 23.  This is like crucial decision making time.  Like get a job, start your life or pursue your music and hope for the best.  And as far as we're concerned we're gonna stick with it and ride it out as long as we possibly can.
---
The article continues after this ad
---
---
So the key is finding a bunch of guys who are all motivated and committed?

Joe: It's a hectic life living on the road.  You've got to want it.  Our bass player didn't want to do it.

Justin: Not knowing where you are, what day, what time... Constantly driving.

Joe: It's crazy. It's a crazy life, but if you really want it and you've got something solid going you've got to stick with it.  It's all about perseverance.  The band, Finger Eleven, I don't know if you've ever heard of them - nine years it took for them to get their first record deal.

Greg: I got to drive with the drummer from Dave Matthews once.  I worked up at the Meadowlands and I was the production assistant and I got to drive him to the dentist.  And the fact that he was just the most down-to-earth talk about anything kind of guy made me feel real comfortable talking to him and it made me feel real comfortable giving him our CD.  And when I gave him the CD he said, "Wow, you guys will make it just because you're handing me a product that you've worked on."  And that was refreshing to hear from someone who's hit stardom.  He's a legend in my opinion.  So it's good to get encouraging words from people.  You can take it and use it to your advantage and it makes you work harder.
Well, it looks like you've got a good group of guys willing to make it work.  What was the hardest thing about the early days?

Joe: We'd do anything to get a buck.  Even just the exposure alone and trying to make money is the hardest thing to do with an original band.  I mean, you could play in a cover band and make lots of money but something doesn't sit right when we're playing someone else's songs.  Especially with a lot of bad music being on the radio right now.  That's my personal opinion.

Justin: I'm not about it.  I hate cover songs.
Is it tough bumping into a cover band? Does it bug you knowing that anyone can do that but you're trying to do something original?

Greg: I won't even lie, I'm not impressed by it.  I think it's a complete joke and I don't understand that scene really.

Joe: Yeah, people in bars want to hear stuff they know, but that's more of a job for a lot of those musicians.  It just pays the bills.
So it's a job versus art...

Joe: Yeah.  What a lot of people do who try to get signed with their original music their whole lives - when it gets to that point they start a cover band and make some money.

Greg: I think Fuel was a cover band.

Joe: Godsmack was an Alice in Chains cover band.

Greg: It can open doors for you.  At the same time, it can hurt you because you'll be playing all these other people's songs and you'll be doing so well and then they'll try to write originals.

Joe: And they try to write and it's just like where do we go from here?
Are you guys really trying to make a conscious effort to define a sound?

Joe: Yeah, basically just trying to write the best songs you can and if they're pretty good songs people are gonna listen to them and want to hear them.  That's the bottom line.  People are gonna buy your records.  It's just you have to make yourself out there and available and playing and pushing yourself.
The band recently came back from California, were you out there doing play shows or just doing a little showcasing?

Greg: Showcases and we played with Sum 41.  We played like a big expo, a dirt bike expo.  So we got in front of some good crowds and, it's like Joe was saying, we're basically trying to not play so much around here because that can hurt you.

Joe: We did about six or seven of them.  A couple majors, definitely good exposure, good experience, good environment. We were out there give or take 2 1/2 months total and it was good times.  I love it out in California.  The weather's unbelievable.  The people are pretty cool.  And it was definitely a pretty good experience.  We met some good contacts that we'll be using with this next release.
What were the shows like?

Joe: We played one bar that was roughly ten people.  They weren't too receptive at first, but as the set went on they kind of warmed to us.  Sum 41 shows were off the hook.  We played in Pomona at a place called the Glass House, which is a large venue.  So it was cool.  We went to "Price is Right."
When people think of Asbury Park they usually think of Springsteen, does that ever come up with you guys when you tell people where you're from?

Greg: No, if we go somewhere and we say we're from Asbury they're like, 'Oh, home of the boss, Stone Pony.  Do you guys play there?'

Joe: No one makes any judgements.
What do you guys think about the Stone Pony?

Justin: It's worldwide.  Tourists come to take pictures of it.

Joe: The place, in general, has been all totally redone and totally different.  But it just rocks because it shows how it progressed.  It's pretty cool.

Greg: And how it can't go away.  It can't die.  It's like no matter what has happened - the Pony would close down, but then it'd be back open and a little different.  So I think its very persevering.
Last Perfect Thing has been in the studio finishing up another record.  Wasn't it supposed to be out several months ago?

Justin: We had to take a couple of weeks off when Joe got hurt.

Joe: Yeah, I got my face busted.  I got two plates and eight screws in my face.  So that was a little set back.

Greg: We were trying to be peace makers at a party and these kids were trying to crash the party.

Joe: Things got out of hand, that's the way things go.  That was a little bump for us.
How long did that set you back?

Joe: A solid three and a half weeks.  I couldn't play.  My face looked like a "Cabbage Patch Kid".
How's the studio thing been working other than the initial delays? How has it been compared to your other records?

Joe: We're a lot more together than we were for our last record at that point in time.

Greg: We were getting our CDs the day of the CD release show for our last album.  And the first thing we did, a 4-song EP, they couldn't get them to us and they had to give us CD-R copies for the CD release.  It's like we have this running order of last minute.  So we're trying to avoid that this time.
You picked the Stone Pony for your CD release party.  Any particular reason you chose to do it there?

Joe: It's the only place to have it.  It's a great spot.  It sounds great and looks great.

Greg: Good energy.  We also play good there.

Joe: Solid-sized club.  You can hear it.  It's very important to hear good on stage and at the Pony we all hear everything that's going on.  At least I do anyway.  I'm the drummer and that's usually rough.
What do you think of the local music scene right now?

Joe: There's probably about fifteen solid bands in the Asbury Park area that play here in places like the Saint and the Pony and it's looking better than it has since roughly 1995.  That's when things kind of quieted down.  Now it's kind of picking up again.

Greg: Especially with the revitalization of Asbury.
You actually see that with what you're doing?

Greg: Yeah, I see it.

Joe: It's all down our street.

Greg: We're kind of right in the middle of it.  And a lot of bands are getting more attention too so it's kind of like the timing is for everything.
How important is it when local bands get signed? Does that kind of help everybody?

Greg: I think so.  It kind of puts us on the map.

Joe: It brings a lot of attention to New Jersey.  Right now there's a lot of hot bands coming out of Jersey like Thursday.  But its bringing the focus here and a long time ago the music focus was here too.

Greg: Asbury's always has kinda been the mecca.  Obviously we know who put it on the map, but I think now, more than ever, it's gonna thrive.  And if anyone's gonna look anywhere in Jersey it's gonna be here.

Joe: Especially with music.  The Warped Tour started in 1995 with like 4,000 kids.  Now they can barely hold it.  There's 20-30,000 kids.  And this place has been a band rehearsal place since I don't know.
What do you guys think? Is there enough clubs to get gigs or are you having a hard time?

Joe: We could use another solid one, but we've been playing the scene, we've been together for over four years now.  We've been working it for a while so personally we're tending to start touring a little bit, get a little bit outside farther.  Trying to find the Saint in Kentucky, you know.  Just trying to progress.
Now is this record a lot different than what you've done before? Did you meet anyone on the west coast that's part of it?

Joe: Yeah, a management company out there took some interest and put us up, recorded us out there.  He had a pretty solid engineer in the studio, but for the most part - he did very well by us it's just they didn't bite this time around.  You've just got to be persistent and come out with something better.  Our record now is nothing like the stuff we've put out. 
It's a different vibe.  It's a lot more rock.  Justin adds a whole new twist to things.   He has a five string bass, just got low end.  It's a lot more rocking.  More rock than pop.  The last album was kind of poppy.
Some of the reviews were calling it power pop.

Joe: Yeah, exactly.  We're not a power pop band.   We're a rock band.
Do you want to be known more as a rock band or a punk band?

Joe: Yeah, you know, kids put so many different labels on things... I just call us a rock band.  People will say oh, you're an emo band, you're a power band.  Let them put their labels as they wish.  What do you think?

Justin: Uh, leave it up to the scenesters to screw everything.  That's all I can say about that.
Labels suck, but that's what draws the crowd so you don't have those ten people at a gig.

Joe: True.  If you label us a rock band it's gonna bring a couple more... Different crowds.
So the plan is to start spreading out the touring?

Greg: Yeah, tour, tour, tour.  We got a van, gonna get a trailer and hit the road.  So that's the plan of attack.
Justin, you're the newest member of the band.  Were you from here originally?

Justin: Yeah, most of my life.  Until I was 15.  I moved down to Northern Virginia.  Right outside DC.
Were you in bands there?

Justin: Just Fair Weather. They just put out a new record.  Very good stuff.  We were out of Fairfax.  There wasn't much there.  We played more like up in Baltimore.  We did a full US tour last summer.

Joe: I played drums with him, that's how we hooked up.  I mean, we grew up together but we never played together until I filled in with his band.
What about you guys? Have you been in a bunch of bands?

Greg: Yeah, ever since because if it's all you want to do, it's all you're gonna do.

Joe: I've been in bands since I was 12.  My second band was with Justin's older brother.
Is this the longest you've been in one band?

Greg: Yeah.

Joe:  This is by far the longest.  Besides this was like maybe two years.
Well, it must be nice that you're getting some notice notice around here as well.  It's not the Grammies, but what was the Asbury Awards like?

Greg: Yeah, that's actually our fourth Asbury Award.  They've got to come up with a venue for it.  They should do it at the Paramount.

Justin: The Asbury Music Awards in Sea Bright.  It doesn't make sense.
How does it feel to get that kind of notice in your home turf?

Greg: It's cool.  This year we won top rock band.

Joe: It's pretty cool.  When we were in the Press we had like a full-page layout in the Whatever section at one point! It was kind of cool because I know that all my teachers saw that and they're like oh great, he's not wasting his life doing nothing else.  But school's not for us.  Not for me anyway.  He's got some kind of degree.

Greg: Brookdale Associates Degree... and he was collegiate.

Justin: I dropped out to come up here.

Joe: He dropped it for music.  Like I said, it's commitment.  If you're gonna start an original band and try to make a dent.

Greg: You have to have dedicated people and everyone has to be on the same mind track because that's the problem.  There's lots of musicians, but then again there's everyday life.  We've had this room and kind of made it a point to be here and to practice.  We're together everyday.  This is like our clubhouse.  It's just kind of like we started it with one goal in mind and luckily we've been able to follow through on that so far.
Anything you want people to know about you?

Greg: We're just trying to say that music is a creation.

Joe: There's no bad side to it.

Greg: Definitely.  It's like the eighth wonder of the world.  It evokes emotion.  

Joe: It's the yin and yang of everything.

Greg: It's like the last perfect thing.  That's what it is.  That's what our name is.

Joe: We're not the last perfect thing... music is.
---
From the book Beyond The Palace by Gary Wien
---
---
Gary Wien has been covering the arts since 2001 and has had work published with Jersey Arts, Elmore Magazine, Princeton Magazine, Backstreets and other publications. He is a three-time winner of the Asbury Music Award for Top Music Journalist and the author of Beyond the Palace (the first book on the history of rock and roll in Asbury Park) and Are You Listening? The Top 100 Albums of 2001-2010 by New Jersey Artists. In addition, he runs New Jersey Stage and the online radio station The Penguin Rocks. He can be contacted at gary@newjerseystage.com.
---