By Gary Wien
originally published: 01/26/2012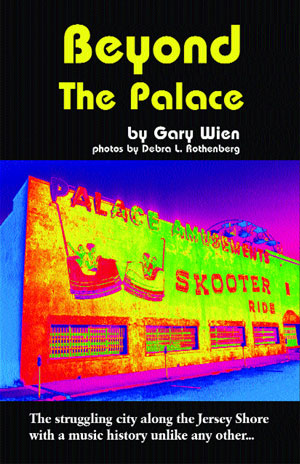 Jon Bon Jovi grew up in Sayreville, just up the Garden State Parkway, but he made his name in the clubs of Asbury Park.  Early in Jon's career his band used to open for Lance Larson and many of the national acts that came through Asbury Park with at the Fastlane.  It was a great opportunity for Jon to play in front of the demanding Asbury Park crowds and he became a great performer because of it.
Jon started out playing the Asbury Park area in the late 70s with a band called Atlantic City Expressway that he formed with his friend Willy Herceck.  David Bryan, then known as David Rashbaum, was also in the band. Their sets were comprised largely of R&B songs.  As with many Asbury Park bands, they had a horn section and were inspired by the songs of Bruce Springsteen and Southside Johnny & the Jukes.
The band split up soon after David Bryan left to study at Julliard School of Music.  Jon soon joined up with the Rest, a popular punk band led by Jack Ponti.  This move didn't last long and Ponti ultimately fired him from the band.
Other bands like John Bongiovi and the Wild Ones began playing more and more of his original music.  While playing in the Rest, Jon developed into a great frontman and became something of a local sex symbol.  His band opened for many of the national acts that would come to the Fastlane.  Lance Larson, a popular local performer took a liking to the band and had them open for him on numerous occasions as well.
When Jon was just starting out record companies had almost given up  on New Jersey. It was largely believed that the local music scene had run its course with Bruce Springsteen and Southside Johnny.  Many labels were reluctant to sign anybody that sounded "too New Jersey." Fortunately, Jon's uncle Tony owned the Power Station, a famous recording studio in New York.  This gave him the opening he needed and he made the most of his chance.  Originally hired to do menial tasks for the artists, he got his big break two years later when Billy Squier agreed to produce his demo tape. 
One of the songs on that tape, "Runaway," was played on many radio stations in the New York metro area and appeared on a local music compilation album.  The success of that single led him to a record deal with Polygram/Mercury in 1983.  Jon then changed his name to Bon Jovi, created a band and was on his way.
---
The article continues after this ad
---
---
The core of the band was Tico Torres (who used to play with Lance Larson in Lord Gunner) on drums, Richie Sambora on guitar, Alec John Such on bass, David Bryan on keyboards and Jon Bon Jovi on guitar and providing the signature sound of Bon Jovi through his unmistakable vocals.
The first thing many people noticed about Bon Jovi was his boyish good looks and his hair.  The next thing they noticed was that the bands sound, comprised of melodic metal/hard rock, sounded nothing like Bruce Springsteen.  The band's first two albums, Bon Jovi and 7800 Fahrenheit sold well, but the third album truly exceeded all expectations. 
With the release of Slippery When Wet, he was able to do something that few New Jersey artists have been able to do.  He not only escaped the shadow of Bruce Springsteen, but he became one of the world's most popular artists. In doing so, he proved that the world was ready for another rock star from the Garden State.
Slippery When Wet, released in the summer of 1986, contained hit song after hit song and was the biggest selling rock and roll record of 1987.  It sold over nine million copies in the United States alone and included the number one hits "You Give Love A Bad Name" and "Livin' On A Prayer" along with the top-10 hit "Wanted Dead or Alive."  Bon Jovi then embarked on a world tour which vaulted them among the most popular bands in the world.
Glen Burtnick, a Jersey Shore musician who was once asked to join Bon Jovi describes Jon as "another obviously potent performer.  Hard worker.  A bit of a Bruce take off, but it sure has worked.  It's a very strong band, a well oiled machine.  I also think 'Livin' On A Prayer'  is about as good as a pop song gets."
Following this success, the band showed that they hadn't forgotten their roots by releasing the record New Jersey in 1998.  The hits kept coming for the band as the record spawned two more number one singles and a trio of top-10 hits.
"You know what? I never thought there was any more room in New Jersey after Bruce," said Joe D'Urso.  "Jon Bon Jovi, being as brilliant as he is, pulled that off by his music being different... for another generation.  The fact that Jon has turned into what he has turned into blows my mind.  The guy is absolutely brilliant.  He came out from the most recognizable music star from New Jersey, which was Bruce Springsteen.  And Jon Bon Jovi puts out a record called, New Jersey. The guy's got balls and I applaud him for those balls."
During a brief hiatus, the band members were free to work on projects that may not have fit in with the band's traditional sound.  Jon recorded a solo album containing ten songs inspired by the film Young Guns 2. The record, with songs mainly dealing with cowboys and the wild west, featured the popular singles, "Blaze Of Glory" and "Miracle."  The following year, Bon Jovi guitarist Richie Sambora released his own solo record entitled Stranger In This Town.
After a few years off, the band came back stronger than ever with the release of Keep The Faith in 1992.  They followed that record with a greatest hits collection called Crossroads, and then returned with These Days in 1995.
The mid-90s saw band members taking another break.  Keyboardist David Bryan became the latest to release a solo record with On A Full Moon in 1995. Jon Bon Jovi, Richie Sambora and David Bryan would release additional solo albums in the next few years.
In 2001, the band returned once again with Crush, an album that produced the band's biggest hit ever in "It's My Life." While on tour the band enjoyed a wonderful homecoming concert at Giants Stadium in July of 2001.  Just a few months later, the members of Bon Jovi found themselves deeply affected by the September 11th terrorist attack.  Jon Bon Jovi, always heavily involved in charitable causes, played several benefit shows in the Monmouth County area to help raise money for local families that were directly affected by the tragedy.
Almost exactly one year later, Bon Jovi released Bounce containing several songs inspired by the tragedy.  Kicked off by a free concert in New York City, the band launched into another world tour and fans eagerly grabbed up tickets.
In recent years, Jon Bon Jovi has really stepped up his participation in local causes, such as his role in the Benefit for 9/11 at the Stone Pony and the Alliance of Neighbors of Monmouth County show in Red Bank.  The development of Jon's social conscience comes as no surprise to those that have known him for years.  "They're the greatest guys in the world," said Lance Larson.  "They never forgot about the home guys, no doubt about it."
In recent years, Jon Bon Jovi has split his time between an emerging acting career and his musical career.  He has appeared in such films as Moonlight and Valentino, The Leading Man, No Looking Back, and U-571.  He also had a prominent, recurring role in the hit television show, "Ally McBeal."
Even though Bon Jovi has become one of the most popular bands in the world, Jon can still be found performing around the Jersey Shore.  He routinely lends a hand by playing benefit shows and can be found guesting with local bands throughout the Jersey Shore.  In fact, he seems to jump on local stages a lot more these days. Maybe he's more comfortable with his fame or maybe he's just out there having fun, but he still has the ability to turn an ordinary night on the Jersey Shore into something you'll never forget.  And he no longer has to worry about any shadows, his own looms just as large.
---
From the book Beyond The Palace by Gary Wien
---
---
Gary Wien has been covering the arts since 2001 and has had work published with Jersey Arts, Elmore Magazine, Princeton Magazine, Backstreets and other publications. He is a three-time winner of the Asbury Music Award for Top Music Journalist and the author of Beyond the Palace (the first book on the history of rock and roll in Asbury Park) and Are You Listening? The Top 100 Albums of 2001-2010 by New Jersey Artists. In addition, he runs New Jersey Stage and the online radio station The Penguin Rocks. He can be contacted at gary@newjerseystage.com.
---