By Gary Wien
originally published: 01/26/2012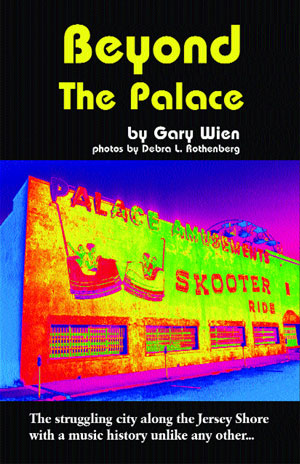 Jody Joseph and the Average Joes remind you of what Jersey Shore music is all about.  Each show contains the mixture of good blues, R&B, and rock and roll featuring the wonderful vocals and songwriting of Jody Joseph.
Jody is a veteran of the music industry who's been burned in the past, almost gave it all up but decided to keep fighting on and finally has a band that she can believe in.  After being together for just a few months, the band found themselves in the finals of the Stone Pony "House Band Search", released the CD Ain't Done Yet, opened up for several national acts and have become a regular on the Jersey Shore club circuit.
I caught up with Jody Joseph and her band after they opened for Marah at the Stone Pony one night.
For a band that hasn't been together long, you've had some very good things happen quickly.  You made the finals of the Stone Pony "House Band Search", you're up for an Asbury Music Award, and you've put out an album.  What's been the highlight so far?

All of them.  I think that the best and biggest highlight is that for the first time in my musical career I was able to get together with a group of guys that had the same hopes, same vision and did it for the love of music.  They totally look at me with utmost respect.  They're so good to me and it's something that enables us to be able to have what we have.  It's really a family.
When I put them together, I said I'm not looking for a band I'm looking for a family.  I'm looking for people that have the same exact ideas that I do.  Not to go out there and say I want to be signed because I've done that.  This is the first time in my life, after all the chasing of record companies, that I finally said I'm just gonna go out and play.  Because that's what I want to do - I just want to play.  And I think, because of the honesty of it and the genuineness, if there's such a word, that that's why it took it to the next level because nobody was so tense and so we've got to make it.
Is it different this time around? You've been on the industry side of it.  Is it almost about just getting to back to the music this time?

Oh, absolutely.  There's a lot of business involved because there has to be.  We sell tickets and that's hard.  The CDs... you've got to be on top of stuff as far as all the little administrative stuff, but basically it's a passion we all share.  It's like I look at Tony (Amato) standing right next to me - that is the highest compliment that he already has done something and he's very talented and he has stepped on board for some of these bigger gigs for us.  To me, that's a veteran musician/artist that has done that.
---
The article continues after this ad
---
---
So, are you basically just recording because you want to record or are you looking for another record deal?

Well the next one that we're gonna be releasing is actually from the Stone Pony House Band Contest.  We took it off the board.  I don't think that you step away and when you step away from something for a moment and just allow things to evolve it will.   I think we're going to shoot for more of an independent label than anything.  I'm certainly not going to turn down an Atlantic Records. 
I'm involving more with my music now with Dave Mack, who's our musical director.  We're doing more of a bluesier slant.  It's pushed more to the side that I'm about.  It's evolving.  The new songs are just so much truer - not that I say any of them on the last record that I don't feel good about.  They're my babies.
Who are the people that you'd say are your major influences? The first time I saw you up there I did think of Janis Joplin.

Oh, wow! What a compliment.  I would say I admired her life.  I respected her for what she tried to do, but she also was very weathered at the time.  She went against a lot of that.  She went against all the record company crap.  I think she's one.  I take a little bit of the soul of a Stevie Nicks, only because I can see she's a poet.  And then I think that it's a combination of everything else that's ever influenced me.  Joni Mitchell, Melissa Etheridge, Eddy James have all influenced me.  I don't really think there's any one person I can hang it on, but I can tell you that you take and it just absorbs into you.
I notice that the artists you mention are all females.  As a female performer, do you look more towards a female role model or is it just the music itself?

It's the music.  I stand on that stage, Gary, and I look around - we're just beginning - and I say to myself how did I ever wind up back here again? By the grace of God or something or a lot of prayers, I don't know.  But it is evolved because it's meant to at this time.  I don't know how I would be ten years ago.
What is it about performing live that keeps bringing you back as opposed to just writing songs for other people?

Well, I would never have a problem with other people singing my songs. They're my children and they always will be.  It doesn't matter who sings them.  They're pieces of my life... pages.  I've bled on them literally.  That's pretty gross.
It's a good quote though...

Yeah.  But I have no problem with someone else seeing that same side or saying wow that hits me.  I would never turn that down.  I'm not funny about that, but performing is just the biggest high that you can possibly have and the biggest low.  Because you can be on stage and you can - I mean, we play some gigs like cover/original and we play to eleven people.  We have learned over the last seven months how to internalize ourself, the band looks to each other and laugh it off.  And so we've gotten a lot stronger.  We're able to face eleven people where no one claps and so when we get up and we have this show at the Stone Pony with all this energy! 
We've already done the crap gigs and we'll have many more to follow, but it's a high.  It's an emotional high! It's not power, but it's just like you feel for a moment that they get it.  They all get it.  They're all there in your heart.
How often do you write songs?

As often as I can.  I start out with titles and that's like the seed.  I don't write it yet.  It kind of stays with me for a while and I'll just keep it there and things just keep going and moving ahead and then all of a sudden when somebody in my studio starts playing something it's like there comes the title, there comes the melody, there comes the lyrics.  When I come up with the title I know the song's written already.  I know that sounds weird, but they are.  In my head, it's already written.  So a lot of times when you're hurting, unfortunately, I pick up a pen and write in journals.  As often as I can.
How great is it to play a club like the Stone Pony where you can do your originals as opposed to doing a gig where they expect 70-80% cover music?

Basically I declined some management offers because they wanted no original songs.  We book our own shows because I stick in about 40% of original stuff now.  We're noted, people come out to hear these songs that they can't hear on the radio or whatever.  But when you - I think the hardest thing is when you're up there sometimes and you're doing your originals you're basically naked.  And some of the people in this room tonight never heard of me or my songs.  It's like winning them over one at a time.  You make your mark but you've got to be true to it. 
It's so hard sometimes you just want to break out and do a Janis tune.  It's like, ok I'll do that.  Adrian, my assistant stays very busy and a lot of people approached her tonight, "Who are they?"
Is it different when you're playing in a club that encourages originals?

Oh, I stay true to it.  You have to.  The hardest thing I do is get on that stage and do originals.  And you're really tempted because, of course, people are going to respond to something they know.  But then, who am I? I might just as well be a cover band.  It's the hardest road to take. 
It's like what about my original stuff? I'm not being true to it.  So, I took the harder road.  I've dropped out of a lot of my duo gigs - which are my money gigs - to take the band into these rooms and play.  I'll take the band in and I'll say, "Alright, I'll take the cut.  I don't care." You're getting out there.  When you start thinking it's about the money then you better get the heck out of that.
You'd rather play a gig with the guts to do that than have people clapping along for a Beatles tune or Stones tune .

It is guts.  I've done that for years.  You sound great! You sing great! Oh my God, why aren't you out there? What with other people's songs? Ok.  And the funny part about it is that I'm not looking to get signed because I'm not, I don't really care.  I don't give a rat's ass.  Don't book me.  If I can't do this and I can't go to New York and do what's true to me...
For the first time in my life I stood up for my music.  All the other times I've always bailed out or people bailed on me.  More people bailed on me first.  And then you sit there and you write a great song like "Insecurities." Well, I won't say it's great.  Because that's what its about.  I wanted to give up.  I'm like who am I kidding? Two years ago,  I was gonna give it up.  I was gonna give it all up.  It killed me.
How did you get through it?

I started writing again.  Then I had an idea about nine months ago and that's when I started asking around and formed it.  I've never been happier with my music in all the years I've been on stage or stuck in a little corner in a bar that they call a stage.  Sometimes they just move two tables out of the way and that's your stage.  I've never been happier.
Where did the name Average Joes come from?

We were rehearsing at Red Bank Rehearsal.  This was before we became my own house band in my house.  We're standing in the parking lot, it was freezing and everybody was going back and forth, back and forth with what do we call this band? What do we call it? And I said, "Guys would you really take offense if I said Average Joes? Because that's what you are to me you're my average Joes.  You've all got day jobs, and I'm not trying to be twenty years old on stage."
It's almost like Dave wrote in the bio that I have.  It gives me a disclaimer when I walk in the door.  And that's the perfect way of putting it.  It's like nobody's gonna expect anything crazy.
Your band made it all the way to the finals of the Stone Pony "House Band Search".  Did you ever imagine that your band would be able to make it so far this fast?

Well, Dave was sitting next to me.  I think I got up and walked right across the front of the stage.  I kept walking until you caught me and took a picture.  It was incredible! You're up against these baby bands.  And here you are.
Did you really think that people wouldn't pick you because you guys were older?

No, actually - yes and no.  We all thought about that.  I guess amongst us, what we had decided was that you know what? We're going to go in and we're gonna do what we do best and that's it.  If it sticks to the wall great, if it doesn't well we had a good time.  And we all, we were just proud to be picked as one of the sixteen.  I didn't think we were going to get down to the last five. 
So, no, it was just everybody kept saying the same thing over and over.  Joe, you just got to go in and do what you do.  That's all we have.  We're not young.  We're not this, we're not that.  We've got great songs, I believe.  Good songs.
Tony Amato chimes in --- Great songs.
Great songs, thank you.  I can't say that because I wrote them.  I have some really great talent up there and when I'm on stage I own the stage.  I live it, I wear it, I breathe it - it's mine.  And that's all you can do.  Am I gonna have a bunch of guys get on stage and dance around me? Take my shirt off - yeah, that will work! It's not about gimmick anymore.  It's just not about gimmick.  It's about the music. 
It's like bringing it back.  Asbury wants to do that, the Stone Pony wants to do that.  They're stating it's about the music.  Well, so be it then.  And allow me the opportunity to let it be about the music.
---
From the book Beyond The Palace by Gary Wien
---
---
Gary Wien has been covering the arts since 2001 and has had work published with Jersey Arts, Elmore Magazine, Princeton Magazine, Backstreets and other publications. He is a three-time winner of the Asbury Music Award for Top Music Journalist and the author of Beyond the Palace (the first book on the history of rock and roll in Asbury Park) and Are You Listening? The Top 100 Albums of 2001-2010 by New Jersey Artists. In addition, he runs New Jersey Stage and the online radio station The Penguin Rocks. He can be contacted at gary@newjerseystage.com.
---