By Gary Wien
originally published: 01/26/2012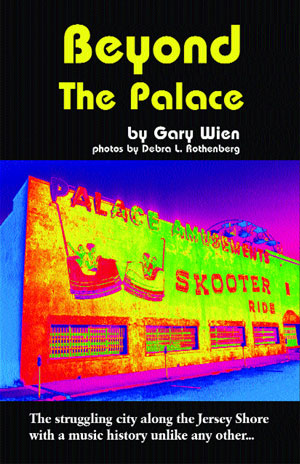 At the end of the eighties a new band took over the Jersey Shore scene.  Known as Mr. Reality, the band featured the songwriting of Gordon Brown and the vocals of Peter Scherer.  Together, along with Rob Tanico, they formed an acoustic trio playing sets unlike anything else.  Everything seemed to move fast for the band.  One day Peter was opening the door for people at the Fastlane, the next day the crowd at the Fastlane was there to see him.  Mr. Reality soon was signed to a deal and released a debut record.  A tour of the country followed and then just as quickly as it had started the band was finished.
After several years, the band members reunited under the name Samhill.  Fans from the past spread the word to other Mr. Reality fans that the guys were back while Samhill started attracting its own fans.  Record companies once again came calling and the band had another deal.  They were forced to change their name after discovering another band was called Samhill.  But it didn't take them long to come up with Highway 9, a name that proudly lets the world know their roots.
I caught up with Peter and Gordon after they finished playing a show at the Stone Pony on the day The Rising was released. 
Tell me about the early days for you and the band.

The early days for us.  They weren't that long ago. We had the Pony, the Fast Lane, there was a club called Murphy's Law in Long Branch.  All these places we just sneaked into and did everything we could to be able to jump on stage and get a gig.  It was awesome, you know.  When all of the clubs were open it was kind of like the golden age for us.  And that was far after what people would consider to be the peak time of Asbury.
The scene was pretty much dead back then.

Yeah, it's pretty amazing because in the late 80s and early 90s things were really calm here and with good reason.  There's a lot of things that happened here that not necessarily drove people away but I think made them feel like it wasn't as safe as it used to be. And maybe it wasn't as glamourous as it used to be. 
When did you guys first get together?

A little over ten years ago.  We were probably about 15-16 years old when we started sneaking in and forming these bonds.  And we've been very lucky, luckier than most.  A lot of times we have seen bands and friends of ours not be able to keep it together and not be able to keep that bond.
---
The article continues after this ad
---
---
There's a lot of bands that we have seen in this area that have been great through the years, too many to name actually.  Many of our friends are tremendous musicians and decided that it may not have been for them to pursue the band thing because it's extremely difficult.  And, for us, this record out on Epic, this is our second record deal.  We've gone through the hard times and we've gone through good times.  And, again, the most important thing is a band sticking together through the thick, the thin, through the record deals, through no record deals - whatever it takes.  Sticking together and continuing to pursue that dream and really feel like you have something special... That comes off somehow.
The fans have stuck with you as well.

It's weird because we had no clue.  I mean, we didn't sell a million records with Mr. Reality, but we sold some records. And as we were getting back out there, these people are showing up and they're like, "I can't believe we found you guys.  We had no clue it was the same band."   
You guys were lucky that the Internet was around.

Absolutely.
When word got out that you guys were Mr. Reality...

There's a handful of people out there that have found that as something that was hopefully special to them.
How cool is that to have people remember the band so well?

It's the best.  It's the best.
And Highway 9 is basically doing the same thing that Mr. Reality did.

It's the exact same thing it's just electric now and that's what's so great.  When we decided to add the other members we wanted to continue to have the vocal blend and everything that we've grown up with musically still be everything that matters to us.  We could have hip-hop beats and all kinds of crazy stuff, but we'd still sound like us because Peter has an unmistakable voice.  I think the consistent thing through most of the material is the harmonies.
Has Highway 9 ever played any of the old songs from the Mr. Reality record?

We have, actually.  We have when we know people are coming out.  We've played "Mr. Reality," we've played "Jess."  A couple of things.  Those were the two we're like throwing around.
That was a great album...

Thank you.  Thank you very much.  There's a lot of great records from here.  That means a lot.
I like the Highway 9 one as well.  It's a great driving record.

That was one of our goals.  Listen to this one.
First time I listened to it, some songs stood out.  I put it on in the car.

Right, it's a whole other thing.
Now back then, you guys did a lot of tracks that weren't on the album and were always writing stuff.  Do you do that on this tour?

Absolutely, there's always songs.  And the thing is that right now, when your record first comes out and you're doing everything you can to push it, the writing thing and bringing songs into the band becomes part of the back burner.  Because you're really focused on getting your set together and making the band sound great.  Once you're kind of on track with that and you feel good about that then you start bringing the new stuff.  So it'll be a while for any of the new stuff.
We haven't done new songs that aren't on this record since we've been touring and we probably won't for a while because there's no need to. People are just getting into it and it's just the very beginning of everything.
Who are some of the people that you've played with so far on this new tour?

We toured with Rusted Root, Big Head Todd and the Monsters, Monte Montgomery, a guitar player from Austin.  We played with Jeffrey Gaines on a bunch of shows and a lot of little people here and then.  We've just been able to see different crowds.  And it's been amazing for us to go out and play the bigger stages and really get people into the harmonies and see what we're about.  It's the greatest feeling in the world.
Do you ever worry... well, this is a good opportunity right now, hopefully you guys are above this-

We're not above anything!
Ok, you have a Springsteen festival going on and a band called Highway 9.  There's about thirty thousand people here spending the night, do you ever worry that they might think you were a Springsteen cover band?

You know, if they did and they came out it's all good.  We picked the name of the band and, I swear to God, it had nothing to do with the "Born to Run" song.

 

I think it's a great name for a Monmouth County band.

That's exactly it.  It was one of the roads we grew up upon and it was that or Highway 35 and we thought Highway 9 sounded better.
And you put the other in a song.

Exactly, so there's references everywhere.
Where did you grow up by the way?

In Hazlet.  We are so lucky to come from a musical community that we were able to grow up in and watch guys that did this and were successful at it and were inspiring to millions of people.  I tell you, if we weren't lucky enough to grow up in this area and we grew up in an area where there wasn't that kind of community it probably wouldn't have meant as much and we probably wouldn't have worked so hard to make it on our own.
When we travel now we see that and, man, I tell you we are so lucky.  Nashville, L.A., New York, Cleveland - wherever there's a music scene.  We're so proud to have what we have here because there's a lot of music lovers here and there's a lot of great records that came from this area and great songs and things that just fill your heart with joy.
What does the Stone Pony mean to you?

The world.  We grew up in this room.  Call us a house band or whatever you want to, but we love this place.  It's everything that we've been about.  We would never have had a living anywhere.  I mean, the Saint is amazing and it's a great club.  The Fast Lane was another club that when we were little we used to sneak in all the time.  But this has been our home.
How does it feel to be part of its history?

You know what? I don't even know if we're part of the history.  We're just trying to be what we are and continue a tradition that's been a big part of our lives and we hold that very close to our hearts.  And we wear it on our sleeve, wherever we go, and it's very important.
What is it like for you when guys Bruce and Bon Jovi show up?

It's awesome because these are records that we've grown up with and those are the guys that have inspired us to do this and let us know that it can be done.  
The times that we've jammed with Bruce on stage or the times we've played with Jon (Bon Jovi) or any of those guys, it's an exciting feeling.  You see them hanging out and you have a drink with them and it's like, this is great!  You know that it's real.  They came before you and they made it happen because they could and were good enough and could put the blood, sweat and tears to it.  That is extremely inspiring and we live on that.

 

What is it about Asbury that makes it a great place to see a show?

The people.  The people and the love that they have for the community.  It's like when you're sitting next to someone that you know from somewhere and when you're sitting next to someone that you know has had the same experiences you do in the neighborhood, same food and going to see the movies.  You share that moment of music with them and whether you know them or not it's an energy that happens and this is one of the best places in the world for that.
What would you guys think if four years from now you're going strong and so is Asbury?

It would be the greatest thing in the world.  Even if we're not going strong and Asbury is it would still be great.  I mean, if we're going strong and Asbury's not I'll take that too.  However, we want the best for this community.  Again, wherever we go everybody knows where we're from.  And we make it a point, we've made it a point on our records.
So many bands don't really have a scene like Asbury Park.

You have to talk about where you come from.  It gives people a sense of why they are listening to you and who you are.  My favorite records in the world, that's what bands have done for me.  I believe that when people get into a record and they bite into it they say, "Man, how do I get to know them better? How can I fall in love with this music even more?"
Whether people like what you do or not they see that.  And that has always been our goal since we started and since we were hanging out as our little gang and trying to get into these places.
---
From the book Beyond The Palace by Gary Wien
---
---
Gary Wien has been covering the arts since 2001 and has had work published with Jersey Arts, Elmore Magazine, Princeton Magazine, Backstreets and other publications. He is a three-time winner of the Asbury Music Award for Top Music Journalist and the author of Beyond the Palace (the first book on the history of rock and roll in Asbury Park) and Are You Listening? The Top 100 Albums of 2001-2010 by New Jersey Artists. In addition, he runs New Jersey Stage and the online radio station The Penguin Rocks. He can be contacted at gary@newjerseystage.com.
---