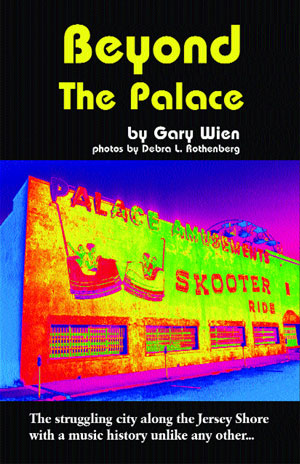 For a couple of months in 1971, Bruce Springsteen built a band unlike anything seen on the Jersey Shore before.  The band was called Dr. Zoom and the Sonic Boom.  Many people consider it to be a transitional band for Springsteen, who was moving away from the heavy metal sound of Steel Mill and towards the type of music the E-Street Band would later play.
What made Dr. Zoom and the Sonic Boom so different was that the band was huge.  At any given time there would be between 15-20 people on stage.  The band's roster read off like a who's who of Asbury Park music.  In addition to Springsteen, there was Steven Van Zandt on guitar, Vini Lopez and Bobby Williams on drums, David Sancious played keyboards, Danny Federici on organ, Southside Johnny played harmonica and a whole assortment of people were involved in the Zoom Choir.  It didn't really matter if you played an instrument or not, there was a spot for you in Dr. Zoom and the Sonic Boom.
"It was a fun thing," recalled David Sancious.  "I think that was a kind of maybe inspired by or had something to do with bands like Leon Russell and the Shelter People or Mad Dog and Englishmen.  That whole Delany & Bonnie and Friends period.  There was this whole group of large ensemble things with 12-15 people in the band - that energy, you know, I think that was his idea to put something together like that."
Bruce Springsteen has always been thought of as the ultimate professional.  He's looked at as a very intense artist, someone that takes his music very seriously.  But with Dr. Zoom, Bruce was able to just grab a guitar and have some fun.  Band members showed up in costumes, members of the road crew sat at a table on the side of the stage and play Monopoly all night long and the crowd loved every minute of it.
David Sancious used to come to the shows dressed as a cab driver.  "That was my thing, I'd show up with the work coveralls, some sneakers, and a cab driver's hat," recalled Sancious.
It was definitely a strange experience to say the least.  Strange and rare because the band only played a handful of shows.  They practiced far more than they ever played on stage.  "We didn't have a huge catalogue of music," said Sancious.
---
The article continues after this ad
---
---
"We played three farewell gigs that I remember," explained Southside Johnny.  "That's with the whole contingent but Bruce at that time was trying to put together his big band with two horns too."
Officially, the band's three shows included one at the Sunshine In in Asbury Park, one at Newark State University in Union and one at Brookdale Community College in Lincroft.
John Mulrenan who played in Godzilla, a band that opened for Dr. Zoom at the Sunshine In, recalls seeing Springsteen with the Zoom Choir before the show.  "There was this big dressing area in a corner of the club," said Mulrenan.  "He's standing on a chair with all these guys and girls around him and he's teaching them real simple background harmony parts that they could all sing in unison.  This is right before he's ready to go on.  Then he goes on and he's got like 20 people on stage effectively singing these parts.  And it was pretty good."
"Tinker (the band's manager) brought in the biggest PA I'd ever seen in my life up till that time," added Mulrenan. "These huge gigantic speaker enclosures, the biggest that anybody had ever seen.  And these beautiful 400-watt Macintosh tube power amps which was the biggest power we'd ever seen."
"That was a silly goof," added Southside Johnny.  "I mean, we had thirty people on stage, a Monopoly game, twirlers, a choir and I had fried chicken and a piece of furniture.  It was fun. I think I sang one or two songs and played harp and stuff and I led the Zoom Choir. 
"There were four musicians there that had an apartment on Suel Avenue.  I had a little chair and a piece of my bedroom furniture that I brought and I put a bottle of champagne on one side and some fried chicken on the other.  When I wasn't working I'd sit there and eat my fried chicken and drink champagne.  It was all a spectacle.  It was a very fun job."
Big Danny Gallagher believes the idea behind the band was to bring all of the friends from the Upstage on to one stage. "Bruce and the guys said, 'What do you say we get everybody we know together?'" he said.  "There were guys at the door fixing a motorcycle, me and another guy playing Monopoly with a bottle of wine covered by a brown bag.  We had twirlers and a fellow by the name of Bird (Kevin Conair) who's dead now, as the MC.  He used to show up wearing a tuxedo and red Converses.
"We opened for the Allman Brothers for the first gig," continued Gallagher.  "I remember Duane Allman was standing there and I had just come off of the stage because there was some serious music going on and you didn't need the Monopoly game.  Duane Allman had been watching Bruce on stage, he looks up at me and goes, 'Who is that fuckin' guy?' I said, 'Man, he's the next guy!'"
Some of the songs were carried over from his Steel Mill days, some were covers and some were originals for Dr. Zoom and the Sonic Boom.  As with Steel Mill, many of the songs clocked in at over seven minutes long.  Although, the newer songs Springsteen wrote were much shorter.
"It was really good music, good-natured music, and it had this kind of zany energy," added Sancious.  "It was just really light-hearted fun."
Tony Amato used to love seeing Dr. Zoom and the Sonic Boom. "I used to laugh at that band," said Amato.  "There were guys up there playing and they'd have the rug out and chairs and tables.  People playing chess or checkers or Monopoly.  It was some obscure shit going on.  And it worked."
With so many musicians it's a wonder if anybody ever got paid.  Big Danny Gallagher believes that Bruce and Little Steven probably made a little back then.  "They were the poor souls," said Gallagher.  "They didn't have a steady day gig.  Bruce's parents had moved to California and so he was out on his own.  That's how we wound up living together.  After Tom Potter left, he stayed in the apartment.  One day the owner came and kicked him out.  I was supposed to have my brother move in with me but he had just died.  Bruce came up on his bike and said, 'Hey man, one time on the way back home from Richmond you said if there was anything you could do to help you would.  Well, I need a place.' And so we lived together for about 9 months and then I worked for him for about a year."
"It was just a side thing," said Amato.  "Back then, everybody was in fifteen bands.   It was fun.   It was just about playing.  It wasn't about all this.  No hype, no nothing.  Yeah, the hype came and you're stuck with it.  Then you've got to deal with people's jealousies because they want to be part of the scene.  They were on the edge of it, but they weren't.  You didn't have none of that back then.  You're a musician, let's go play.  End of story.  Who gives a shit who's who? None of the musicians really screwed up anything for anybody.  It was the media.  This and that."
---
From the book Beyond The Palace by Gary Wien
---