By Gary Wien
originally published: 01/26/2012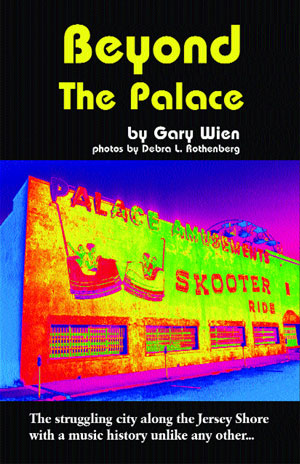 The Stone Pony has always prided itself on being a great judge of talent.  Ever since Southside Johnny & the Jukes put the club on the map, every house band at the Pony has been thrust into the spotlight.  It's a hard job to acquire but one that instantly catches the eyes and ears of record company executives.  The list of success stories include such bands as John Eddie & the Front Runners, Clarence Clemons and the Red Bank Rockers, the Smithereens, the Outcry and Highway 9 and, of course, Southside Johnny & the Jukes.  Ironically, the band that just might have had the title of most famous house band in America never made that list. 
Cats on a Smooth Surface arrived on the scene at the end of the 70s and held the title of house band for many years at the Stone Pony.  They were the ultimate cover band, perfect for warming up a crowd and getting them in the mood for a great night.  Cats could play the latest hits on the radio just as easily as classics from the 50s or 60s.  Unfortunately, they might have been a victim of their own success.  Cover bands were very popular along the Shore at the time.  Since Cats did covers so well, it made it very difficult for the band to take it to the next level of performing original songs.  After a while, band members would get frustrated and leave.  Thus starting a revolving door of musicians for the band.
The band's lineup was constantly changing.  In many ways, Cats was like the "Yardbirds" of New Jersey.  Wave after wave of great musicians would sharpen their skills in the band and then move on to bigger and better things.  Each time someone left, the band would bring in someone new, reload, refocus and keep going.  They became an institution.
"Cats had a reputation of being a house band or party band," said Glen Burtnick, a member of the band in the early 80s.  "Basically, they were like a training ground for Jersey musicians.  You'd learn the ropes of being in a band, get disciplined and a feel for the job."
Lee Mrowicki, the disc jockey at the Stone Pony, said that, "Any musician that joined Cats instantly gained recognition.  The band continued to have good musicians join because they wouldn't put anybody in the band who wasn't up to their standards.  They always had tremendously talented people."
Burtnick was part of the Cats lineup generally thought of as the best in the band's history.  His bandmates included Bobby Bandiera, Fran Smith Jr. and Ray Andersen.  Each of the four would go on to very successful

musical careers.  At the time, Bobby Bandiera was clearly the leader.  He had already built a reputation around the Shore from playing in Holme, one of the top acts of the day and was developing into one of the premier frontmen in the area.
---
The article continues after this ad
---
---
Glen Burtnick was back in New Jersey after portraying Paul McCartney in Beatlemania and playing in bands like Jan Hammer Group and Helmet Boy.  Fran Smith was already a veteran of the Jersey Shore scene from his days as a member of the Shakes, a former house band at the Stone Pony.  Ray Andersen had been playing in bands in North Jersey when he was spotted by Bill Thompson, the sound guy for Cats at the time.
Ray had just left a club band called the Features, which mostly played clubs in the northern part of New Jersey.  "Bill Thompson had told Bobby about me," said Andersen.  "He goes, 'You gotta see this guy he does an amazing Billy Idol.'  And Billy told Bobby, 'This is just the guy you need in your band, just the ingredient you need.  He gets on the ground, he jumps around.'  I remember there were people from Billy Idol's label at the time, Chrysalis, that used to come to see me and said I did a better Billy Idol than he did!
"So that was it," continued Andersen.  "Bobby called me up.  He goes, 'Hey man, I heard about you.  My sound guy told me about you.  Come on down for rehearsal so I can check you out, you know.'  So I went down to Allaire Airport, the rehearsal studio there.  I walked in and I remember doing 'Should I Stay or Should I Go?' by the Clash.  I was like on the ground, crawling around and Bobby was looking at me like holy shit! He goes, 'Can you play the piano because we need somebody to play piano... to tickle the ivories.'  So we started doing 'Great Balls Of Fire' and I'm not kidding I never really played like that type of showy piano, but when I auditioned for Bobby we did it and it was like all of a sudden I knew how to play it.  It was the strangest thing.  It's like I kind of lit up.  The next day he called me and said, 'Alright, let's do it.'  And that was that, I was in Cats."
The band found themselves in the news when Bruce Springsteen began showing up at the shows and jamming with them.  In fact, Bruce enjoyed playing with the band so much that it became a regular occurrence on Sundays, which was Cats' regular night at the Pony.
"I don't think it was anything special but really the timing," said Mrowicki.  "Sunday night was usually the night Bruce would go out and Cats would be playing on a Sunday night."
According to Stephen Bumball, one of the co-founders of the Asbury Park Rock 'N Roll Museum, Springsteen began playing with Cats around 1982.  "Initially they were just a real good band which he would guest with to do cover songs," said Bumball.  "He seemed comfortable with the band because they had musicians which had been around the scene for a while.  He played with them consistently for several years.  It became almost like a tradition, when he wanted to play he'd jam with Cats."
Jamming with Springsteen was quite an experience for these young musicians.  "One time I saw Bruce walking on by and I was like telling him to come on stage," remembers Glen Burtnick.  "It was the stupidest thing I ever did! Here I was jamming with him on 'Twist and Shout' and then he tells me to take over the vocals.  And I'm thinking, how do you top Bruce?"
Ray Andersen compares it to playing on stage with one of the Beatles.  "I grew up a Beatles freak," explains Andersen.  "I still am to this day.  I never got to jam with one of those guys, but years before I was on the same stage with Bruce I was also fanatical about the guy.  I loved him.  He just breathed passion in his music and in his words.  And when he came on stage it was... well, what can I say? It was a dream for me.  It's like if Paul McCartney were to call me down and jam with me.  It was fantastic!"
Fran Smith Jr. jokes that Bruce may have "played more with Cats than some of the actual band members did.  But it really was an inspiration to be on stage up close and personal with the Boss.  I think it made me a better performer just singing on the same microphone and playing bass with him."
"One thing about the Asbury scene when you played the Pony and stuff you really had to be on your toes," added Andersen.  "I cut my teeth at the Pony, man.  Just being a musician it was so good for me.  Even though I always wanted to be a front person myself, it was like rock and roll army for me.  It was so cool."
Although it was happening quite often, each time Springsteen joined Cats on stage it made the news.  At first it was just reported in local newspapers like the Asbury Park Press, but soon the news spread around the world.  Cats found themselves in the pages of Rolling Stone and Backstreets Magazine, a publication devoted to Springsteen news.  The band was even got mentioned on MTV, an unbelievable amount of press for a houseband.
"It was crazy," said Andersen.  "You get that and you say we've gotta use this... parlay it."
But, for the longest time, Cats never did make much of an effort to get rid of its cover band image.  Even with a lineup full of fine songwriters and great musicians, the band continued to play few originals.
"It's hard to believe that with such a multi-talented band of great performers and writers," recalls Smith. "Our biggest concern was who wants to sing 'White Wedding.' Glen and I wrote a bunch of tunes in those days but, in all honesty, the clubs in the early 80s really did not want to hear songs they've never heard before.  As fun as it was, it too was very frustrating not being able to play any originals, but I truly loved playing with those guys!"
Glen Burtnick was another member who felt limited by having to play cover songs in Cats.  "It was a very talented group of players," said Burtnick.  "Not only when I was in it but before and after.  At the point I was involved I could tell it was a strong bunch of individual players but we were basically about doing cover tunes.  We were a dance band.  I had a problem with that.  It was unrealized potential.  Sadly, it was probably always that way.  We each had to split up to create something original."
"My God, we had so much talent there," added Andersen.  "I think we had too much talent.  We just couldn't harness it.  We had too many individualists.  Not to say that we argued, but there was too much going on.  The pot was just huge with so many ingredients.  There was never really any talk about working on a record or anything like that.  We all had separate originals that we brought to the project.  And after we became kind of popular we started integrating those songs but we only did a couple because we really wanted to give the people what they wanted.  Yeah, it's something.  I don't know why we didn't really pursue it headstrong.
"But, even though it was a cover band we always jammed on things and I think that's what people really loved," said Andersen.  "We were really diverse.  We had so many people giving us so many different styles to the music.  It was quite interesting.  People were very entertained by us.  There were always people jamming with us from notable bands."
Years later bootleg tapes of those jams with Springsteen are readily available from collectors via the Internet.  Thousands of people have probably heard Cats on a Smooth Surface without even knowing it.   They've seen pictures of the band jamming with Bruce but to them they were just a band that backed Bruce a bunch of times in New Jersey.  Sadly, that's not too far from the truth.  Once the word got out that Bruce had been playing with Cats, fans of the Boss started packing the club each night the band played - just hoping for a Bruce sighting. 
"It was mostly exhilarating," said Burtnick.  "But I gotta tell ya, there were times when the audience was awful.  If Bruce was even rumored to be stopping by they'd crowd up against the stage and stare at us with complete indifference.  We'd sometimes be the boring nobodies until the big shot got up to play with us.  But Bruce was always solid and really on.  He was always unforgettable."
Glen Burtnick was the first to leave the band.  Shortly after leaving, he joined La Bamba & the Hubcaps and then embarked on a solo career.  He would later become a member of Styx.  Vinnie Daniele took over Glen's spot in Cats.  Bobby Bandiera was next to go, replacing Billy Rush in Southside Johnny & the Jukes.  Fran Smith Jr. joined the Hooters and Ray Andersen would find success with Blue Van Gogh and later became a member of Meatloaf.  He is currently performing as Mr. Ray and writing songs for kids in the Beatles style.
Just as it had before, Cats on a Smooth Surface went on.  The band brought in new people and remained a very popular band. 
Vinnie Daniele, a talented songwriter, tried taking Cats to the next level.  They put out a single and even recorded a demo.  David Prater, who produced Burtnick's second record, did the production work.  For the first time the band was trying hard to make it on their own rather than as solo acts.  Unfortunately, the band never did get their break.
Cats will always be remembered for those special times at the Stone Pony when Bruce Springsteen would turn an average night into something magical.  But, for a few years, the band had four incredibly talented musicians who all would wind up in highly successful bands.  That's an incredible feat when you think about it. 
The Stone Pony continued to have great house bands in the years after Cats.  Bands such as La Bamba & the Hubcaps, the Outcry and Samhill (currently playing as Highway 9) were all house bands at one time or another. But the memories of that particular lineup of Cats are still strong for many fans along the Jersey Shore. When you saw them take the stage you just knew you were seeing something special.  So next time you're at the Stone Pony waiting for the headliner to arrive, pay a little attention to the guys on stage.  You just might be seeing a glimpse of the future as well.
---
From the book Beyond The Palace by Gary Wien
---
---
Gary Wien has been covering the arts since 2001 and has had work published with Jersey Arts, Elmore Magazine, Princeton Magazine, Backstreets and other publications. He is a three-time winner of the Asbury Music Award for Top Music Journalist and the author of Beyond the Palace (the first book on the history of rock and roll in Asbury Park) and Are You Listening? The Top 100 Albums of 2001-2010 by New Jersey Artists. In addition, he runs New Jersey Stage and the online radio station The Penguin Rocks. He can be contacted at gary@newjerseystage.com.
---