By Gary Wien
originally published: 01/26/2012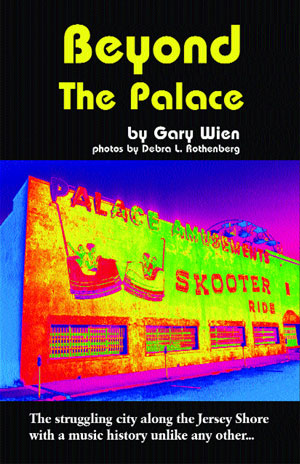 I can still remember the night Dave and I were invited to the Asbury Rock 'N Roll Museum to hear an advance copy of Bruce Springsteen's Tunnel of Love CD.  The guys from the museum, Billy Smith and Stephen Bumball, had managed to have a copy sent to them a month before it was scheduled to be released.  They invited a bunch of their friends to a special listening party.  There must have been at least thirty people cramped into a small room all anxious to hear which direction Bruce was going.  Dave and I were the youngest in the crowd by far and we were kind of surprised to be invited.  It was the first time I had ever been part of something like that  and it would be a night I'd never forget.
When it was first released, Tunnel of Love didn't seem to register very high with Springsteen fans and I never understood why.  Maybe it was because it was technically a solo record or maybe the legions of fans that joined up during the Born In The USA run expected something harder, more rock and roll.  Whatever the reason, it received somewhat lukewarm reviews.  But, for me, it was a great record from the very first note.
I remember hearing the unabashed honesty of "Ain't Got You" leading off the record.  Here was Bruce, baring his soul in public in a way he rarely had ever done before, talking about personal problems and failures from the first person point of view.   There was no need to hide under character names, no need to gloss over the production.  It was bare bones honesty coming to you with nothing more than the sound of his guitar.
As I closed my eyes, I took it all in as if I was hearing him live in concert with a bunch of my friends.  For true Springsteen fans, hearing his music with a bunch of people always sounded better.  It was as if his songs needed to played in front of an audience.  Bruce may have started out as a singer-songwriter but his live performances overshadowed that part of him.  Ironically, even in a crowd of thousands, his songwriting always made it feel like he was singing just for you.
By the time the organ began playing in "Tougher Than The Rest," goosebumps were running up and down my arm.  I could sense that this was definitely a new direction for Bruce and I was totally into it.  As each song was introduced to me for the very first time, I knew that there was something special going on.  The images of gypsies, amusement park rides and walks on the beach gave me the feeling that this was Bruce's return to writing about Jersey.  Although the places weren't really mentioned by name, we knew where they were.  Maybe this was his present to us, his long-time fans.  Maybe it was his way of saying goodbye or writing a new chapter to his life.  All I know is that it contained the last Springsteen songs to evoke such hometown memories until "My City of Ruins" was released.
The sparse production throughout the record seemed to make you focus on each and every lyric.  Unlike Nebraska, the added arrangements made this a very accessible record even for those who weren't fans of folk music.  It was sparse, but felt complete.  By the time we had gone through the entire record, I felt I knew every song by heart.  I can't remember, but I'm pretty sure that the crowd couldn't wait to hear it again and it was quickly started once more. 
---
The article continues after this ad
---
---
The Palace was always a wonderful place for me.  As we called it a night and headed to our car, I remember staring at the tunnel of love sign along the building while the song replayed in my head.  The neon lights were all lit up and shining, their reflection bounced over the lake.  For one moment, it seemed like time had been turned back for Asbury Park.   Nobody was thinking about the boardwalk being in bad shape or the graffiti stained walls.  It was just a magical night.  It's hard to believe that the Palace would be shut down the following year.
This was the second time that I had heard a new Springsteen record at the Palace.  The first was for the live box set put out a few years earlier.  The Palace had a general listening party and it attracted hundreds of people.  It was the last time I ever saw the place packed.  There were literally lines around the building to get in.  They had the CD playing so loud you could hear it while you waited to get in.  People had the same type of anticipation that they have before going to a Springsteen concert. My friends and I had been going to the Palace for years and never expected a crowd like this to show up.   I finally had a glimpse of what Asbury was like during its glory days. 
Normally when we'd hang out at the Palace during the weekend there would only be a couple dozen

people there.  But this was like a Hollywood movie premier party.
When The Rising was released, the official listening party was held at the Stone Pony.  It was an exciting time as Bruce and the E-Street Band would be playing live on the "Today Show" from Convention Hall in the morning.  Once again, the boardwalk was visited by thousands of people.  There were more people inside the bar that night than I had ever seen before in my life.  It was right in the middle of one of New Jersey's worst heat waves in years.
It must have been nearly 90 degrees at midnight when they started selling the record.  All night long, the bar played selections from The Rising as sweaty fans took their turns answering trivia questions to win various prizes.  The outdoor tent area provided little relief as that too was packed with fans.   It was so hot that many people had to leave the club and return a few minutes later.  Apparently, everyone knows that there's nothing in the world like hearing a new Springsteen record in Asbury Park.
It was very encouraging to see those types of crowds in Asbury Park again.  Cars were parked all throughout the town leaving those just arriving to circle round and round trying to find a spot.  There was definitely an energy in the air.  Springsteen fans form a community.  They love meeting other fans and telling stories about their favorite records and concerts they've seen.  And there's no place better to do that than in Asbury Park.
The Rising contained lyrics every bit as personal as those found on Tunnel of Love.  While he once sang from the perspective of a man struggling to deal with the problems of the adult world, the lyrics became that of a man struggling to deal with problems that he has no control over.  Both records contain fear and love, hopes and dreams.  But on The Rising, Bruce not only spoke from his own experience he spoke for everyone.  He spoke for the people he saw on television.  He spoke for the families he met after 9/11.  And he spoke for all those who needed a voice, who needed to know that they weren't alone.
Nobody quite knew how artists would respond to the attack on America or who would have the courage to speak up or even what words could possibly heal the country.  Somehow Bruce found the courage and he found the words.  He delivered his best record in ages.  And it couldn't have come at a better time.
The song "My City of Ruins" was first performed at Convention Hall in Asbury Park during a Christmas Show.  It was dedicated to the hard working people like Kate Mellina who are doing everything they can to bring Asbury Park back to glory.  It was a present to the town from one of its favorite sons.  The chant "come on rise up, come on rise up" became the town's slogan as well as its mission.  The words could soon be found on signs in windows throughout the business district.
After 9/11 the song took on a new meaning when it was adopted as a symbol of New York's resiliency.  Bruce performed it live during the Concert For New York.  What once was a gift to Asbury Park became a gift to the entire world.  The music of Springsteen once again lifted itself from the beach towns of the Jersey Shore to the hearts and souls of people throughout the country.  We realized long ago that we couldn't keep Bruce all for ourselves, he belongs to the world.
Thankfully for us, he continues to bring the world to Asbury Park.  From his benefit shows at Convention Hall to taking the "Today Show" crew on a tour around town, Bruce Springsteen is the best spokesperson Asbury Park could ever hope to have. 
---
From the book Beyond The Palace by Gary Wien
---
---
Gary Wien has been covering the arts since 2001 and has had work published with Jersey Arts, Elmore Magazine, Princeton Magazine, Backstreets and other publications. He is a three-time winner of the Asbury Music Award for Top Music Journalist and the author of Beyond the Palace (the first book on the history of rock and roll in Asbury Park) and Are You Listening? The Top 100 Albums of 2001-2010 by New Jersey Artists. In addition, he runs New Jersey Stage and the online radio station The Penguin Rocks. He can be contacted at gary@newjerseystage.com.
---