By Gary Wien
originally published: 01/26/2012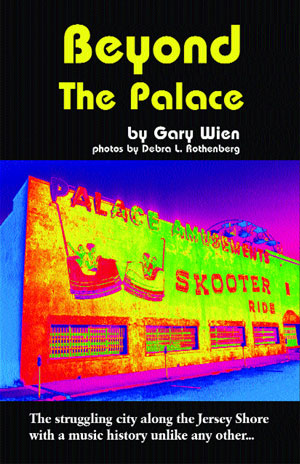 Bobby Bandiera has long been considered one of the Jersey Shore's best secrets, but he's really not a secret anymore.  He's been Southside Johnny's right hand man since the At Least We Got Shoes record, has released a pair of independent solo records, has played with Jon Bon Jovi for his solo concerts and has backed up Bruce Springsteen on numerous benefit shows.  No longer a secret, the real question may be why isn't he a household name?
Bobby has been heavily involved with the Jersey Shore music scene since his days in the popular band, Holme. Back then Bobby was just a part of the band instead of its leader.  According to Lee Mrowicki of the Stone Pony, "He was one of the members, but it wasn't really his band.  There were other people before Bobby and after Bobby too.  And, in fact, we sometimes talk about it as the first musical baseball trade.  Bobby had been in Holme then went to Cats, went back to Holme and then back to Cats and he was traded for Joel Krauss and a guitar to be named later."
Cats on a Smooth Surface was his band.  He was the leader of what has been called by many as the band's most talented unit.  Back then, Bobby Bandiera was clearly a star on the rise.  He helped bring in the rest of the band, always finding the best musicians in the area.  The result was a band that everyone wanted to see including Bruce Springsteen who joined Cats on stage dozens of times.  Many people believe that Bruce guested with the band so much because he enjoyed playing alongside Bandiera.  In fact, Bobby was once rumored to be the E-Street band's new guitarist (as the replacement for Little Steven), a rumor that even found its way on to MTV News.
Since joining the Asbury Jukes in 1985, Bandiera has become one of the band's most popular members.  He's not only a great guitarist but he's an incredible student of music as well.  There's rarely a song that he doesn't know how to play.  "Garry Tallent used to call him the human jukebox because he knows every song ever written from 1974 back," said Hal Selzer.  "When I was young, I used to be one of those guys that wanted to show off and play fast and everything. Playing with Bobby I learned that it's all about the groove, just creating a groove and sending a groove.  It's not about playing a million notes.  It's playing the song."
"I remember Max Weinberg telling me that he never takes his eyes off of Bruce and Bobby was the same way," said Ray Andersen, one of Bobby's bandmates in Cats.  "Bobby got a lot of that from Bruce.  He was like the ultimate front person.  You never wanted to take your eyes off him because he would be the one to cue us when to stop on the downbeat and all that stuff.  I really learned so much from being in a band with Bobby Bandiera."
---
From the book Beyond The Palace by Gary Wien
---
---
Gary Wien has been covering the arts since 2001 and has had work published with Jersey Arts, Elmore Magazine, Princeton Magazine, Backstreets and other publications. He is a three-time winner of the Asbury Music Award for Top Music Journalist and the author of Beyond the Palace (the first book on the history of rock and roll in Asbury Park) and Are You Listening? The Top 100 Albums of 2001-2010 by New Jersey Artists. In addition, he runs New Jersey Stage and the online radio station The Penguin Rocks. He can be contacted at gary@newjerseystage.com.
---
---