By Gary Wien
originally published: 01/26/2012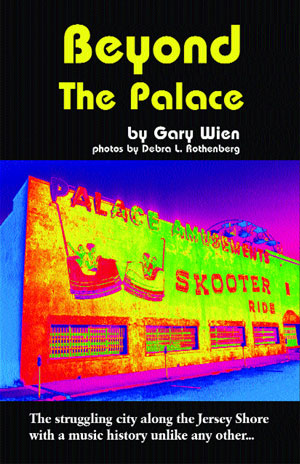 Bob Burger is a member of the Bobby Bandiera Band and a longtime songwriting partner of such Jersey Shore artists as Glen Burtnick, Bobby Bandiera and Joey Vadala.  In 2002, Bob headed to the studio to record a bunch of original songs for a CD called Almost an Island.  Backing him in the studio is Rob Tanico from Highway 9 and TJ from John Eddie's band.
If it wasn't for a successful career outside of music, Bob Burger just might be a household name by now.  As a talented singer, songwriter and live performer Bob fits in perfectly with the Asbury Park music scene.
For several years, Bob Burger and Bobby Bandiera have played as a duo at the Celtic Cottage in Long Branch each week.  I caught up with him one night in the summer at one of these weekly shows to talk about his role in the local scene.
You're originally from Pennsylvania, right?

Yeah, Erie, Pennsylvania.  I came here in the late eighties, around 1987.  I had been here a year or two, and then I got started working with Bobby (Bandiera) and Glen (Burtnick).  I auditioned for Bobby many years ago as his bass player and I played with him for a couple of years.  Then I kind of dropped out of the scene for a while, came back, and started playing guitar with him playing rhythm.  That was kind of a new thing for me because I hadn't played guitar very much so I kind of needed a lot of help.  He encouraged me and kept me going.  He's been great.
Glen I met when I had a little original band and we were playing around the corner at the Brighton Bar and Glen came down to hear us.  He liked the music and the songs and asked me if I wanted to write with him.  "Spinning My Wheels" was really the first song we wrote together.  And I was thrilled with the opportunity.  He'd had a record out and I was thinking I had a chance to get a song on a record.
Have you had a lot of bands at the Shore?

Not really, you know, I had the original band for a while then I started playing with Bobby and I've really been playing with Bobby ever since.
---
The article continues after this ad
---
---
How long has it been?

Oh probably fifteen years, but it's kind of been an on and off thing.  I play with him now - well, I do this gig with him every week, but when we play with the electric band it's only like every four or five gigs that I'm there.  It's either filling in on dates or, more often, it's playing rhythm guitar when he's got a gig that hires more people.  If there's five people I'll play, if there's four I'm not playing.  It's kind of like that.
But it's funny that people say to me, "Who are you? Where'd you come from? I never saw you with Bobby before." I've only been playing with Bobby for years and years and years.
Does the Bobby Bandiera Band play any of your songs?

No, the only thing we play is - I wrote "C'mon Caroline" with Bobby.  So that's the only one I'm really a writer in.  But really, when I'm playing with Bobby, it's Bobby's band. We're doing his thing and I love Bobby so much.  I've learned so much from him.
You've been playing weekly gigs with Bobby for a while now.  Is it different when it's you two as a duo as opposed to the band?

It's different, but it's different and it's not different.  I still try to pull out whatever I've got inside me and push it across.  And that's regardless of what the form is and regardless of whether it's playing or writing or whatever it is.  The only difference between this and playing in the band is that it's not as loud and there's no drums.  But it's just performing.  I love it.
You've written many songs with Glen.  What's that like for you?

Wonderful.  I mean Glen is another guy that's been such a great encouragement to me and such a good supporter of me.  He's turned me on to a lot of different gigs, different situations.  I've written on all of his records - written for the six records.  Writing with him is great because we work together so well.  We have kind of an unique writing approach in that we don't always write a song together at the same time.  It's sort of like he'll come down to the house and say here's some ideas that I have.  Then we'll sit and bullshit for about two hours just to kind of get in tune to what the feeling of where we're going right now is all about, and then I'll go take the song and finish it or half finish it.
I had forgotten that you co-wrote "Spinning My Wheels" with Glen.  I still remember the great review in Billboard Magazine.

It didn't translate into sales though.
As a songwriter, does it feel different playing someone else's songs?

It is a different feeling when you're playing somebody else's tunes as opposed to playing your own tunes.  In some respects when you're playing someone else's songs it's almost like you're sort of listening.  It's like when you ride around in the car you don't listen to your own music.  I don't think anybody does.  You listen to other people's music because you like the way it sounds and you're being entertained by it. 
Sometimes, to certain degree, when I'm playing covers I'm being entertained by the songs as a listener even as I'm playing it.  But when you're playing your own stuff you're not really entertained by it.
And you try to make the other songs your own...

Well I do.  I try, more of by just trying to be yourself.  I don't really think about trying to make it my own as much as trying to be what I am and who I am and letting the song come out the way it comes out in that context.  I really like playing other people's songs, but I like playing my own songs too just there's not as much of a venue for it.
What keeps you coming out to tiny bars like this each week?

Only one thing - I love it.  Only one thing, that it's the most fun thing that there is to do.  It's the thing where most people say about a job: would you do it if they didn't pay you? The answer is yes, because it's so great.
You didn't grow up around here but you're a part of the music scene.  Does Asbury Park and the Stone Pony mean anything to you?

Sure it does, because I've been here long enough.  I like to think of myself as part of the scene.  I wasn't here in the real heyday of it, but the Pony's a great place to play just in its own right.  You don't really have to be associated with the long standing legend behind it.  It's like with Bruce Springsteen and the involvement.  I wasn't there when that was happening, but I've been lucky enough to actually play with Bruce Springsteen at the Stone Pony  in April of this year.  We played two benefit shows, the Bobby Band.  It was for teachers or something, it was great though.  We played two nights and it was just... what a musical experience.  That was thrill enough for me.  So I guess I'm part of that.  
What do you think about Asbury as far as a music scene?

It's awesome! I mean, it's got its own feeling.  I guess we take it for granted around here. Everybody there - you can just cut it with a knife.  It's a very positive feeling.  When you go there and you play or you watch somebody else play, you can feel that everybody's got a kind of together-cohesive feeling about what it is. 
That's so hard to come by.  It's so important to have an identity like that.  That's what it has and that's why it's lasted so long, and that's why it will last a long, long time to come.
---
From the book Beyond The Palace by Gary Wien
---
---
Gary Wien has been covering the arts since 2001 and has had work published with Jersey Arts, Elmore Magazine, Princeton Magazine, Backstreets and other publications. He is a three-time winner of the Asbury Music Award for Top Music Journalist and the author of Beyond the Palace (the first book on the history of rock and roll in Asbury Park) and Are You Listening? The Top 100 Albums of 2001-2010 by New Jersey Artists. In addition, he runs New Jersey Stage and the online radio station The Penguin Rocks. He can be contacted at gary@newjerseystage.com.
---