By Gary Wien
originally published: 01/26/2012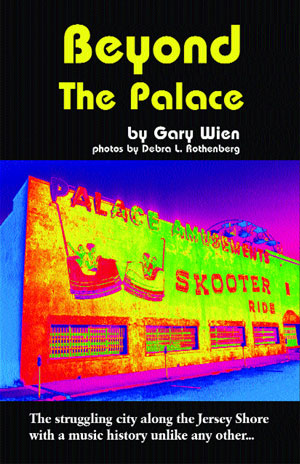 Billy Hector has been a fixture on the Jersey Shore scene since the 70s. Now recognized as one of the best blues guitarists in the state, Hector once played in classic R&B and rock bands like the Shots, Paul Whistler & the Wheels and Hot Romance before forming the Fairlanes and his current band.
He continues to be one of the hardest working musicians on the Shore, and recently released his 11th record, Out Of Order that was recorded at the Pony.  I spoke with him via phone about his long and historic career.
When did you first start doing gigs in the area?
Well, when I was sixteen, I started playing with Tony Paligrasso in Lavallette and he got us gigs like the Pancake House and the Yacht Club.  We were underage.  My father bought a house in Ocean Grove in 1968.  So I was down here all the summers from 1968 on.
Tony also brought you into the Shots, right?
Yes.  Tony got into the Jukes and when he left the Jukes he formed the Shots.  He called me up.  I was playing in bands in North Jersey.  I was playing with any band I could play with at the time.  The Shots were alright.  We were a good band.  We played the Pony, we played Sturfield Manor.  The Shots actually played D'Jais for August of 1977.  We played the matinee in the afternoon from 3-8.  That's five sets, 40 on, 20 off.  And then we'd do it again starting at ten.  We were only there for a month.  I think Terry McGovern was running the place at the time.
---
The article continues after this ad
---
---
We definitely had it easier than Southside and the Jukes.  They started from scratch.  We came in and there was a scene already there.   Tony just got it to last longer in a way.
Were you guys playing mostly covers?
We were playing mostly covers.  Rhythm & blues, obscure covers that nobody still knows these days.  Songs like "Lovie Dovey." I still play some of that.  And D'Jais had ten beers for a dollar.  So that was a pretty raucous month.  And tiring, 10 sets in a day is a long time.
Back then everybody was paying attention to the Asbury scene.  What was it like having the record executives at the club?
Well, I didn't see any of them.  I think they were there.  Yeah, I was in awe of the scene.  I was like 21.  I don't even think I was 21.  I think I may have just turned 21, I'm not sure.  Eighteen year-olds could drink then so it didn't matter.  There were more people going out then too.  It wasn't illegal to drink and drive, in a word, I guess.  There wasn't stops and things like that.
It was exciting.  You know, I was coming from small clubs and I was actually studying music at the time too.  It was a professional thing and I could actually make enough money to live on.  That was a big deal.  Plus it was the scene that Bruce created and he came up and jammed with the band.  He knew all the Asbury Park guys.  They had all that hype even before I moved down here.  But I knew Tony and that's how I could get into the scene.  It was easier than just coming in from North Jersey.
I went to a few jams at the Warehouse when I was eighteen.  A Monday night jam.  I went to a jam or two there.  They were pretty cold, you know.  It was tough to break in there.  It was like I was the new kid.  I'd come in and everybody's got a bad attitude.  "Get the hum out of that amp!" "What song are you gonna play? You better know how to play that song."  That's what they were telling me.  I'm like geez guys.  That's where I met John Luraschi.  I met him there and Stanley Steele was there playing.  The guys from Daze, they were there playing.  But you could tell it wasn't a warm and fuzzy scene.  I don't know if it was competitive, but you couldn't just walk in.  Something had to happen.
Then after a few years you were with Paul Whistler.
Yeah, then I went with Paul.  Tony sort of got that together, got the Wheels together.  Got me involved anyway.  Since the Shots were defunct at that time, for a year or two, he got that together with Paul.   I was there when the Wheels started.  The Wheels used to rehearse in the Fast Lane's basement because the owner of the Fast Lane was sort of our benefactor.  He said he was gonna get us all this work and stuff but we were just in that basement practicing every day.  He was buying me Burger King hamburgers.  That was a rough time there.  The guy felt sorry for us so he'd give us odd jobs like when the club had a big show. I was a bouncer at the Rockpile show.  I was a roadie for the Ramones when they came in.  Things like that because the guy wasn't doing shit for us. We were just young artists, young musicians, whatever we were.  Little street urchins just trying to get over.  Those were strange experiences.
A little later on, you were part of Hot Romance, the house band at Mrs. Jays.  What was that time like?
It was a biker bar that some tourists would go into. (laughs) It wasn't that bad then.  Some days were worse than others.  But I played there for a long time.  Hot Romance played there and the Pony.  We played Wednesdays with Lance Larson for a long time through the winter and that was fun because we liked Lance.  We were friends and buddies and stuff like that.  It was a really good time. 
We played the Pony and Mrs. Jays.  We played Mrs. Jays on Sunday when Bruce would show up to play with Cats.  So basically everybody was hustling to get into the Pony so we got the overflow and folks that really wanted to hear us. 
Was the Fairlanes basically the same lineup as your current band?
No, not really because we started out of the Renegade Blues Band that David Myers got together with him and Big Danny and Steve Schreager and Billy Lilly.  They were all playing in there.  The Renegade Blues Band was playing in Point Pleasant Beach and any other place we could get because nobody was really interested in that music. And really, not that many are interested in it now.  But, in the early 80s, nobody really gave a shit about that and we were playing places for drinks.
There's a few more places because we stuck it out there.  Plus Stevie Ray made it and Robert Cray and that definitely helped things out.  But before that, that's why we picked the name Fairlanes. We definitely had to get the blues out of the name because that would squash your chances for getting any kind of employment, which is what I wanted to do.  I wanted to work.  I don't know why.  I put the two things together.
Yeah, it's always harder.  Especially now, people don't go out.  The guys that saw me in their twenties are now in their thirties and they're just too tired to come out anymore.  The demographics of the bar scene is very strange.  It's a strange animal.
Where' s your favorite place to play now?
My favorite club to play? Oh, I don't know if I can say.  That's politically incorrect.  The places where they dance and go nuts.
You play five or six nights a week on average, that's a pretty grueling schedule.  What keeps you going every night?
Oh, I like to play.  I gotta play.  I play when I'm not playing. (laughs) The thing is you have to play.  You really have no choice.  If you're singing when you wash the dishes and then you get done and say, "Oh shit, let me play that song" - it's a part of you. 
---
From the book Beyond The Palace by Gary Wien
---
---
Gary Wien has been covering the arts since 2001 and has had work published with Jersey Arts, Elmore Magazine, Princeton Magazine, Backstreets and other publications. He is a three-time winner of the Asbury Music Award for Top Music Journalist and the author of Beyond the Palace (the first book on the history of rock and roll in Asbury Park) and Are You Listening? The Top 100 Albums of 2001-2010 by New Jersey Artists. In addition, he runs New Jersey Stage and the online radio station The Penguin Rocks. He can be contacted at gary@newjerseystage.com.
---