By Gary Wien
originally published: 01/26/2012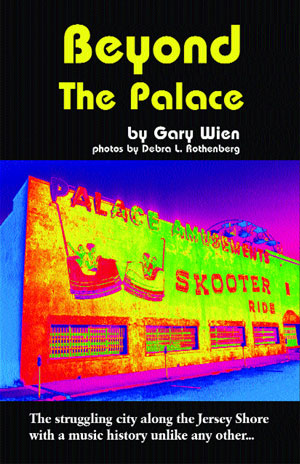 The Blases were formed by Billy Donahue and Rob Wagner while  they were high school students in Union County in 1980.  They were originally called the Hernia Boys and also included the bass player, Paul Virdon, who died after being hit by a train.  This experience provided the basis for the songs on their only released CD, which came out in 1989.
The band was a favorite of the Green Parrot crowd and WHTG DJs.  Band members became as semi-legendary for their partying and raucous stage shows as they were for their fine songwriting ability.  With influences from bands the Clash and the Replacements, it's not hard to see where their "rock and roll from the edge" lifestyle came from.
The band's CD was released on Permanent Rave Records, a small independent label that had national distribution.  One of the cuts, "Time Walks Away," became a modern rock hit and was played regularly on MTV, but the band never quite made it to the next level.
I was able to speak to the original two Blases members, Rob Wagner and Billy Donahue, via phone to talk about the story of this great band.
When did the Blases first get together?

Wagner and I started the Blases in 1979, while in high school, when we were both 15.  Rob Wagner, the guitar player, and I would write the songs for the most part.  We started writing songs together even before that with a band called the Hernia Boys.  It's funny because once we actually had a video on MTV for this "Battle of the Bands" contest and Billy Crystal was the host.  He gave a history of the band and mentioned the Hernia Boys and we all got a kick out of it.  We almost won but we didn't.
Anyway, we've been around for a long time.  We played all the high schools in Union County back then.  We started as a cover band playing a lot of Springsteen.  We had a sax player and a trumpet player.  We'd do songs like "10th Avenue Freeze-Out" and "Thunder Road" along with tons of songs from the Clash and the Ramones.  The Blases started as a cover band in Union County, where we grew up.  We released our first single in 1983 or so.  Guys like the Smithereens inspired us to start putting our own records out.  And what happened was that we gravitated down to the Shore scene because the clubs were there.
---
The article continues after this ad
---
---
The DJs at WHTG were incredibly helpful to us.  There was a compilation that came out of New Brunswick called Mental Floss that WRSU put out.  The song "Firefighter" was on that compilation.  That's when WHTG sort of noticed us and that's when we started becoming big down the Shore.
Did the record take you guys anywhere?

We did the video and we charted all over the country.  It was great! The video for "Time Walks Away" got on MTV but there was reluctance to tour because of lack of support from the label.  Not really out of lack of will but out of being too small of a label.  We probably could have... Well, we didn't know what we were doing.
It was a local indie label with nationwide distribution.  I've even been in record stores and seen the record in subsequent years in vinyl shops across the country, college towns, of course.  When the video got on MTV that sort of helped too.
Did you guys ever talk about going with a different label?

No, we didn't.  We started to... you know what happened? I became frustrated because we weren't going to tour.  I went to California for a while to see what I could do out there.  When I came back we tried to put everything together but we just never got it together again.
So, you never really recorded a second record.

Well that's not true actually.  We were in the process.  There's probably a whole album's worth of stuff on an 8-track pre-production that was recorded with Joe Crowley and I think Karla Crowley was still involved.  Then we recorded stuff with Brad Morrison, who is a friend of mine.  We probably did about five tracks with him.
We were continually starting a new thing.  It just never came to fruition.  There's probably at least 16 tracks that are sitting somewhere that we never released.  It's always like that.  Back then there was more of a tendency to try to get things perfect and you had less control.  We were relying more on people to help us out.  I think because of the way technology is now there's more of a "do-it-yourself" attitude.  The technology's more manageable with recording to disc and things like that.
You said you wanted to tour more.  Did the band tour the East Coast? How far did you guys get?

That was the problem, we didn't.  I'd say we went between Philadelphia and Boston.  We didn't do anything else.  That was kind of the conflict at the time.  We just did colleges and small clubs.
Did the Blases feel a part of the alternative scene at the Green Parrot?

Oh yeah, of course. I mean, we would do the Parrot's Memorial Day shows, 4th of July shows, all their big weekends.  We played with the Dervishes all of the time.  We felt incredibly a part of that.  That was our stomping ground, our home.  Tommy (Ackerino) made us feel incredibly at home there.  That dressing room was like our clubhouse.
WHTG DJs tell stories of the band's partying that are kind of legendary...

Yeah, well I don't know if we were trying to do it or if it's just our nature, but we kind of carried it to our middle-adulthood.  The Blases weren't blase about partying.  The DJs from WHTG loved hanging out with us, I think.  We enjoyed their company.  We just had a great time together.  If you get any specifics out of people I won't deny anything!
When I was playing with John Cale, Mike Marrone was working for Rykodisc at the time.  At our show in Boston all of the Rykodisc people came to see us and backstage Mike Marrone was telling stories about me that had me afraid I was going to get fired from the Cale gig.  And that was a great gig to have.
How did you wind up playing with John Cale?

I was living and playing in the city.  A friend of mine was the manager of a studio that put out a record that got on a compilation and we did a show at the Knitting Factory.  The little band started to do pretty well.  Then Dave got a call from a guitar player that had worked with Cale before.  I was in Dave's loft rehearsing with him at the time.  The guitar player was putting Cale's band together for that 1997 tour.  He had two compilations out and a new record so he needed a touring band.  Dave reluctantly recommended me because he knew he was going to lose me.  I played with him in 1996-97.
What was the Green Parrot like for you?

To me, the Parrot was like our clubhouse.  It was like our home because when we weren't playing we went there.  We were younger and we kind of got away with acting ridiculous.  We were forgiven for a lot of behavior that wasn't atrocious but was a bit stupid.
Who would you go see there?

Whoever was in town at the time.  Dramarama was a band that we'd go see and talk to afterwards. Matt Pinfield would always be at those shows.  We'd basically go see whoever was in town.  The Blases played with a lot of the other bands then go see their shows.  It's like you'd be at parties or birthdays and things like that afterwards.  People hung out with each other.
The band has had a reunion or two in recent years, is that basically the same lineup?

Yeah, the one we did at the WHTG benefit was the band lineup from the album.  That, for me, was the most fun to play.  We've done a couple of other ones with older lineups in New Brunswick as well.  I'd like to do that more often.
You're currently in Speedsters & Dopers, what's that band like?

It's actually Greg Di Gesu's band.  We play in the city.   We've recorded an album.  It's Greg's project, I'm happy to help him out. 
I don't know how to describe Greg's stuff.  We would have been more up tempo and poppy while Greg's stuff has got that Velvet Underground side to it.  Guys like Nick Cave have been mentioned too because we have the piano floating underneath the guitar.
What would you like people to remember about that band?  Do you ever look back and think it could have been something big?

I probably always will.  I don't think that the band ever wanted to take itself seriously out of self-consciousness.  Either that or the fear of putting all of your eggs into one basket... something like that.
The irony is that now that I'm actually married and more settled than I've ever been, I just started writing again for the first time in years.  I've written some stuff that I'm very, very happy about.  It's funny because after all these years, what do you do with it?
What kind of direction is the new stuff?

It really isn't that dissimilar from what we were doing except it is a bit more piano based.  I hate to make comparisons, but when you write something that's good you know it's good.
Do you think you and Rob Wagner might do some shows together in the near future?

I wouldn't count it out.  I mean Wagner and I will know each other for the rest of our lives.  I also wouldn't count out something silly like trying to get some cover gigs.
Are you thinking of trying to make another push with the new material?

I'm probably going to because I have the opportunity to and very few people have that opportunity and I know that.  It's one of those things like if you have the inspiration and you're lucky enough to be able to react to it and you're talented enough to do something about it, I think you really should take the chance.
I'm lucky enough to have studio space always offered to me.  And just to have some songs again... to go and do that is a great thing.  I think you'll hear from either Rob or me or both of us because we're also not getting younger and we want to still rock while we can rock.
---
From the book Beyond The Palace by Gary Wien
---
---
Gary Wien has been covering the arts since 2001 and has had work published with Jersey Arts, Elmore Magazine, Princeton Magazine, Backstreets and other publications. He is a three-time winner of the Asbury Music Award for Top Music Journalist and the author of Beyond the Palace (the first book on the history of rock and roll in Asbury Park) and Are You Listening? The Top 100 Albums of 2001-2010 by New Jersey Artists. In addition, he runs New Jersey Stage and the online radio station The Penguin Rocks. He can be contacted at gary@newjerseystage.com.
---