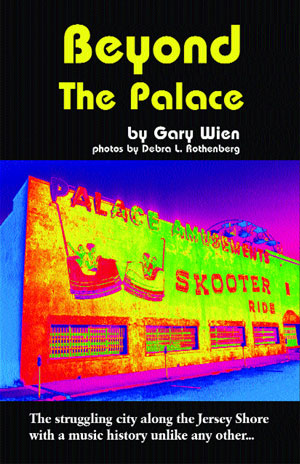 In the eighties, two memorabilia collectors named Billy Smith and Stephen Bumball had a dream to create a museum that would be centered around the Jersey Shore's top acts like Bruce Springsteen, Southside Johnny and Bon Jovi but also include lesser known bands and artists of historical significance.  The museum opened during the summer of 1986 in the Palace Amusements building.  It gave music fans a place to go to learn more about their favorite local artists.
The museum contained photographs of Bruce Springsteen from early bands like the Castiles and Steel Mill to Born In The USA shots, there was a large collection of concert posters promoting shows at local clubs like the Sunshine In and the Student Prince, original lyric sheets written on pieces of notebook paper, signs from venues like the Capitol Theatre in Passaic and the entrance to the Upstage Club, rare buttons and promotional items and even a copy of the Castiles single was on display.
For the first time ever fans of the Jersey Shore had a place to go in Asbury Park to take in the history.   During the short time it was open thousands of visitors from around the world came through its doors. And this was during the time before the Internet.  These people came largely from word-of-mouth or from seeing the museum on MTV or the article in Rolling Stone Magazine.
I used to hang out at the museum and bug the guys to tell me about the early days.  It was there that I first became interested in the history of the music from the area.  Many of the artists that were played on their stereo were long out of print by the time I was introduced to them.  Hearing them at the museum was my only exposure to this new world recently introduced to me.  Personally, I don't think that it was just coincidence that they wound up being housed in the Palace.  It was probably destiny.
The Palace just might be the very essence of Asbury Park.   When people hear Bruce Springsteen sing the opening stanza of "Born To Run" they instantly know where those words come from.  If the Palace is destroyed I wonder if the next generation of musicians from the area will really understand just what it meant to people around the world.  Asbury Park has already lost many of the buildings involved in its illustrious music history.  It would be a shame to lose the biggest of them all.  Some people see an ugly, decaying building.  Others see what made the city great and what could be once again. I wonder what Asbury Park will look like beyond the Palace?
Early in 2002, I ran into Billy Smith at a "Save The Pony" rally.  It was the first time I had seen him in years.  It was great to relive old times and he sent me this brief history of a museum which is sorely missed.
---
From the book Beyond The Palace by Gary Wien
---
---