By Gary Wien
originally published: 01/26/2012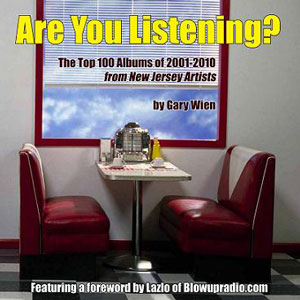 As I listened to release after release, trying to make sure I didn't leave any stone unturned, there were moments when I wondered if I really needed to go through everything on my list.  I remember reaching a period where I didn't find a single album worthy of the Top 100 within several hundred releases and it seemed foolish to keep going.  It was during one of those moments that I stumbled upon Brian Molnar, and he made all those hours searching worthwhile.
Brian, who grew up in Lebanon Township,  has become an integral part of the Americana scene that emerged in recent years in the Lower East Side of Manhattan.  He started out as a solo artist and released two very good albums (Brian Molnar and Feelin Out of Time), but the addition of a full band has allowed his music to grow and become something truly special.  He reminds me of Josh Ritter, that rare singer-songwriter who actually benefits by having a  backing band.
Playing alongside Brian in the Naked Hearts is Todd Lanka on bass, John Koneval on lead guitar, Travis Miscia on keyboards, and CP Martin on drums.  Together, they have developed an Americana/Alt-Country sound that adds elements to Brian's music without taking away from his wonderful lyrics.  It moves his songs closer to the country rock of Steve Earle than the folk music of Bob Dylan.
Based out of Northwestern NJ, the band can usually be found playing in New York City or the clubs of New Hope, PA.  It's an touring region that keeps them away from the spotlight of the New Jersey music scene, which is a shame because they are one of the most exciting bands I've come across in many years.  
Highlights include "I Did What I Did," "Sante Fe," "Devil Singing Backwards," "Changin' Lanes," "This Road," and "Chase What Matters."
Photo by Doug Scott
---
From the book Are You Listening? The Top 100 Albums of 2001-2010 by New Jersey Artists by Gary Wien
---
---
Gary Wien has been covering the arts since 2001 and has had work published with Jersey Arts, Elmore Magazine, Princeton Magazine, Backstreets and other publications. He is a three-time winner of the Asbury Music Award for Top Music Journalist and the author of Beyond the Palace (the first book on the history of rock and roll in Asbury Park) and Are You Listening? The Top 100 Albums of 2001-2010 by New Jersey Artists. In addition, he runs New Jersey Stage and the online radio station The Penguin Rocks. He can be contacted at gary@newjerseystage.com.
---
---