By Gary Wien
originally published: 01/26/2012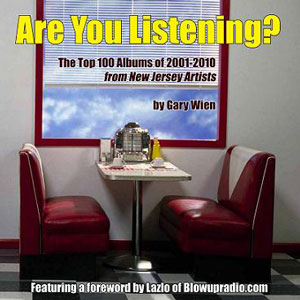 The Commons were the pride of Trenton's rock and roll scene for nearly a full decade.  Consisting of Keith Monacchio,  lead vocals, guitar, and songwriter; guitarist Sean Glonek, bassist Tom McDonald, and drummer Tom Kale, the band became one of the few Trenton acts to be able to break into Asbury Park's music scene as well as their own.
Come On Get Gone may be one of the most introspective, most personal, and, ultimately, most depressing albums you'll ever hear.  It's also one of the best.
Imagine being dumped at the altar.  That's the kind of mind set behind several of the songs on this release.  Take "China" for example.  This is arguably the album's masterpiece.  Starting slowly with a quiet guitar behind him, Monacchio describes how he is emotionally fragile, "Treat me like china / 'cause baby I'll break." But the song doesn't stay a quiet ballad, instead it keeps building until Keith is literally roaring with pain.
The effect is an outpouring of emotion as powerful as anything in rock and roll's history... and that's just the way the album begins.  There's the ultimate desperation while a relationship is going sour shown in "Country #5"; the nervousness and doubt of the big day in "At The Altar"; the realization of the end in "The Marrying Kind"; the hope that love can survive in "Capsize"; and the simple things that keep us going each day with "Just Before Morning."  In between all of this is the brilliant "Jesus Had A Brother," a song that believes everyone has it tough,  even the brother of a God.
Sean Glonek's guitar work throughout the album, especially on songs like "Capsize," is simply mesmerizing.  His guitar provides a classic rock feel with a minor resemblance to the Edge from U2.  It's the perfect accompaniment to Keith's vocals and lyrics.
Highlights include "China," "Jesus Had A Brother," "The Outskirts," and "Capsize."
---
From the book Are You Listening? The Top 100 Albums of 2001-2010 by New Jersey Artists by Gary Wien
---
---
Gary Wien has been covering the arts since 2001 and has had work published with Jersey Arts, Elmore Magazine, Princeton Magazine, Backstreets and other publications. He is a three-time winner of the Asbury Music Award for Top Music Journalist and the author of Beyond the Palace (the first book on the history of rock and roll in Asbury Park) and Are You Listening? The Top 100 Albums of 2001-2010 by New Jersey Artists. In addition, he runs New Jersey Stage and the online radio station The Penguin Rocks. He can be contacted at gary@newjerseystage.com.
---
---