By Gary Wien
originally published: 01/26/2012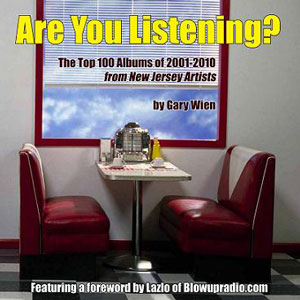 Arlan Feiles once taught me a lesson I'll never forget.  A copy of Razing A Nation (The New Lone Ranger) got buried in a pile of releases simply because the cover art struck me in a very bad way.  It reminded me of something you might find on a cheap bootleg back in the '80s.  Months later, while cleaning up my office, I found it unopened in the pile and put it in the player.  Within a few seconds, I was hooked.
Listening to this album was akin to what people must have felt when they first heard Bob Dylan come across their radio.  Arlan's voice meshed with his guitar and harmonica to form a simply amazing presence.
Like many folk singers, Feiles has moved around quite a bit in his life.  He grew up on the West Coast in Studio City, CA where his intense passion for the L.A. Lakers was born; headed to Boston to study music at Berklee; spent some time in Miami with an incredible band called Natural Causes; and eventually moved to the New York City area where he met his future wife Katie.  They would go on to move to New Jersey and settle in Garwood.  In the years that followed, he became one of the most popular artists in the Asbury Park music scene, often performing with a collection of local all-stars under the name "Arlan Feiles and the Lone Orchestra."  After Katie and Arlan got married, they moved to Matawan.
Razing A Nation is full of beautiful songs that are perfect in a stripped-down, no nonsense recording.  It's folk music at its most powerful.  Feiles, who is equally adept at writing protest or love songs, uses the concept of folk music as a method to change the world - either via the ballot box or by finding one's soulmate.
Highlights include "Sign Up," "Change," "Drifted Town," "The New Lone Ranger," "You're One Too,"  "Impossibly Lonely," and "I Wonder."
Photo by Kurt Newbry
---
From the book Are You Listening? The Top 100 Albums of 2001-2010 by New Jersey Artists by Gary Wien
---
---
Gary Wien has been covering the arts since 2001 and has had work published with Jersey Arts, Elmore Magazine, Princeton Magazine, Backstreets and other publications. He is a three-time winner of the Asbury Music Award for Top Music Journalist and the author of Beyond the Palace (the first book on the history of rock and roll in Asbury Park) and Are You Listening? The Top 100 Albums of 2001-2010 by New Jersey Artists. In addition, he runs New Jersey Stage and the online radio station The Penguin Rocks. He can be contacted at gary@newjerseystage.com.
---
---