By Gary Wien
originally published: 01/26/2012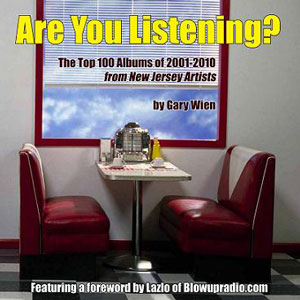 Every now and then an album comes out that reminds you of why you love rock and roll.  The '59 Sound is that kind of album.  It was basically an upper cut right to the head of rock fans across the country; the type of album that actually exceeds its hype.  While the Billboard Top 200 was littered with rap and dance artists, this release gave notice that rock and roll's corpse was far from cold.
Within two years of forming, The Gaslight Anthem found themselves touring non-stop around the world as their second full-length release became a regular on Top 10 lists.  Born out of the New Brunswick music scene, the band comprised of vocalist/guitarist Brian Fallon, bassist Alex Levin, drummer Benny Horowitz, and guitarist Alex Rosamila, became New Jersey's hottest export in years.
The most revolutionary aspect of the band was the way it took a retro sound like Motown and mixed it with punk rock influences.  It was as if Little Richard spawned a punk rock band.  Their songs brought to mind the classic line in Eddie & The Cruisers when Eddie tells Frank that he's seeking someone who can tie "words and music" together.  The Gaslight Anthem have a knack for creating rock and roll tunes where the words and music seem to have found each other by destiny.  The lyrics are built more upon energy than substance, with each word matching the beat note for note.
The '59 Sound makes it mark by the title track, which is one of the most amazing songs of the past decade.  It's a tremendously upbeat song about the moments just before one's death.  In true rock and roll spirit, the band believes the ultimate message is "Young boys, young girls, ain't supposed to die on a Saturday night." Now, that's rock and roll...
Highlights include "The '59 Sound," "Film Noir," "Miles Davis & The Cool," "The Patient Ferris Wheel," "Meet Me By The River's Edge," "Here's Lookin' At You, Kid."
Photo by Lisa Johnson
---
From the book Are You Listening? The Top 100 Albums of 2001-2010 by New Jersey Artists by Gary Wien
---
---
Gary Wien has been covering the arts since 2001 and has had work published with Jersey Arts, Elmore Magazine, Princeton Magazine, Backstreets and other publications. He is a three-time winner of the Asbury Music Award for Top Music Journalist and the author of Beyond the Palace (the first book on the history of rock and roll in Asbury Park) and Are You Listening? The Top 100 Albums of 2001-2010 by New Jersey Artists. In addition, he runs New Jersey Stage and the online radio station The Penguin Rocks. He can be contacted at gary@newjerseystage.com.
---
---