By Gary Wien
originally published: 01/26/2012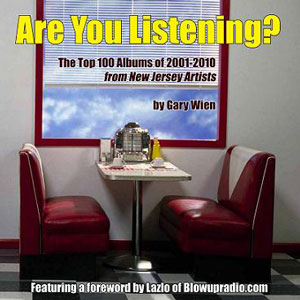 The Dipsomaniacs got their name straight out of the dictionary.  It means, "one who has an irrepressible desire for alcoholic drinks." Tom O'Grady, the band's drummer had it on a list of potential band names he created back in high school.  Tom and Mick Chorba, the band's songwriter and lead singer, had been in bands together since they were 13, but it was the band inspired by alcohol that gave them their shot at stardom.
Formed in 1992, The Dipsomaniacs became one of Trenton's most popular rock and roll bands.  In the first few years, there were a couple of lineup changes, but by 1995 the cast was set with Chorba on guitar, O'Grady on drums, Matt Maciolek on bass, and Ron Mitchell on guitar.
Musically, the band carried the spirit of The Replacements and sixties garage rockers combined with the slick pop sensabilities of The Beatles and the lyrical wordplays of Elvis Costello.  If The Beatles had never left The Cavern, they might have sounded like this.  There was always a slight sense of grittiness to The Dipsos; something that was born in Trenton and followed them wherever they went.  They proudly wore the city's underdog role on their sleeves; perhaps never moreso than in 2005 when they beat out hundreds of other bands to win the Little Steven Underground Garage Rock competition in Philadelphia.  That win earned them a spot opening for Pat Benatar in front of 15,000.  Years later, songs of theirs would be featured on MTV shows like Made and Sweet 16.
The band used their acute awareness of rock and roll history to blend sixties pop, '80s new wave, and early '50s rock to become a New Jersey institution with songs that still sound fresh every time they're played.
Highlights include "Everyday," "Tina's Good At Everything," "Dismembered," "This Heart Be True," "Valerie Valerie (NJT)", and "Whoever."
---
From the book Are You Listening? The Top 100 Albums of 2001-2010 by New Jersey Artists by Gary Wien
---
---
Gary Wien has been covering the arts since 2001 and has had work published with Jersey Arts, Elmore Magazine, Princeton Magazine, Backstreets and other publications. He is a three-time winner of the Asbury Music Award for Top Music Journalist and the author of Beyond the Palace (the first book on the history of rock and roll in Asbury Park) and Are You Listening? The Top 100 Albums of 2001-2010 by New Jersey Artists. In addition, he runs New Jersey Stage and the online radio station The Penguin Rocks. He can be contacted at gary@newjerseystage.com.
---
---