By Gary Wien
originally published: 01/26/2012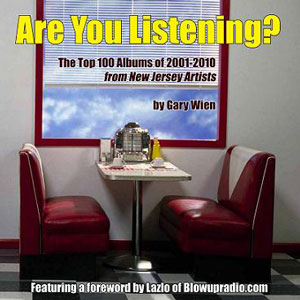 Rick Barry is a bit of an enigma.  He's got an uncanny ability to win over a crowd's attention with even the quietest song, yet that power has rarely shown in the studio. Personally, I think this brilliant songwriter from Point Pleasant is often guilty of trying to dress up his recorded tunes too much.  Maybe that's why I love this particular release.
Declaration of Codependence contains 13 songs stripped down to their bare essence.  For a songwriter who lives and breathes through his words, this format seemed to fit Rick's songs perfectly; it also best represented the marvel of his solo shows.
Several songs on this collection are among Rick's best.  One is "Stupid American Song," the wonderful upbeat tune that kicks off the album.  It's one of my favorite songs from the era of the George W. Bush presidency.  The song showcases Rick's ability to blend folk and pop/rock to bring the best of both worlds together and still get his point across.
"Graphic Narrative" is a beautiful tale of a man who realizes that he's fallen in love with the woman he's just spent the night with.  Rick's lyrics here would make Bob Dylan proud; an amazing array of words and sylables that partner to add a melodic resonance to the steady guitar playing besides them.
And then there's "Courage For A Rainy Day," the best of all of them.  Simply put, this may be the greatest song ever written about the Iraq War.  Period.  The song is a chilling tale of one that doesn't believe in war searching for a way to support their friend whom he's just learned is heading to battle.  Full of heroism, regret, sadness, and cynicism; the song would go on to be the 2005 Grand Prize Winner of the John Lennon Songwriting Contest in the Folk category. 
Highlights include the three mentioned plus "Necessary Sonnet," "The Human Canonball," "Little Boy Big World," "Good Things," and "Recondite Recollection."
---
From the book Are You Listening? The Top 100 Albums of 2001-2010 by New Jersey Artists by Gary Wien
---
---
Gary Wien has been covering the arts since 2001 and has had work published with Jersey Arts, Elmore Magazine, Princeton Magazine, Backstreets and other publications. He is a three-time winner of the Asbury Music Award for Top Music Journalist and the author of Beyond the Palace (the first book on the history of rock and roll in Asbury Park) and Are You Listening? The Top 100 Albums of 2001-2010 by New Jersey Artists. In addition, he runs New Jersey Stage and the online radio station The Penguin Rocks. He can be contacted at gary@newjerseystage.com.
---
---